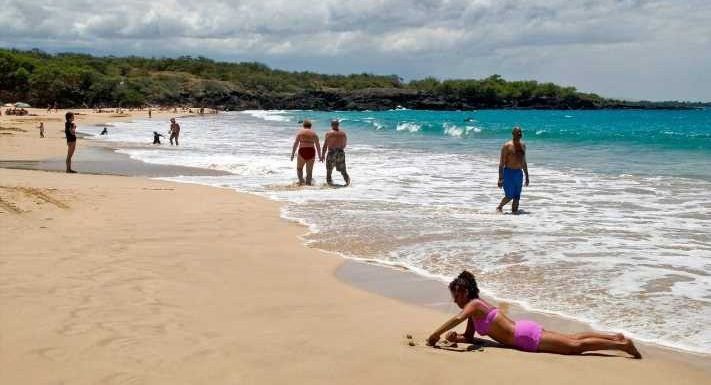 HONOLULU — Cruising along the west side of Hawaii's Big Island, the landscape is dominated by ancient volcanic flows and jagged shorelines. Then you get to Hapuna Beach.
There, the contrast of black lava rock, white sand and blue water means you have arrived in paradise — at least that's what "Dr. Beach" believes.
"It's like an oasis," said Stephen Leatherman, who has been ranking U.S. beaches on his annual list under the alias "Dr. Beach" for three decades.
The sand "looks super white there because of the black lava beside it," he said. "I think the contrast makes you think, 'Oh my gosh, I've never seen sand so white in my life.'"
Hapuna Beach State Park was ranked the best beach in the U.S. in Leatherman's review of sandy shorelines for 2021.
►Hawaii easing some restrictions: Hawaii drops outdoor mask mandate, predicts vaccinated mainlanders will be exempted from testing this summer
►Island hopping: Hawaii rolls out inter-island vaccine passport plan, starting with locals
Welcoming travelers back to Hawaii
Leatherman, a coastal scientist and professor at Florida International University, hopes his 30th annual list will encourage people to get out and leave the past year of pandemic struggles in the rearview mirror.
He acknowledged that people will have to pay extra to get tested for COVID-19 before coming to the islands. "Hawaii is a really special place, and so I think it's worth it," he said.
Kandi Miranda, who owns Manuela Malasada Company and runs a food truck near Hapuna Beach State Park, was born and raised on the Big Island. She was able to stay open for locals throughout the pandemic and is optimistic about the return of visitors.
►Rental car prices soaring in Hawaii: Be prepared for high prices, low inventory
"There was a lot of darkness at that time, I mean everyone was closing," she said of the early days of the pandemic. "I wanted people to know that through good times and bad, we would still be there."
Miranda said Hapuna Beach is a powerful place — both spiritually and literally. "It's unapologetically magical," she said.
Source: Read Full Article