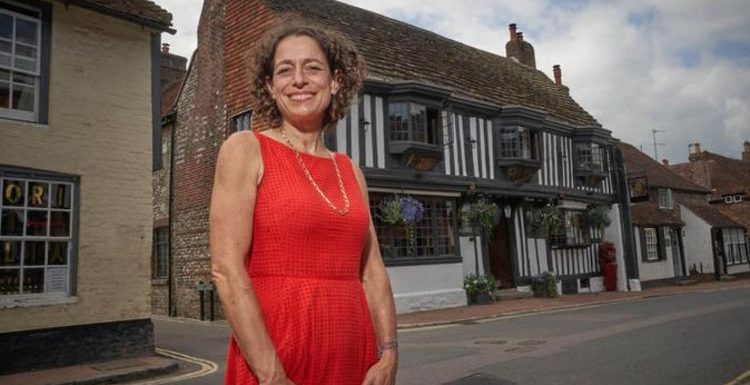 The Hotel Inspector: Alex Polizzi discusses filming before Covid
We use your sign-up to provide content in ways you've consented to and to improve our understanding of you. This may include adverts from us and 3rd parties based on our understanding. You can unsubscribe at any time. More info
The tourism and hospitality industries have been hard hit by the pandemic. But of course, Alex Polizzi could not have known about Covid when she and her mum borrowed £2.5million to start a new hotel.
The Star Hotel was bought by Alex and her mother, Olga, in late 2019.
Their first mother-daughter project was an ambitious plan, with renovation, redecoration and even the creation of a new outdoor courtyard.
With some of the hotel listed and subject to tight planning restrictions, this was not going to be a walk in the park.
On the show, they said: "Opening a hotel is a nightmare."
READ MORE: Tourists warn of 'extortionate' staycation spot
But they were determined to do it, and Alex even said: "We'll definitely be opened in 2020."
Alex Polizzi has spent most of her career telling people how to run their hotels, and it was now her time to shine.
With hospitality running in her blood, Alex, a descendent of the Forte hotel dynasty, knows the industry inside out.
In 2019, she bought a 37-bedroom medieval coaching inn with her mother, Olga, to renovate entirely.
The East Sussex project was meant to take six months, but the global pandemic had other ideas.
Alex said: "It wasn't a great time to borrow £2.5million."
At the start of the project, when everything still looked as if it would go on track, the mother-daughter duo is excited about the new hotel.
Olga said: "To get 30 rooms in East Sussex in a very pretty village, gosh this is a bargain for just over £2million."
And Alex believed it was "daunting but doable."
Before anything could start and the builders could move in, everything needed to be cleared inside the hotel, which Alex described as "chaos."
When the builders finally arrived, problems piled on.
Between rotten windows and an issue with the flat roof, unforeseen costs started to escalate.
As the problems piled on, Alex and Olga would have been forgiven for seriously regretting their purchase…
And then the country was put on lockdown, halting The Star, Alex and Olga, just as it halted everything else in the country.
The three episodes series which follows Alex, Olga and their new hotel nightmares will air on Channel 5 weekly.
The first episode of Alex Polizzi: My Hotel Nightmare is on Channel 5 at 9pm tonight.
Source: Read Full Article