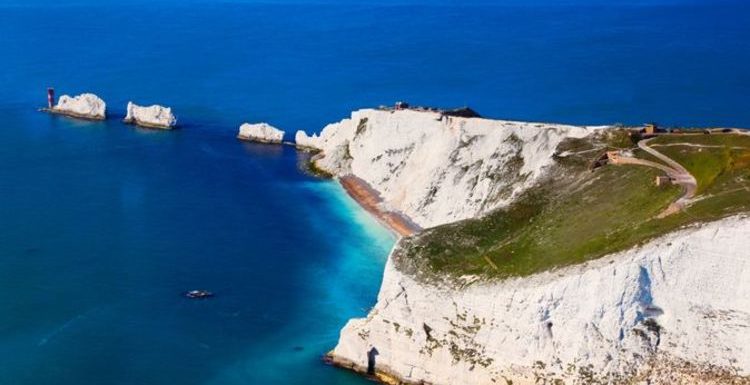 UK travel: Simon Calder gives advice on booking staycations
We use your sign-up to provide content in ways you've consented to and to improve our understanding of you. This may include adverts from us and 3rd parties based on our understanding. You can unsubscribe at any time. More info
Renowned for isolated beaches, gourmet fish restaurants and spectacular views, the Isle of Wight is one of the UK's top staycation destinations. Many visitors to the island choose to visit the island for the day as it's only a short hop from the mainland.
However a new proposed tourist tax could put many staycationers off visiting the island.
The Isle of Wight Council has announced it is in discussions to charge day-trippers to explore the hotspot.
Charges would apply to visitors by vehicle to the island, and would include those attending the annual Isle of Wight Festival.
The 2021 festival starts on September 16 and is headlined by Liam Gallagher, Snow Patrol and Duran Duran.
The proposed fee to visit the Isle of Wight is likely to be between £1 and £1.50 for every vehicle.
Labour councillor, Richard Quigley, said: "I do not see any issue in charging a £1 or £1.50 fee on vehicles starting their journeys on the mainland. You are looking at several millions of pounds."
Other council members expressed their agreement with the proposed charges and discussions are already underway.
The Council has been in a budget deficit for many years after facing Government funding cuts of £90million in the past ten years.
Residents and people leaving the Isle of Wight would be exempt from paying the tourist tax.
Councillor Quigley said he expected the charges to be well received by locals and warned he doesn't want to see tourists pretending to be locals.
He argued: "If the ferry companies become that bothered, they can reduce their prices by £1.50."
Visitors travelling to the Isle of Wight by car ferry have increased this year as many Brits have chosen a staycation due to travel restrictions.
One of the highlights of any Isle of Wight trip is a visit to Osborne House, the beloved holiday home of Queen Victoria.
Queen Victoria once stated: "It is impossible to imagine a prettier spot". She spent many happy hours at the property with her adored husband Albert and their children.
Osborne House offers an intimate look at the family life of Queen Victoria and her family, as it is decorated to the late queen's precise taste.
The stunning gardens provide breathtaking views of the Solent, said to remind Prince Albert of the Bay of Naples.
The Isle of Wight Council hope that the tourist tax will help the Council recover lost income from the pandemic.
Prices for vehicle tickets on the WightLink ferry vary depending on the time of year and size of the vehicle.
Ferries depart from Portsmouth Harbour with the FastCat catamaran reaching the Isle of Wight in just 22 minutes.
Visitors wanting to avoid the vehicle tax will have to travel by bike or foot, although it is possible the Council will consider taxing all tourists.
Source: Read Full Article