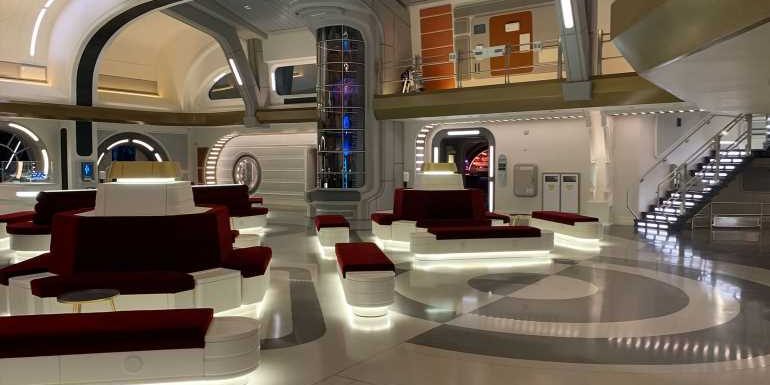 ORLANDO — The Star Wars universe famously exists "a long time ago in a galaxy far, far away." Disney's new Star Wars-themed hotel, Star Wars: Galactic Starcruiser, is such a different product that it, too, feels like it could only exist in a galaxy far, far away.
Without revealing spoilers, I'll say this: Unsurprisingly, the First Order — Star Wars' bad guys — get involved in the cruise from day one. Members of the Resistance — the good guys — are also aboard. The story is driven by new characters like cruise director Lenka Mok, Capt. Riyola Keevan and affable mechanic Sammie, plus fan favorites Chewbacca and Rey.
The experience of each guest will likely be different. Choices made (often facilitated by the datapad) impact what they do and when. For instance, I chose to help Mok with a mission while on the planet Batuu (more on this later). As a result, I was invited to a secret meeting that evening with about a dozen others that helped forward the plot for those in attendance.
The storyline culminates in epic fashion on day two of the experience, when a ship-wide alert brings all passengers to the atrium. It has everything from lightsaber fights to gunfire to Force chokes — all the things that make Star Wars what it is.
CABINS ON THE HALCYON
A ship isn't a ship without quarters for passengers. The Halcyon is no different. Cabins are smartly designed, reminiscent of many cruise ship staterooms. The space has pull-out tables and storage and even a pull-out bed if needed.
Even the bedding is otherworldly. While the queen bed has traditional sheets, the bunks have comforters that open partway down the side like a sleeping bag so guests climb inside after a long day in space.
The shower was surprisingly spacious and featured a large rainfall showerhead.
The only time I missed having a real window was in the early morning. It was impossible to tell what time it was without consulting a clock. For others, I imagine this might be a selling point.
But the room didn't feel claustrophobic. A large "viewport" took up nearly half one of the walls, featuring a video screen depicting space. It was enough to give the room added depth and was an attraction in and of itself.
A DEDICATED AND TALENTED CREW
While the ship's design, the storyline and the activities are all impressive, the thing that stood out most was the Halcyon's crew. It truly felt like being aboard a luxury cruise line. 
Within just a few hours of being onboard, multiple crew members already knew me by name. Our waiter at dinner remembered drink preferences, as did bartenders in the Sublight Lounge. Even the cast members portraying characters onboard got to know guests and recalled memorable moments throughout the journey.
Disney is known for its cast members and customer service, and the Halcyon is no exception. In fact, I'd consider it the new pinnacle.
The same goes for character interactions. Cast members are very good at drawing guests into the story. Sitting in the atrium my first night, I was approached by multiple characters and recruited to complete some missions on land the next day. The interactions seamlessly integrated with my datapad and added an extra element of fun. 
It was even more fun when characters asked me to report back the next day.
OTHERWORDLY DINING AND COCKTAILS
When Disney introduced the Star Wars: Galaxy's Edge theme park lands in Florida and California in 2019, it introduced space-themed dining. The food at Galaxy's Edge is different from typical theme park fare. It feels somewhat otherworldly, yet is familiar enough to appeal to a wide audience. 
Dessert, described as Jogan Fruit and Caramel Whip, was inspired by a fruit that has appeared throughout the Star Wars universe.
Superstar Gaya and musician Ouannii perform during the meal. Neither are human. Their performances were lively and fun, and left me wondering why I couldn't buy a Gaya album in the ship's store.
The second night was a multiple-course "Taste Around the Galaxy" with courses inspired by planets in the Star Wars universe. The blue shrimp from the planet Felucia was the undisputed highlight. Served as a space-age shrimp cocktail with pickled mushrooms, seaweed and cocktail sauce, the shrimp were blue throughout. They certainly looked strange, but tasted great and were fun to eat.
Plant-based options were available for all meals.
Cocktails, too, have an otherworldly feel. The Pod Chaser, a personal favorite, is a bourbon old fashioned served in a bulbous, stemless glass with a large metal sphere to chill the concoction.
The Fiery Mustafarian (named after lava planet Mustafar) is a margarita-like drink made with mezcal and served with a tube of "lava extract" that changes the heat profile of the drink depending on the quantity added.
To prepare, the ship has a Climate Simulator, a room designed to mimic outdoor conditions of wherever the Halcyon is stopping. The room features an open ceiling and walls lined with plant life. It's a clever way of giving guests a chance to get some fresh air while aboard the Halcyon.
A specially designed transport shuttle, fully enclosed and mimicking a transport pod, takes guests to a back entrance to Galaxy's Edge.
On the ground, guests enjoy Lightning Lane access to Galaxy's Edge's two main attractions — Millennium Falcon: Smuggler's Run and Star Wars: Rise of the Resistance. Lunch is included.
Thanks to the datapad, guests are given missions depending on their affiliation aboard the ship (Resistance? First Order? Smuggler?). Cast members in Galaxy's Edge can, and do, make reference to guests' status as visiting Halcyon passengers, who can be identified due to special pins they wear.
Every cast member I interacted with at Galaxy's Edge made reference to the Halcyon. It made for some memorable conversations, especially when I was completing datapad-driven missions. Special thanks to the Oga's Cantina bartender, who passed along some very useful information.
LIGHTSABRE TRAINING AND OTHER ACTIVITIES
Aboard the Halcyon, a number of activities take place throughout the day, from sabacc tournaments (a card game) to costume contests. The ship tour offered on the first day is a must.
But the biggest highlights are bridge and lightsaber training.
During bridge training, guests learn how to operate weapons and shields. This comes in handy as the storyline progresses.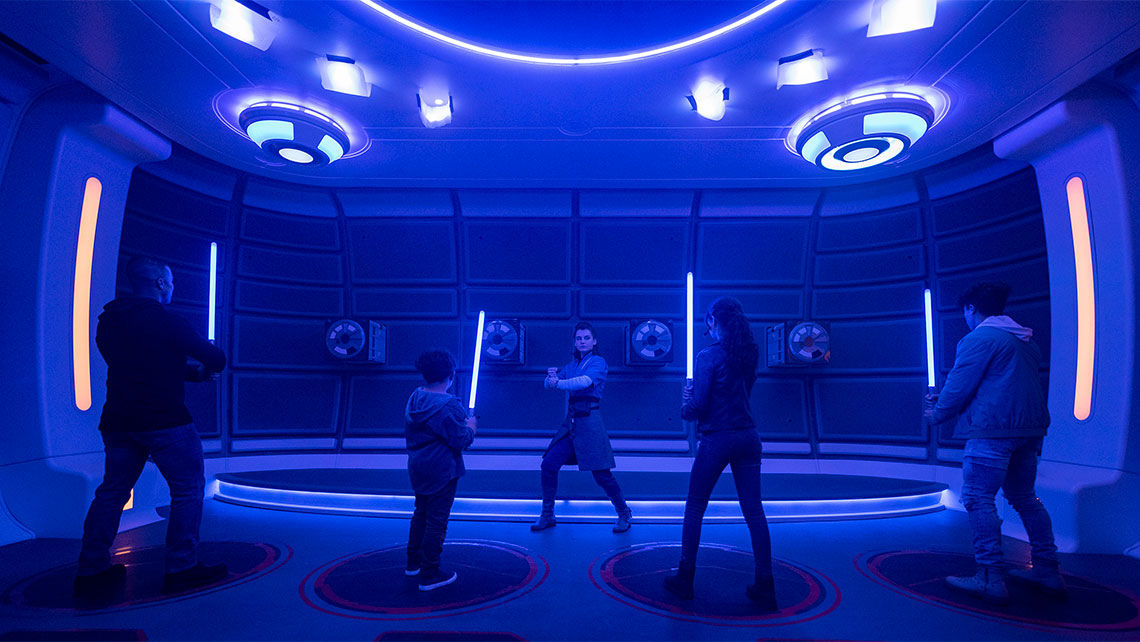 Lightsaber training is every kid's dream. Wall units in a darkened room spit out beams of light you need to deflect with your lightsaber. It's not unlike the scene in "A New Hope," the original Star Wars film, when Luke Skywalker deflects blaster fire from a floating orb — except aboard the Halcyon, the light beams don't hurt guests. 
Guests are divided into groups for lightsaber training, but everyone gets plenty of time with the iconic weapon. As their skills develop, they might even get the chance to hear from a famous Jedi.
Between your personal datapad and ship consoles located throughout the Halcyon, you can even gain access to some restricted areas of the ship like the engine room and the cargo hold. It's not quite aboveboard — crew members will question what you're doing — but a little white lie in the name of the Resistance never hurt.
BOOKING GALACTIC STARCRUISER
Star Wars: Galactic Starcruiser opens for its first public voyages on March 1. Bookings are still open for voyages through the end of September. In addition to standard cabins, two kinds of suites are available, but travel advisors have reported those sold out quickly once bookings opened in October.
Voyages start at $4,809 for two guests in a cabin, $5,299 for three guests and $5,999 for four guests.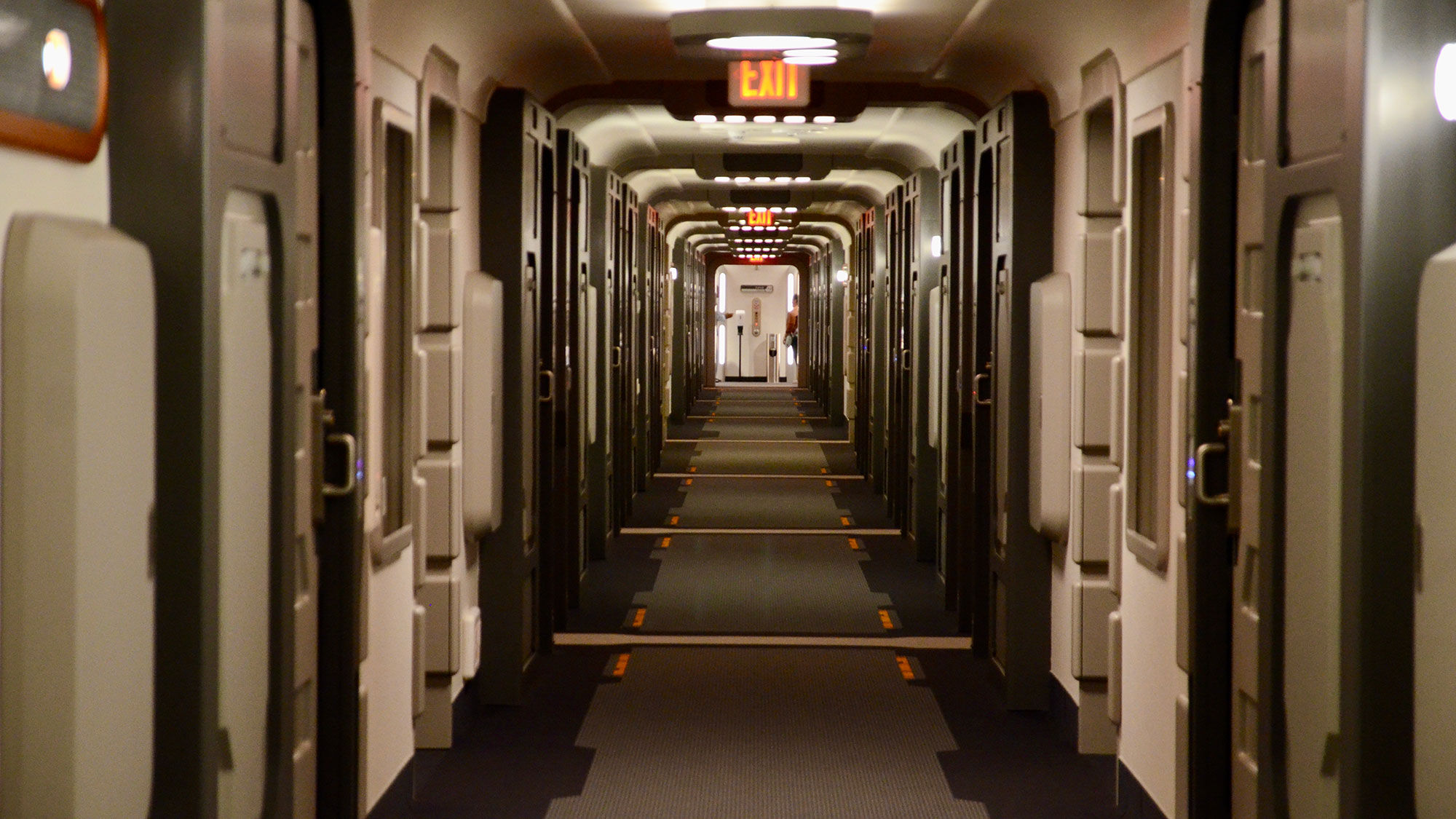 Source: Read Full Article