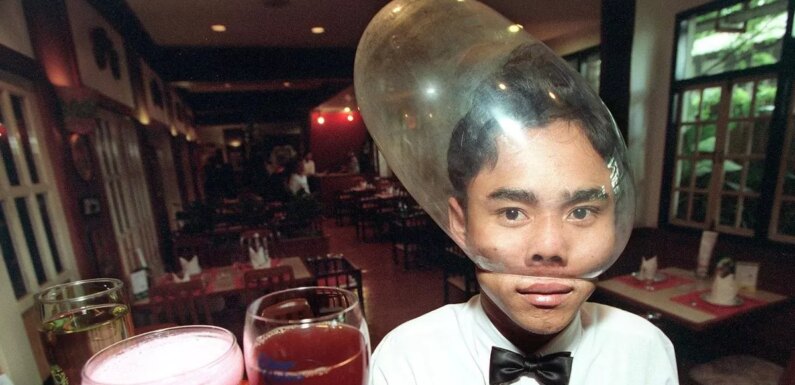 A well-rated restaurant in Thailand may shock and baffle tourists when they happen upon it – because it's themed around condoms. While the thought of contraception might not make most people hungry that's what is sold alongside tasty food.
Cabbages and Condoms, in Bangkok, is not only award-winning, but dubs itself "one of the finest Thai restaurants" in the city. On the menu are recognisable dishes like green papaya salad, spicy chicken, pad Thai and massaman curry. Plus assorted seafood dishes, spring rolls and famous soups.
Not only do they sell meals they also sell condoms. But there are also unusual condoms from around the world on display, condom shaped lanterns and hilarious photo stations where you can pose… as a condom!
READ MORE: Party town with topless women and 80p pints has week all-inclusive trips for £184
A "Miss Condom" mannequin with a dress and hat made of the contraceptives is also on show as well as other condom statues. Instead of offering free mints at the end of a meal you can take a condom – some dubbed "military size" while others are "politician size", "democracy size" and other cheeky jokes.
Banners around the restaurant demonstrate safe sex and when condoms should be used. While bonkers condoms shaped like hands, animals and other creatures are pegged along a washing line and even flower arrangements are created from the latex condoms.
The unusual name and theme – which always gets giggles – came about because of the cheeky restaurant's meaningful origin story. Decades ago it opened and sold lace underwear, T-shirts, key chains, condoms, and oral contraceptives to locals.
The restaurant is a "business for social progress" which supports programmes in health, education, HIV/Aids, rural development, environment and water. In the 1970s the restaurant was added to the shop as tourists began to discover the area.
Now, 400 people can be seated in the large restaurant and all of the profits go towards the Population and Community Development Association. It was created to create a better understanding and acceptance of family planning in the local area, but now is a condom themed eatery.
Reviews on TripAdvisor give the restaurant four out of five stars. A Brit from Northampton, Ethan wrote: "Really enjoyed my experience in this quirky restaurant filled with things you wouldn't see every day. Really enjoyed all the condoms from around the world they had on display as well as how they incorporate the shape of condoms in we're they could.
"Food was also okay. Responsibly priced and a good option if you fancy Thai food."
Karen U said: "Fun meal, love the condoms at the end, which was a laugh for our teenage son! I would definitely come again if I came to Bangkok and would recommend this restaurant to others!"
Another poster from Ethiopia added: "Upon entering this establishment, we were immediately struck by the creative and eye-catching decor that adorned the space. From the colourful condom lanterns hanging from the ceiling to the playful condom-themed artwork on the walls, it was clear that this was a place unlike any other.
"The ambiance was lively and fun, making it a great spot for a casual outing." While another said: "My bill came with a basket of condoms. Given the name of the restaurant and their goal, that was interesting. The server encouraged me to take them all, which I definitely couldn't, I picked a few and was on my way."
Find out more at cabbagesandcondoms.net. The restaurant is conveniently located near one of Bangkok's main business districts.
Source: Read Full Article