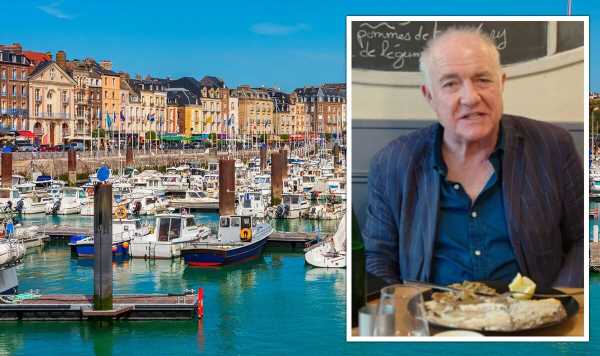 We use your sign-up to provide content in ways you've consented to and to improve our understanding of you. This may include adverts from us and 3rd parties based on our understanding. You can unsubscribe at any time. More info
In Rick Stein's Secret France, the chef looks for the "loveliest" foods and wines across Normandy, in the north of France.
While visiting the town of Dieppe, in Normandy, Rick shared how travellers can find the best and most authentic restaurants with the most delicious foods, which are often cheaper than the more touristy options.
He explained the charming town of Dieppe was "France's first big-time seaside holiday resort back in the 19th century".
Rick said: "Places like Dieppe offer plenty of opportunity to chance upon a hidden gem of a restaurant along unassuming backstreets.
"It's probably worth pointing out if you're coming to a place like Dieppe, sort of veer off the main restaurants in the tourist part of the town and just head for the port because it's a fishing port," he recommended.
If travellers avoid the touristy areas and head towards backstreets and less crowded areas, they will find "hidden gems", Rick said.
He continued: "Quite often you'll find a restaurant like this just overlooking where the boats come in.
"Generally, it's the sort of place where the locals will go and eat too, and they know these sort of things."
In Dieppe's most authentic restaurant, Rick had "turbot covered and then cooked in sea salt to retain all that wonderful flavour".
"That's such a good way of cooking fish, in salt.
"I think a lot of people don't put enough salt in cooking their fish.
"And it needs salt, the fish.
"Doing it like this is quite special," he commented.
He also said one of the things he was looking forward to the most when visiting Normandy was the cider as "it is so special" there.
The town of Dieppe is a fishing port on the Normandy coast located on a clifftop overlooking Dieppe Beach.
Traveller 'MARIE21520' who recently visited Dieppe recommended Musee de Dieppe on Tripadvisor: "A visit to this museum is a must," she said.
"This museum contains very beautiful paintings and sculptures, and an exceptional collection of ivory of great beauty.
"There is also a very nice view of the city from outside the castle. Note: one of the cheapest museums we have visited. I find this very good because the price is accessible to all."
Another one, 'Jolarquin', recommended visiting the Chapelle Notre Dame de Bonsecours.
He said: "Beautiful chapel and superb views of Dieppe. No hesitation, if you are in Dieppe you absolutely have to go up to the Notre Dame de Bonsecours Chapel.
"It dominates the city and offers you breathtaking views of the port, the city and the castle. This 'sailors' chapel' is a sanctuary for sailors lost at sea."
Source: Read Full Article