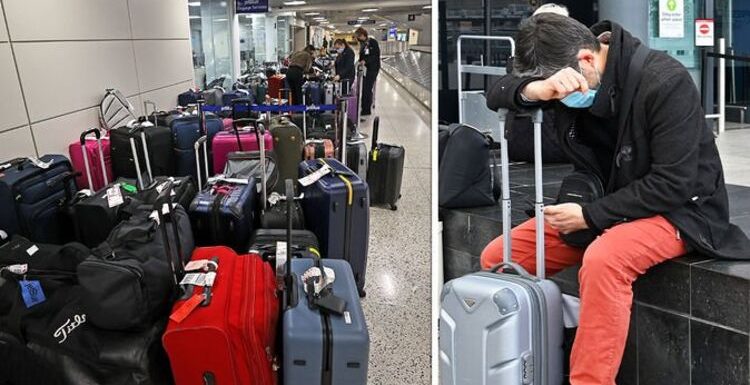 Simon Calder discusses Easter travel chaos
We use your sign-up to provide content in ways you've consented to and to improve our understanding of you. This may include adverts from us and 3rd parties based on our understanding. You can unsubscribe at any time. More info
Paul Stewart, Managing Director at MyBaggage, said that "as Easter travel chaos continues due to the increasing amount of flight cancellations and staff shortages across UK airports, many travellers are finding themselves without their luggage".
Paul explained hundred of passengers "are ending up separated from their baggage for hours and some even days, as the baggage claim areas pile up".
"Many have been asked to submit missing bag claims, which could result in weeks before the airline sends their belongings via courier," he warned.
This is due to a number of factors, such as conveyer belt delays as a knock-on effect resulting from staffing issues.
Paul added that "security wait times are also becoming increasingly long as passengers have been standing waiting hours for their luggage to be checked".
But what can passengers do if their bags are lost? Paul said that "if your luggage fails to turn up at your destination airport, the best thing you can do is stay calm".
There are plenty of options that can make a big difference in approaching lost luggage but the travel expert said the most important is "reporting the problem to your airline immediately as you're more likely to get compensation".
He explained: "Call the airline directly about your lost luggage and leave your contact information with them so they can give you updates. Most airlines will deliver your luggage to your home so make sure to request this.
"However, if you're not happy with the airlines' response, you can take your claim further and complain to the Civil Aviation Authority.
"In some cases, if your travel or home insurance covers luggage, it'll be better off making a claim through your insurance as you'll likely get further with the claim."
Paul recommended using a luggage shipping service to avoid this problem.
He explained: "If you're flying this week, we'd recommend packing lightly and travelling with hand-held luggage only or using courier services to avoid this travel problem, as you won't need to worry about checking any bags in at the airport.
"Keep your valuables with you such as jewellery and electronics to avoid these being lost. However, if you are taking checked luggage, make sure it's instantly recognisable to you that way you can avoid other passengers taking your luggage.
"Using a luggage shipping company allows passengers to travel knowing their luggage will be waiting for them at their destination, and can avoid queues and ever-growing wait times for baggage reclaim," he said.
Tips to avoid luggage disruption during Easter break:
1. Less is more: Travellers should try to use hand luggage only by packing as lightly as they can to avoid wait times or use luggage shipping services if they need a lot of baggage for their trip.
2. Compare airlines: Holidaymakers are advised to check and compare airline delay and cancellation policies, to ensure the best deal in the event of a problem.
Some of the most flexible airlines for cancellations are British Airways and Virgin Atlantic while TUI, Jet2, easyJet and Ryanair are some of the carriers with the least flexible cancellations policies.
3. Check insurance: If travellers can't use a courier service or carry-on baggage, they should make sure to choose a travel insurance policy that covers the luggage if anything were to happen as a result of delays or cancellations.
4. Check the weather: Monitoring the weather is crucial to be prepared for anything that may affect the trip, such as delays or cancellations.
5. Get there early: Holidaymakers should arrive at the airport with plenty of time, even earlier than usual, to avoid delays, long queues, or any other issues.
6. Carry the essentials: Travellers should pack any essentials they may need in their carry-on baggage in the event of being separated from their luggage.
7. Compensation: Many airlines will offer free accommodation or other compensations if the flight is cancelled or delayed by a significant amount of time, so travellers are advised to ask if they are entitled to any reimbursements.
Source: Read Full Article