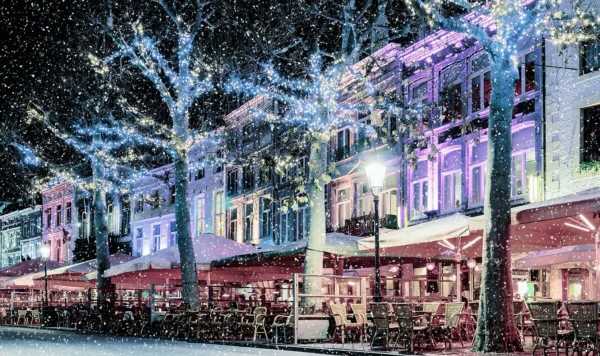 Nestled between Belgium and Germany in the south of the Netherlands, Maastricht is widely known as a university city and the birthplace of the Euro.
But this charming city, popular with international students, is a destination filled with heritage and things to do – perfect for a winter getaway.
One of the features that sets Maastricht apart from other cities in Europe is its tranquil City Park. Perfect for a relaxing walk or romantic picnic, it's a green haven within a vibrant city.
An interesting feature of the park is the "bear pit" located near the Prins Bisschopssingel entrance, which used to be home to real brown bears but now houses a poignant art installation.
Without knowing the backstory, it might seem slightly bizarre, but the empty bear pit is now filled with a series of animal sculptures, with the most prominent being a giraffe sprawled along the floor, accompanied by a woman in a red dress.
READ MORE: 'I visited one of Europe's prettiest winter destinations'
The bears were fully removed from the pit in 1993 after local residents raised animal cruelty concerns. A sculpture of the last remaining bear, Jo, sits on a nearby bench looking crestfallen.
Elsewhere in the park is a statue of D'Artagnan. Immortalised in literature and popular culture as one of The Three Musketeers, D'Artagnan was a captain of the Royal French Guard. On first glance Maastricht may seem an unusual destination for a statue of D'Artagnan, but it is actually the city where he died.
In fact the statue, unveiled in 1977, stands on the very spot where the famed Musketeer was killed during the siege of Maastricht as part of the Franco-Dutch War. Although more recognised for a fictionalised retelling of his life, it is a surreal experience to stand where such a recognisable figure was slain.
Regularly featuring on 'Most beautiful bookshops in the world' lists, and for good reason, the unique Dominicanen Bookshop is a must-visit in Maastricht.
Set inside the beautiful Dominicanenkerk (Dominican Church), is a magical independent bookstore that will take your breath away. You don't have to be a booklover to appreciate the beautifully designed and award-winning interior, which makes the store an attraction in its own right.
Don't miss…
The 'beautiful' underrated city with an amazing Christmas market[CHRISTMAS MARKET]
Europe's best destinations for Christmas markets are 'enchanting'[WINTER DESTINATION]
The beautiful city near UK with Europe's 'most underrated' Christmas market[EUROPE HOLIDAYS]
View this post on Instagram

A post shared by International Literature Festival Utrecht (@ilfutrecht)
Support fearless journalism
Read The Daily Express online, advert free
Get super-fast page loading
You can even enjoy a coffee in the bustling cafe located in the building's former choir, overlooking visitors catching a glimpse of this spectacular 13th-century site.
Underneath the beautiful city is a dark and mysterious secret… the underground caves, Kazematten tunnels, and the fort are a chance to explore the foundations of Maastricht.
The North Caves are located deep below St Pietersberg hill and are filled with mysterious charcoal drawings and inscriptions that tell interesting tales.
They are also home to "national storage location no. 9", otherwise known as the Kluis (the vault). It is here that a series of artworks from the likes of Rembrandt and Vermeer were stored during the Second World War. Guided tours are offered of this unique snapshot of history for €14.80 (£12.89).
Guided tours are also offered for Fort St Pieter, Casemates Waldeck, and the Zonneberg Caves.
Visitors from November 30 to December 31 will have the chance to experience Magical Maastricht, the city's memorable winter wonderland.
Set in the heart of the city, Vrijthof Square, Magical Maastricht features a nostalgic carousel, a sheltered ice rink, and a sky-high Ferris wheel.
As well as hosting a traditional market selling delightful local gifts and tasty produce – make sure to try a mulled wine in an Almhütte or a hot chocolate in a cosy chalet, perhaps even both!
Source: Read Full Article