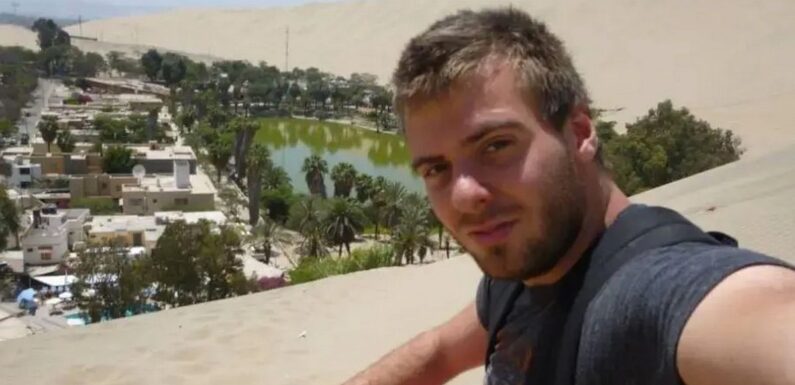 A British lad who started a travel blog as a "passion project" has explained how his hobby has helped him to travel the world – sometimes for free. He now spends five hours a week working on the website and has ventured across the US, to South America and Asia.
Tom Bourlet, from West Sussex, started his travel blog, Spaghetti Traveller, 10 years ago saving as much as he could to fly abroad. He never intended on earning much from it – until it suddenly boomed.
Eventually, it became the 35-year-old's full-time career where he earned between £1,000 and £2,000 every month. However, the coronavirus pandemic stopped Tom from working on his blog full-time, but he still manages to bag some incredible trips when not at home with his fiancée or at work as a marketing manager.
READ MORE: 'I was sick of my 9-5 job so I made going on Disneyland holidays my new career'
Speaking to Daily Star, Tom said: "I began the travel blog just over a decade ago! I had gone on a road trip across the USA, from San Francisco to Miami, with five friends and I was glued to travelling. I would scrimp and scrape so I could get on a plane as quickly as possible, working a full time job and handling clients on a freelance basis on my evenings and weekends to save up enough for my next trip away.
"I never intended on earning enough from it to finance a travelling lifestyle, however the blog quickly grew and was featured in a large number of publications, as well as being on the BBC and regularly featuring on the radio. I continuously combined travelling and working full time, but it allowed me to have multiple trips throughout the year and often taking off 1-2 months to go somewhere exotic."
Tom started up a consultancy agency on the side and lived his life as a "digital nomad" travelling around the planet. He's managed to go to some amazing placed.
The creator commented: "I've travelled across the USA, which involved exploring the Yosemite national park, staying in the Mojave desert surrounded by coyotes, listening to Jazz in Nashville, partying in New Orleans, being mesmerised by the Grand Canyon, gambling in Vegas, riding a horse in Texas and saving a pilot whale in Miami.
"My next big trip was to South America, where I started in Peru and ended up in Argentina two months later. In Peru I got to see the marvellous sight of Machu Picchu, which is arguably my top recommendation for everyone to see.
"I also did white water rafting in Arequipa, sandboarding in Huacachina and animal observing at Paracas (the budget version of Galapagos Islands), before heading on to Bolivia. Here I went deep into the rainforest and swam with wild pink dolphins in a swamp filled with alligators (not my brightest decision, but I'll blame it on youth) while also searching for anacondas, I dressed as Jack Sparrow on the Uyuni Salt Flats and watched Cholita wrestling in La Paz."
But, he didn't stop there. Tom continued: "I've also been to Thailand, Sri Lanka, on a safari in Kenya and plenty of places across Europe."
His favourite spots are those with sew-inspiring nature. Tom noted: "To get off the beaten track, Sri Lanka is definitely a top spot. For the wow factor, it's hard to beat a safari and seeing the animals up close, but purely for the mind-blowing view I would recommend Machu Picchu in Peru."
It sounds like heaven – but Tom insists it's harder work than in seems. He explained: "People only ever see the images and the videos and state how lucky you are. They don't see the thousands of hours of work put in.
"It's a second job where you earn nothing until you've got it to a certain level. You have to spend countless hours writing content, editing videos, learning how to build a website and stopping it from breaking every 10 minutes, increasing your rankings on Google and staying on top of every social channel.
"It's very stressful and you have down moments where you want to throw in the towel, especially when balancing a full time job."
Now, Tom has bought a house in the UK and slowed down his travel. He's taken up a full time post again at Fizzbox and The Stage Company and he and his partner are less keen on the "backpacker lifestyle".
Tom said: "I want a cosy bed and a nice room with a view. I'm therefore having to ditch the backpacker image and transition the blog towards more of a city break and luxury angle."
But, his blog still helps him to access holidays most of us could only dream of. He noted: "I often agree partnership opportunities, so I will get a free hotel or a free activity and in exchange I will write a blog post on the experience, as well as social posts and potentially a video.
"This has allowed me to stay in some hotels which I would otherwise not be able to afford, or have experiences that would most likely be out of my budget, such as the safari trip, which was all-inclusive. It still brings in experiences and trips which is worth its weight in gold for me. Tomorrow I'm heading to Rockwater in Hove for a Taste of Italy event, which sounds brilliant, while in two weeks I'll be off to Japan where a significant amount of our costs will be covered."
Tom's website hit a million views in a proud moment for him and he's thrilled to have had so many readers over the years. He commented: "I didn't post it everywhere, I didn't make a big sing and dance about it, I just felt silently proud that my little travel blog had helped over 1million people with where to book their next holiday.
"When I started it, I was happy to just have somewhere to keep reminders about the amazing experiences I had. I didn't expect it to get where it is."
Source: Read Full Article