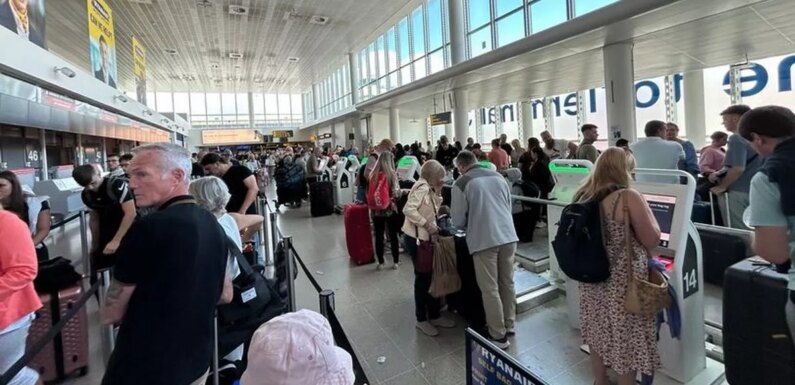 Bookmark
Get the best travel tips, advice and holiday deals
Thank you for subscribing!
Get the best travel tips, advice and holiday deals
We have more newsletters
A frequent flyer has travelled on both easyJet and Ryanair flights in order to compare the two budget airlines and what they offer to holidaymakers.
When trying to choose who to fly with many of us simply opt for the cheapest fare, but you may be shortchanging yourself by doing so. Writing for LancsLive, Amy Fenton explained that she compared both airlines and claims they're "world's apart".
While you're never going to get business class treatment in an economy seat she claims that the cheap airlines do have some differences that make for a better trip.
READ MORE: Flight attendant reveals how truly disgusting plane toilets are and warns to avoid them
Check out our travel section for more holidays, travel news, hacks, flight secrets and more…
Amy noted that families are not sat together automatically on either airline – though kids under 12 will be placed near one parent – and you now have to pay to take a suitcase with you. Most of us accept this as it keeps the prices low for the journey and if you're just hopping over the Channel for a weekend you can survive with a backpack.
The reporter noted she flew with Ryanair to Rhodes in August and used the Manchester Airport meet and greet parking plus enjoyed lounge access ahead of time.
She complained that when going to drop her checked bags off at the desk she was faced with "utter chaos" and "hundreds of holidaymakers" in "endless queues." Amy remarked there was only one Ryanair employee at the desk.
She noted it took 90 minutes to get to security from the terminal entrance, but her flight was without incident on the way out. Unfortunately, when returning her flight was delayed by two hours – so she has to pay "£10 for two slices of bread and a minuscule sliver of cheese".
During take off, Amy also noted that she was unable to wash her hands in the plane lavatory as the sink was full of "vomit". She noted: "After I got home I complained to Ryanair but gave up after receiving a reply which stated 'we are having trouble classifying your support request reason'."
To compare her experience to Ryanair, Amy also flew to Mallorca with easyJet at the end of September. She found that the easyJet check-in process was easier as they were "sufficiently manned" and she cleared it to security in 15 minutes.
She added: "While we might lump the likes of easyJet and Ryanair in the same 'dreaded budget airline' basket my recent flights with both airlines were worlds apart." However she did agree both had very little legroom, but that her experience of the two was quite different.
Of course, it's important to remember that different times of year put different pressures on airlines with summer being the busiest time of the year. It's also important to compare prices to see what's worth it to you.
EasyJet offers seating choice moves from 99p up to £12.99 for first row extra legroom seats while Ryanair charges from £4.50 for standard seats up to £33 for extra legroom options.
In terms of luggage Ryanair charges between £6 and £36 for priority boarding and two cabin bags or £11.99 to £29.99 for a 10kg check-in bag. While easyJet charges from £5.99 for a large cabin bag while a 15kg hold bag costs from £6.99.
Other costs to consider include flight changes, spelling mistakes on your tickets or title changes, transporting sports equipment or even lap infant fees for bringing a child on the plane. You should consider everything you need together to find out the best cost flight for you.
Ryanair and easyJet were contacted for comment.
Ryanair
Majorca
Easyjet
Holidays
Source: Read Full Article