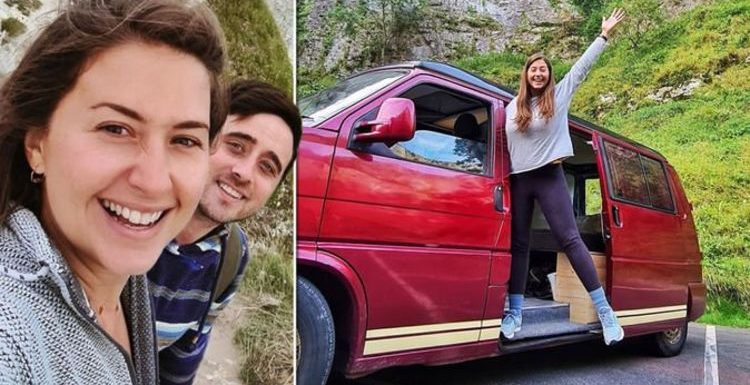 We use your sign-up to provide content in ways you've consented to and to improve our understanding of you. This may include adverts from us and 3rd parties based on our understanding. You can unsubscribe at any time. More info
The couple explained they tried to leave the UK before the last lockdown, however, they didn't manage it. Alex explained: "So we decided to get a camper van, and so when the restrictions would end, we would have a campervan ready to keep exploring."
The couple took the decision to convert a VW T4 into a small campervan and made the leap into vanlife.
Alex said: "We used to say to each other. Just imagine if we had a bed in the back of our car. We just need somewhere to sleep and anything on top of that is a bonus."
The couple priorities sleeping arrangements in the campervan.
He said: "Really we're building from the bed out. We made sure we got a full double bed.
"We had the minimum electrics. We didn't want to go too complicated with anything just essentials.
"We decided not to go for like a built-in sink or anything like that because he found with other trips we tend to wash up outside anyway. We skipped all the plumbing."
Alex went on: "We have minimal electricity really. We have an inverter that will help to generate energy on road.
"We could even scale that back as well if we didn't have a lifestyle where we need to make videos with laptops, drones, and cameras that require a bit more battery."
Emma added: "We could really make it simple, but that's the biggest extravagance that we have is the power of the laptop.
"We opted out of the hookup, which you use at a campsite to connect to main power.
DON'T MISS
'Strip down to just underwear': Tips for a successful autumn trip [CAMPING]
Simon Calder shares good news for Turkey holidaymakers [HOLIDAYS]
Simon Calder issues warning for those returning to UK [INSIGHT]
"We have a solar panel on the top and split charge relay, so the battery when we're driving the car, the car is charging the battery. As long as we move, we have power."
So how much did the couple spend on their van?
Emma said: "The van cost around £4,000 and then cost for the most expensive upgrade, getting a pop-up, was almost as much as the campervan. That was around £3,000."
However, the £3,000 addition is something the pair consider vital to their caravanning exploits.
She said: "It means the van comes up at the top, so you can fit under all the barriers and everything, and then once you're under you can just pop it up.
"We weren't sure if we're going to like it because you have to put it down every morning and weren't sure it would be fast, but it's really easy.
"We love it and also we can take off the canvas that basically means that it's completely open so we can sit on the top and just look out, looking for wildlife for example.
"We can get a coffee, sit up there, find a spot to look out, it is really nice."
She went on: "The van's still not 100 percent finished, with the renovation aspects that need to be finished, like curtains.
"But in terms of usability, it is completely usable so we do take it out all the time.
"Anytime we get a free weekend we think, let's go for this weekend we'll go somewhere with it again."
The couple recently detailed items in their caravan packing list.
Alex told Express.co.uk: "One thing that I've always loved is the power strip, a power extension.
"It sounds stupid but it's one of those useful things."
Source: Read Full Article