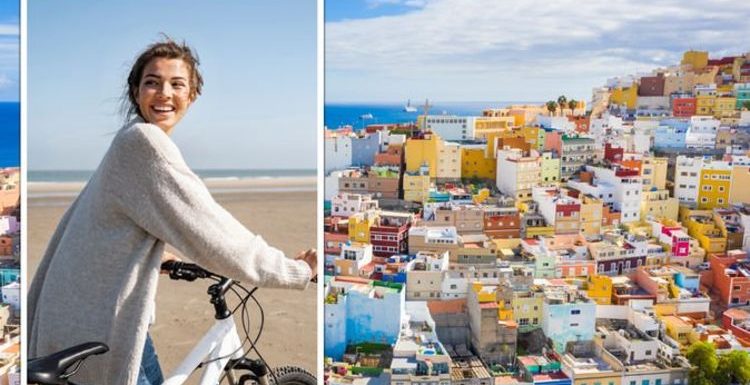 Harry and Meghan: Couple face criticism for non-sustainable travel
We use your sign-up to provide content in ways you've consented to and to improve our understanding of you. This may include adverts from us and 3rd parties based on our understanding. You can unsubscribe at any time. More info
Britons care about the environment, even when travelling, and 70 percent of the country is expecting the travel industry to offer more sustainable options, say Booking.com. Britons have been found to be more concerned about threats to local wildlife and natural habitats than their European counterparts and were more likely to avoid popular tourist destinations and attractions, to reduce water and energy usage, and to recycle.
One of the biggest shifts to come out of the coronavirus pandemic has been the popularity of a UK holiday.
And with Britons getting annoyed at not finding recycling facilities at their destination and desperately wanting to do the right thing, is a UK holiday the way forward? Is a staycation more sustainable than jetting off overseas?
Booking.com Director of Sustainability, Marianne Gybel wasn't sure, but believed "in essence, a staycation may be a little more sustainable, not only due to the trip but mostly due to the behaviour of the local versus international tourist".
There were a few factors to consider she said.
READ MORE: Ryanair 'flew couple to wrong country' but doesn't accept fault
"I think we're beyond flying for a day trip from London to Rome. Let's just stop doing that.
"When travelling, we have to think about the length of our stay. For any type of destinations, all the stats say, travellers who stay more than one day are more sustainable.
"Day trips are very unsustainable. The travel back and forth… if you can stay longer, and that's usually the case with staycations, it's almost always more sustainable.
"And when you stay longer, you go off the beaten path, you've done the touristy things on day one, now you may explore further afield on day two."
She continued: "A person that is local has different travel behaviours than a standard international tourist. You're closer to home so less likely to forget your good habits, more inclined to go off the beaten path, because you know the country and speak the language."
However, Britons shouldn't feel guilty about going on a day trip.
Booking.com Senior Manager of Global PR & Communications, Kristofer Barber, said: "It's not 'this behaviour is sustainable, this one isn't'. If you think of a day trip in the UK, it all depends what you do when you're there, how you get there.
"There's a way to do that day trip that is a bit more responsible, a bit more conscious. You could all drive your own cars to your destination, which is not as sustainable as hopping on a train all together and going that way.
"Maybe you make a conscious effort to explore villages outside your destination where people don't get as many tourists to spread the benefits of those tourists pounds a bit further.
"People don't need to feel guilty or ashamed doing day trips, it's all about how you do it."
A short getaway isn't out of the question for eco-conscious Britons in need of a break, and both Marianne and Kristofer believed it was all about understanding that sustainable travel was not "black and white".
Marianne said: "It's not one thing that you do that makes your trip sustainable or not. It's all the small things that add up to make a positive impact on the destination, and the planet as a whole.
"If you make one unsustainable choice? It doesn't mean you have to give up everything else."
She likened it to going on a diet, having one cookie and then giving up.
With all this in mind, Marianne and Booking.com have launched a Sustainable Travel Badge that will provide a benchmark for travellers looking for a sustainable accommodation.
Marianne said the badge was not the end of the journey and was a way to add value to Britons' trips.
She said: "You can still choose on location, on price, on whatever facilities you value the most and then when you choose that, you still have a range of options where you can choose a sustainable or a non-sustainable one, or even the most sustainable one in the future."
"It's no longer something you have to select first."
Source: Read Full Article