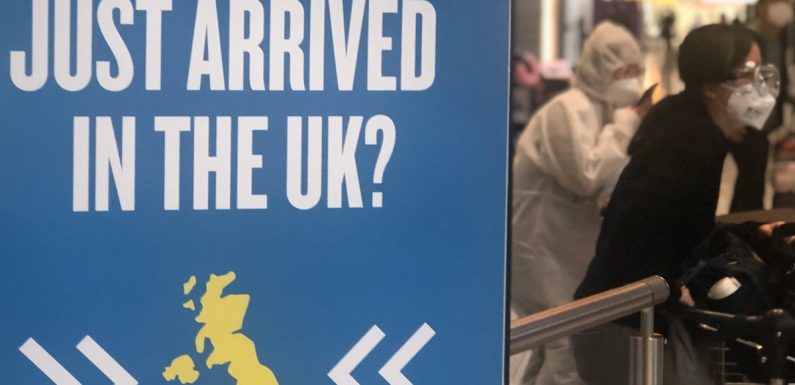 "High-risk" arrivals to England from next Monday, 15 February, will be taken from airports to quarantine hotels, the health secretary has confirmed.
Matt Hancock told the Commons arriving travellers will pay for the room and meals themselves.
"Before they travel they'll have to book a package costing £1,750 for an individual travelling alone," he said.
"They'll be escorted to a designated hotel."
He said that 16 hotels, with a total of 4,600 rooms, had been contracted. Bookings will open on Thursday.
There will be visible security in place. Exercise – and smoking – will be allowed only under supervision.
Read more: 10 years in prison if you hide your trip to 'red zone' country
INDY/
GO Weekly Newsletter
TIME TO TRAVEL!
Read our full mailing list consent terms here
INDY/
GO Weekly Newsletter
TIME TO TRAVEL!
Read our full mailing list consent terms here
Mr Hancock also said arrivals from every foreign country except Ireland will face two additional Covid tests: one on the second day after arrival, the next on the eighth day.
Fines of up to £10,000 will apply to arrivals who fails to undergo the stipulated hotel quarantine.
People who misrepresent their travel history on the passenger locator forms face up to 10 year in prison.
The "test to release" system, allowing arrivals in England to leave quarantine with a negative test after five days, will continue – but the day eight test will be required.
Last month the government announced a so-called "red list" of 33 high-risk countries, including Portugal, the UAE and South Africa, for which special measures apply. The aim is to reduce the risk of new variants of coronavirus being introduced by travellers to the UK .
Currently arrivals from those listed nations – which also includes Brazil and the rest of South America, plus 13 other African countries – must self-isolate for 10 days along with their households.
But Mr Hancock said that anyone arriving from 15 February will be confined to a hotel room, under the watchful eye of security staff.
Scotland's first minister, Nicola Sturgeon, has said that the measures do not go far enough. Anyone arriving in Scotland direct from abroad will be required to go into "managed quarantine".
Further details are expected on Tuesday afternoon from the Scottish transport secretary, Michael Matheson.
The announcement of tighter travel restrictions coincides with Britain's biggest holiday company, Tui, announcing that nearly three million people have booked trips for summer 2021, at prices one-fifth higher than in 2019.
Tui's chief executive, Fritz Joussen, said: "For tourism, but also for hospitality and cultural enterprises, this trend is a good signal.
"We should do everything we can to quickly return to basic freedoms and make travel possible again."
Paul Charles, chief executive of travel consultancy The PC Agency said: "While mass testing of all inbound travellers is to be welcomed, so as to stay one step ahead of new variants, adding layers of complexity won't help the economy to recover.
"The government must signal that it is looking to open borders again from April – when there will be much less pressure on the NHS and infection/mortality rates will be lower."
Source: Read Full Article