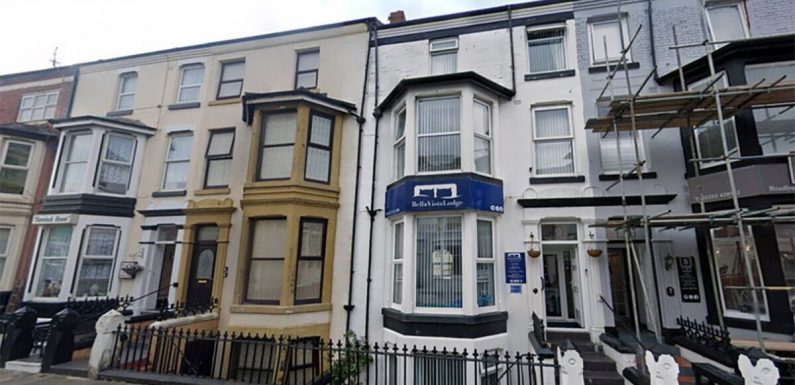 We use your sign-up to provide content in ways you've consented to and to improve our understanding of you. This may include adverts from us and 3rd parties based on our understanding. You can unsubscribe at any time. More info
A hotel manager has hit back at a guest who wrote a scathing review online after they took one look at their "room down in a basement" and left.
The tourist, named only as Ken, rated Bella Vista Lodge in Blackpool, Lancashire, as just one star out of five on TripAdvisor after the brief experience.
In the blunt critique, he wrote: "Wanting to visit Blackpool and see the lights, which are spectacular, we drove for about six hours. When we arrived at the place I had prepaid £132 for two nights room-only basis, the room was down in a basement reached by narrow uncared-for steps. The room itself was dingy and in need of a complete redecoration and replacement of the sad carpet.
"The road itself is rundown with dilapidated properties. Parking in the area is a nightmare and car park charges are high. We decided to not even stay at the Bella Vista Lodge, so we went to the Tourist Information Office and managed to book into The Blackpool FC Hotel which was £85.40 for two people including breakfast/parking and our small dog."
But Lancs Live reports Paul, the hotel's boss, retorted to stress rooms at the establishment had recently undergone makeovers and pointed out a list of facilities the room has to offer.
He also said he'd reported the review to TripAdvisor as it was "unjust".
The reply reads: "Thank you Ken for your review. Our large king room has recently been decorated and, as other guests have stated on their reviews, is a lovely spacious room with its own entrance.
"In relation to parking, I checked the streets nearby for a space for you, and advised where the nearest cheaper car parks are, as the one at the end of our street is around £20 for 48 hours. You don't mention any of this in your review and give me 1 star for service!
"Regarding facilities, the room has a fridge, coffee machine, iron/ironing board, hair dryer, superior hospitality tray including Piper crisps and Galaxy hot chocolate, and a 40" smart TV, again no mention of this in your review.
"The Blackpool FC hotel is a 15-minute walk away from the centre, which is why you will have found parking much easier. We take all feedback on board, however, yours is unjust, so I have reported your review to Tripadvisor. Regards, Paul."
Bella Vista Lodge is actually rated number one on TripAdvisor's list of "special inns" in Blackpool. More than 200 guests who have stayed at the hotel have spoken highly of their trip to the iconic seaside location.
The hotel has even been rated five out of five on the review site and is earmarked as a "guest house is situated in the heart of Blackpool." Situated just a five-minute walk away from Blackpool Tower, the hotel boasts nine recently renovated bedrooms, all fitted with en-suite bathrooms.
Among the plentiful positive reviews, one guest wrote: "Recent visitors to the hotel have taken the time to write out glowing reviews of the hotel and its staff with many leaving five-star reviews from their stays.
"Absolute fantastic stay at Bella Vista Lodge. We were greeted by Dan, a lovely upgrade as a Birthday surprise! Our room was spacious, warm, and immaculately spotless!
"Lots of clean towels, huge TV and the most comfortable bed I've slept in. Do not hesitate to book here, you will not be disappointed. Thank you for our lovely two-night stay."
Source: Read Full Article