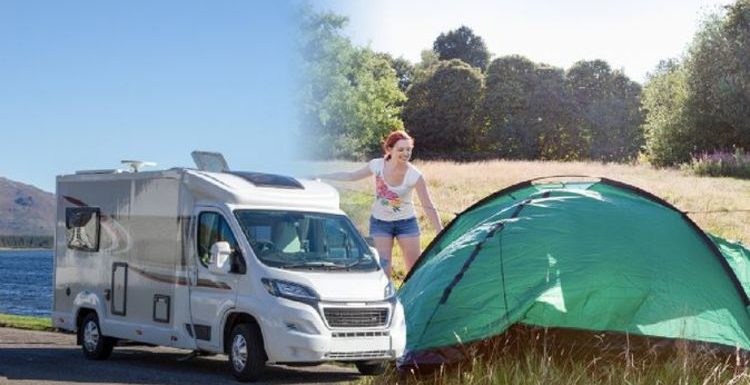 Matt Hancock hopes for a 'great British summer' post-lockdown
Recent reports of a "surge" in domestic holiday bookings may have some Britons feeling concerned about rising costs and limited space. However, one expert has pointed out this does not account for all, or even half, of the staycation options available in the UK.
While luxury cottages and tree houses may be seeing a rapid number of bookings, Dan Yates, the founder of Pitchup.com, points to the vast array of outdoor accommodation on offer.
"Reports of holiday cottages selling out in prime locations around the UK this summer are rife, but it's worth remembering that cottages provide only a very small proportion of the overall bed-stock available in the UK," he said.
"Figures from Visit Britain show that of the 3.2 million bed-spaces in the UK, 1.4 million are non-serviced.
"Of those, outdoor accommodation accounts for some 65 percent of bed spaces – three times more than 'holiday dwellings', such as cottages, bungalows, apartments, and more domestic holiday bed-nights than any other type of accommodation including hotels."
We will use your email address only for sending you newsletters. Please see our Privacy Notice for details of your data protection rights.
He highlighted an uptick in pop-up campsites, thanks to the Government granting temporary pop-up sites the opportunity to exist for up to 56 days in 2021.
"Pitchup is seeing a marked increase in new sites opening under that," he said.
Mr Yates also suggests classic camping holidays could be a great option for those keeping an eye on finances.
"Reports over the weekend that leading holiday providers have hiked prices for peak booking periods like Easter, July and August may have left a sour taste in the mouths of many who are desperate for a holiday, but have lower household income than ever," he said.
DON'T MISS
Ex BA cabin crew shares why fliers must keep shoes on during flights [INSIDER]
Google Maps Street View: Couple caught in bizarre position on boat [VIRAL]
Cyprus holidays: Cyprus may implement tourist vaccine rule [INSIGHT]
"A quick search on Pitchup.com for a 3-night short break for two over Easter weekend reveals over 660 sites in England that still have availability with prices starting at just £21 per stay for a grass pitch, which is suitable for a tent, motorhome, touring caravan or camper van, or £30 for the same with electric hook-up."
The camping expert also pointed out some of the most "popular" camping locations in the UK for 2021 based on booking figures.
"The platform's own bookings for 2021 show that the South West remains popular as ever with Devon accounting for 8.6 percent of current UK bookings in 2021, Cornwall at 9.3 percent and strong bookings for Cumbria and the Cotswolds," he said.
"That still leaves tens of thousands of bed nights at sites in those areas and beyond, available to be booked."
In a similar vein, Rory Boland editor of Which? Travel slammed reports of a "surge" in bookings, saying there were "plenty" of options "to go around".
In a Twitter post, he said: "This is your daily reminder that news stories warning of a surge in holiday bookings and UK accommodation shortages are PR spin.
"There are lots of properties available. If you are booking, book direct with a property that has a flexible booking policy."
However, the travel expert did recommend Britons be flexible with the time of year they travel.
"If you want to go somewhere specific, especially in the school summer holidays, the best time to book has already passed," he warned.
"For those flexible on destination and/or dates, there is plenty to go around."
Though the exact date the Government will allow staycations to resume has not yet been confirmed, Secretary of State for Health Matt Hancock showed hopes for a "happy and free" summer.
Source: Read Full Article