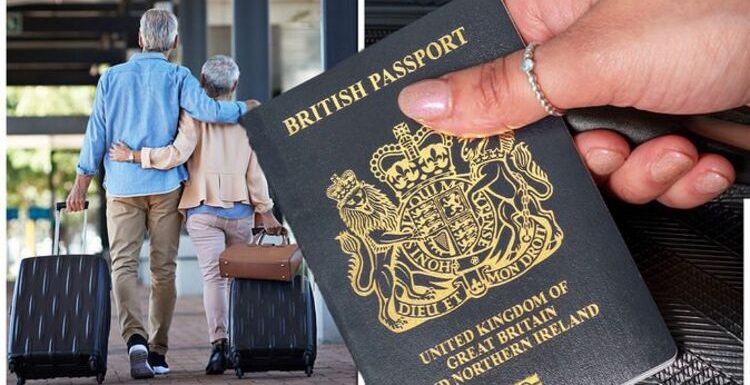 Simon Calder discusses Easter travel chaos
We use your sign-up to provide content in ways you've consented to and to improve our understanding of you. This may include adverts from us and 3rd parties based on our understanding. You can unsubscribe at any time. More info
Britons are being urged not to leave the application for a new British passport until the last minute. According to the Home Office, demand for new travel documents is at an "all-time high".
The sudden surge in applications is thought to be partly associated with an increased return to largely restriction-free international travel.
HM Passport Office saw a "significant drop in the number of people applying for passports".
Data from the Passport Office shows over five million people delayed their applications throughout 2020 and 2021.
Since April 2021, as some travel resumed, HM Passport Office has been advising people to allow up to 10 weeks for their new passport.
In a new statement issued on April 11, 2022, this "remains the case".
Although there are some fast-track services available for people who need their new passport urgently, appointment availability is said to be limited.
Britons are therefore being advised to "apply early".
Director general of HM Passport Office, Abi Tierney, said: "Now that international travel has resumed, we know people will be looking at going away on holiday and yet many people are leaving applying for a passport too late.
"The summer holidays are fast approaching so if you need a new passport, we urge you to apply now.
"Our dedicated staff are working tirelessly to ensure that passport applications are processed as quickly as possible."
DON'T MISS
Kate's favourite holiday spot has 'old-fashioned charm' [INSIDER]
'Stupidity': Passengers furious at UK airports due to extreme delays [COMMENT]
Simon Calder warns of 100 flights cancelled today [INSIGHT]
How to apply for a UK passport
You can apply for a passport either online or via a paper form from a Post Office, however online remains the cheapest and fastest method.
For adults aged 16 and over, a standard passport application costs £75.50 online and £85 by paper.
For children under 16, a standard passport application costs £49 online and £58.50 by paper.
To apply online you will need a debit or credit card.
If you urgently need a passport, you can apply for an Online Premium appointment or a One Week Fast Track.
As part of the application, you'll need to attend an appointment at your nearest passport office.
Those using the Online Premium service will get their new passport at the appointment. Appointments last up to 30 minutes.
Passport applications done under the One Week Fast Track will be delivered to your home within one week of your appointment, though someone will likely need to be home to sign for it.
Source: Read Full Article