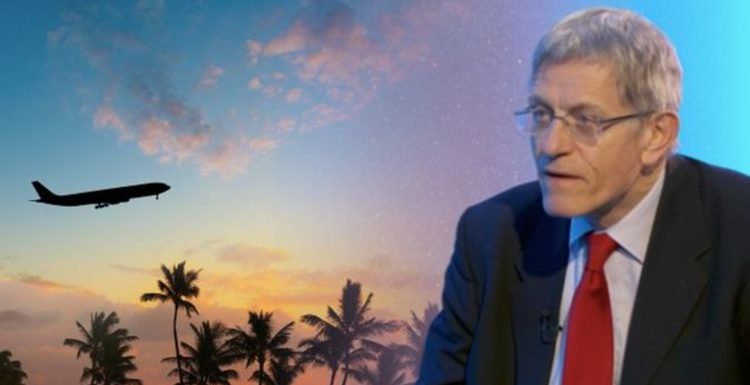 Holidays: Simon Calder advises to use 'human' travel agents
Travel may be on hold for now under current national lockdown regulations, but alluring deals from airlines and the ongoing vaccination rollout are tempting many Britons. Though travel expert Simon Calder says holidays "will" go ahead in 2021, he has a special "motto" for the year.
Speaking on BBC One's Rip Off Britain, the travel expert said: "My personal view is if you want to commit to a summer holiday in Europe that's almost certainly alright but please book a proper package holiday through a real human travel agent.
"I've just been watching what is happening and certainly going any further than Europe is very problematic and of course an awful lot of people got stuck the wrong side of somebody's lockdown back in March.
"So, staying closer to home is the motto and of course, it is better for the planet, and arguably better for you without all of those long-haul flights.
We will use your email address only for sending you newsletters. Please see our Privacy Notice for details of your data protection rights.
"And anyway, lots of places like Asia, and Australasia, with the greatest of respects they don't want to see you and they don't want to see me just yet."
Though many airlines and travel providers have enhanced their terms and conditions to include a "book with confidence" policy, Mr Calder says package holidays remain the safest option.
"It is very straight forward from my point of view," he said.
"Yes, there are lots of covid promises out there but the best thing to do is just book a package holiday.
DON'T MISS
Holidays: Expert predicts 'vaccination certificates' [INTERVIEW]
Holidays: Expert predicts holiday return date 'despite' corridor pause [COMMENT]
Holidays: Latest FCDO travel advice for Spain, France & Portugal [TRAVEL ADVICE]
"You will either get the holiday you booked or your money back, simple as that."
Package holiday, particularly those offered by travel association ABTA, provide some of the "best protection" for consumers.
The travel industry body explains: "Package holidays offer the best form of protection.
"Financial protection means you are entitled to a refund or to be brought home if necessary should the travel company organising your package go out of business.
"You're also protected if elements of the holiday aren't provided as required, for example, the right to a refund if bad weather means your holiday can't go ahead."
Speaking on ITV earlier in the month, Mr Calder also offered some insight into what prices might be like for 2021.
Sadly, it seems some of the bargain deals which were on offer in 2019 may not be within reach.
"You're not going to find too many bargains in the May holiday season which of course is when the travel industry hopes it's going to start properly in April for Easter, and then carry on May half term and then to the main summer months," he said.
He continued: "TUI, the biggest holiday company, has already said that they're selling prices for 2021 which are one-seventh higher than they were in 2019, the last proper year," Calder explained.
Mr Calder further suggested the rise in prices could simply be linked to a reduction in the number of holidays on offer in 2021.
"There might not be something from your local airport that you would ideally like to see, and you're probably going to be paying a bit more," he cautioned.
Source: Read Full Article