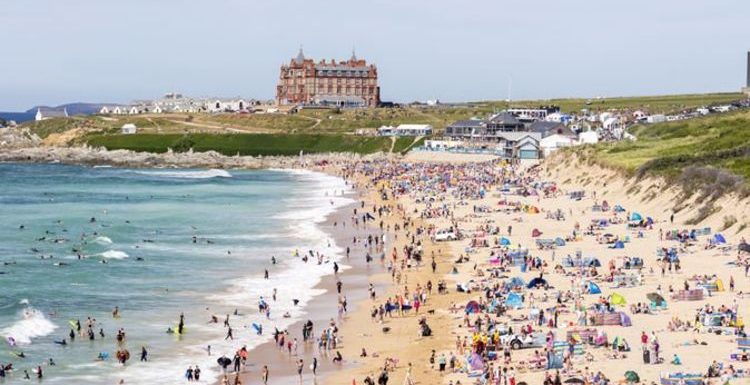 Cornwall: Kim Conchie says there is a 'perfect storm' in county
We use your sign-up to provide content in ways you've consented to and to improve our understanding of you. This may include adverts from us and 3rd parties based on our understanding. You can unsubscribe at any time. More info
The holidaymaker decided to go on a "relaxing" trip down to Cornwall. However, he claimed "I've come back from Cornwall feeling way more stressed than when I went." It took him six hours to drive down from the North of the country in his van, but the trip didn't end up as amazing as he thought.
"You should definitely never ever go to Cornwall," the tourist claimed in a YouTube video.
Liam stated on his YouTube channel 'LiamTheTerrible' he first went to Newquay, which he compared to Scarborough and said it is "quite nice" before heading to Bodmin jail.
The Cornish prices are repeatedly mentioned, with Liam saying: "Given that we're in a global pandemic, and Brexit has happened, and lots of things have gone to sh*t, people of Cornwall have decided to put all their prices up."
He explained: "I paid £40 for one night on a campsite without electricity."
READ MORE: August's trending staycation spots and where to stay
The jokey rant lasted 10 minutes and extensively covered the size of the roads, which are not made for vans, or any cars, according to Liam.
He claimed: "They must have some sort of special micro cars over in Cornwall because I don't know how they physically fit on the road."
In a very controversial move, the tourist said he'll back building motorways in the region: "I'll be the first one to sign a petition to build motorways all over Cornwall so it's easier to get around."
Nothing escaped the comments of the visitors who also hit out at Wales. He claimed: "Cornwall is a separate place, like Wales but worst."
Cornwall is too big: "It takes 17 hours to get from one side to the other."
There are no petrol stations: "There's only one station. Good luck finding that."
And the food is dry: "I've had pasty before, it's kind of moist. Not in Cornwall, it's something special."
Tourist "traps" like Land's End should be avoided, he suggested, and St Ives is impossible to visit as it only has one car park, which he claimed was "impossible to find."
He said: "St Ives is a bit like Scarborough, but very pretty in comparison. It's very pretty but you can't stop there, just drive past it."
The joke rant goes on with Liam claiming that "the locals don't care about visitors. Don't take your van to Cornwall."
He also joked the lack of signal on the peninsula as a ploy to stop tourists from telling the rest of the world what it's really like in Cornwall.
He claimed: "When you leave Devon, all phone signal stops. I don't know if some sort of electrical wall goes up. And that's probably so you can't document how s**t Cornwall is."
But even the grumpiest of tourist cannot deny the beauty of the peninsula and even Liam admitted it's one of the most amazing places on Earth.
He said: "The Cornish coast is stunning, but just Google it, it's just easier, it's less stressful."
Ultimately, Liam believed that "the expectation of Cornwall is better than the reality of Cornwall," and people seem to agree, with someone commenting on his YouTube: "As a Cornishman born and bred I find this video deeply… Accurate and immensely funny!"
Source: Read Full Article