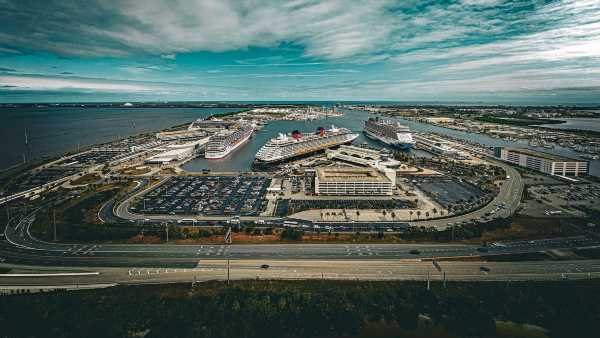 Miami's neighbor to the north, Port Canaveral, has laid claim to the title of busiest cruise port in the world — at least for now.
Surprised? The six-terminal cruise port that used to serve primarily as a home base for seasoned vessels sailing short itineraries to the Bahamas and private islands is now attracting new ships, nontraditional itineraries and more drive-to traffic, boosting its cruise passenger volume, said David German, vice president of cruise business development for Port Canaveral.
About an hour east of Orlando on Florida's Space Coast, Port Canaveral reached 4.07 million passenger movements in 2022, enough to edge out PortMiami as the busiest cruise port. Miami recorded about 4.03 million passenger movements, according to CLIA, which counts passengers from January through December.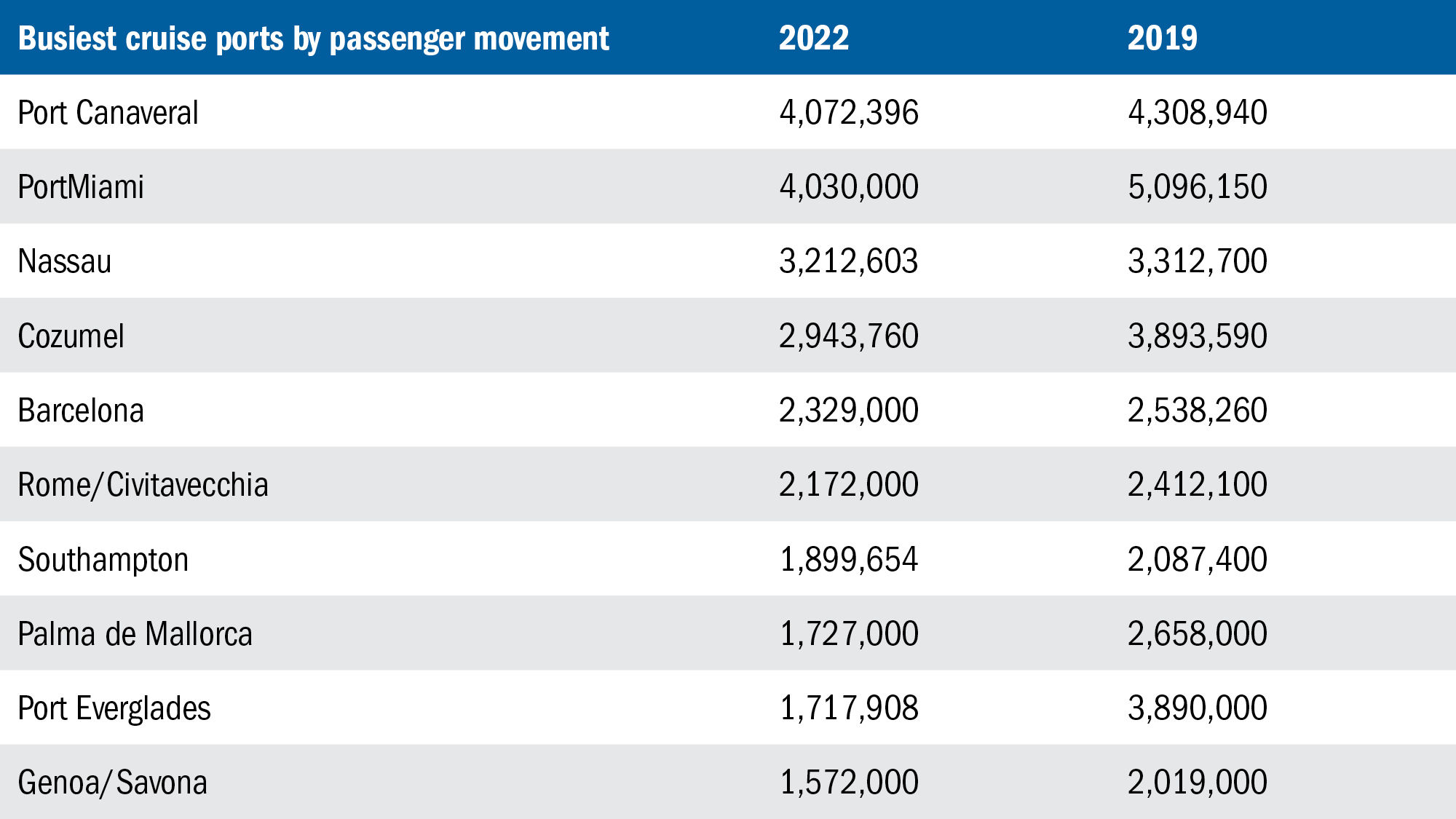 Meanwhile, just up the coast from Miami, Fort Lauderdale's Port Everglades recorded 1.7 million passenger movements in 2022, according to CLIA, coming in third in the state. 
None of the big three Florida cruise ports reached their prepandemic passenger volume in 2022. 
"We had the highest in the world, but still less than our record," German said. 
Before the pandemic, PortMiami was stronger. With nine terminals, it was easily the busiest port in the world, recording nearly 5.1 million passenger movements in 2019 compared with Port Canaveral's 4.3 million passenger movements, according to CLIA. 
And while Canaveral's rise is impressive, so is Miami's. In 2023, PortMiami has repeatedly broken records for its busiest single port day, with its current record at 67,594 passenger movements on April 9, when the port hosted eight ships. That volume was up nearly 15% from its previous record day in February, just before Valentine's Day. 
Both ports are growing. MSC Cruises is building a large terminal in Miami to accommodate two ships at a time, which will bring the port's total terminal count to 11. Port Canaveral is exploring the option to build a seventh terminal. 
Why Port Canaveral? 
Up until recently, Port Canaveral's most famous tenant had been Disney Cruise Line, which has a Disney-themed cruise terminal. The cruise line promotes cruise-stay packages with Walt Disney World in Orlando and operates a fleet of branded buses to make the drive to the parks and airport.
Prior to Covid, German said, cruise lines had already started introducing nontraditional itineraries, like six- and eight-day sailings from Port Canaveral, but it wasn't until the relaunch of cruise operations after the pandemic pause that they began basing different kinds of ships at the port. 
"We have always had great vessels from all of our cruise line partners," German said. "However, they began homeporting their newest tonnage with us immediately after the pandemic," like the Wonder of the Seas, Royal Caribbean International's largest ship with a 5,734-passenger capacity.
In a first for the line, Princess Cruises said it, too, would homeport a ship at Port Canaveral. The 3,140-passenger, refurbished Caribbean Princess will be based there in late 2024 for the winter season, a switch from Port Everglades.
"The combination of a vibrant Central Florida community, exceptional flight options into Orlando International Airport and great pre-cruise and post-cruise experience options makes Port Canaveral an easy choice," Princess president John Padgett said in a statement. 
Cruise lines continue to deploy more ships to the Space Coast. Carnival Cruise Line said in May that the 5,260-passenger, Italian-style Carnival Venezia will homeport there in late 2024 before returning to New York in the spring.
It will be Carnival's fifth ship based in Port Canaveral.
Chris Chiames, Carnival's chief communications officer, said Central Florida is attractive because it is a "vacation destination known for theming, and we believe our new set of immersive concepts and experiences will be right at home for the ship's snowbird season next year." He also said it's a strategy to "bring fresh experiences across our homeports."
Norwegian Cruise Line is the latest line to add more tonnage to Port Canaveral. Noticing strong demand for Caribbean sailings this winter, in late May it canceled the winter itineraries in Europe for the Norwegian Epic and will instead base the vessel in Port Canaveral in December. 
A robust drive-to market
The port instantly saw an increase in demand for on-site parking once cruising resumed sailing during the pandemic, German said. 
The drive-to market was so strong that the port's parking garages were full even when the ships weren't, he said, with license plates from both the East Coast and the Midwest. (Before the pandemic, the car-to-passenger ratio was 1-to-11. When cruising restarted, that number shot up to 1-to-5. Now, the average has cooled to 1-to-8.)
Henry Dennis, a leisure travel advisor for Frosch in Charlotte, said Port Canaveral is an easier drive for his local clients compared with the South Florida ports. The drive from Charlotte to Port Canaveral takes eight hours, versus 11 to Miami.
Another plus for Port Canaveral is combining a cruise with a vacation at nearby Walt Disney World, he said, and the fact that hotels near the port have improved.
"Many people will still vacation in Orlando or along the Space Coast area and combine that with a cruise, but it really isn't promoted by the cruise lines," Dennis said.
Source: Read Full Article