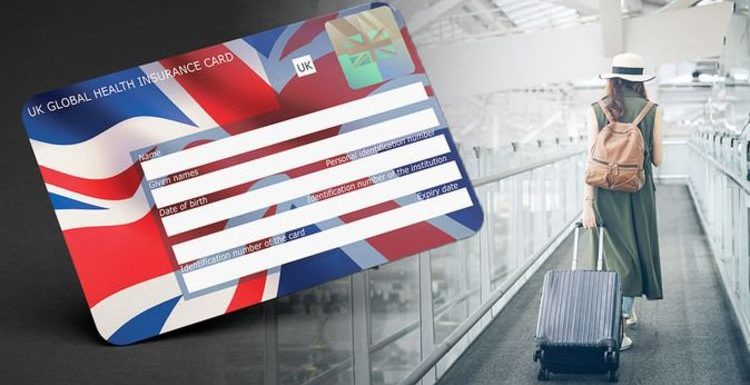 Martin Lewis discusses travel insurance for 2021 holidays
When you subscribe we will use the information you provide to send you these newsletters.Sometimes they'll include recommendations for other related newsletters or services we offer.Our Privacy Notice explains more about how we use your data, and your rights.You can unsubscribe at any time.
GHIC cards have been introduced to replace the EHIC now Brexit has gone through. The new Global Health Insurance Card offers Britons financial protection, but some scammers are using the lack of knowledge around the card to their advantage. New research from Direct Line Travel Insurance revealed 13.7 million people believe they have to pay for a GHIC when it is actually free.
However, some unofficial websites are charging around £29 per application and attempting to swindle unsuspecting Britons.
This could mean Brits risk losing up to £451 million collectively if they are misled into paying when applying for the new health card.
The lack of knowledge around the cards doesn't stop there, so what's the latest travel advice?
Direct Line found that around a third of Britons (17.5 million) have an EHIC that is still in date, while a fifth (19 per cent) are not sure when their EHIC expires.
With so many unofficial websites out there, many of these people could be at risk of being misled due to a lack of understanding that a GHIC is free.
Additional research by the insurer found that it takes less than 10 seconds to find an unofficial website when searching for 'GHIC application' on a search engine.
Worryingly, five links on the first results page direct you to websites that charge to manage the application process.
One website had even paid the search engine's advertising rates to come at the top of the search.
Direct Line Travel Insurance is now urging Britons to take care and avoid such sites and never pay for a GHIC as travel starts back up.
"The most common 'benefit' these unofficial websites are using to encourage unwitting people to use their 'service' is that they will either fast-track or manage the application process for ease," said the insurer.
"However, the time it takes for the application is sometimes longer than the stated time for the real NHS website.
"It is important to know that if you are planning to travel, when the Government restrictions are lifted and travel is allowed, GHIC applications are completely free and can be applied for using the NHS website."
Direct Line found that people aged between 18 and 34 are most likely to think they need to pay for a GHIC, with 50 per cent of people in this age group – the equivalent of 7.4 million – believing that you need to pay.
This decreases to 4.7 million 35 to 54-year-olds (27 per cent) and 1.6 million 55 plus year-olds (eight per cent).
There is also much confusion over what a GHIC can do for a holidaymaker.
The card covers you for emergency healthcare from state services.
However, 27 percent of those surveyed wrongly believe they will get the exact same care they receive from the NHS in the UK.
"This is a misconception and travellers need to be aware that the care they are provided will be the same as that of a resident in the destination country; if the resident has to pay for health care, they will also have to pay," said Direct Line.
Some of those asked even thought that the EHIC/GHIC would cover them for private health care (six per cent or 2.9 million people), elective procedures like tonsillectomy, eye surgery and hernia repair (four per cent or 2.1 million) and cosmetic procedures including dental surgery, liposuctions and facelifts (three per cent or 1.8 million).
Tom Bishop, Head of Direct Line Travel Insurance said: "While a large number of people know what they will be covered for with the GHIC, a significant amount do not. The GHIC covers you for the same level of state healthcare offered to residents of the country, not the same level of healthcare you would receive in the UK.
"It's therefore vital to take out travel insurance in case you need more than the GHIC or EHIC provides, plus it provides plenty of non-healthcare related cover too. Reciprocal healthcare is a brilliant thing to have, but make sure it is accompanied by comprehensive travel insurance when we can all go away again."
Source: Read Full Article