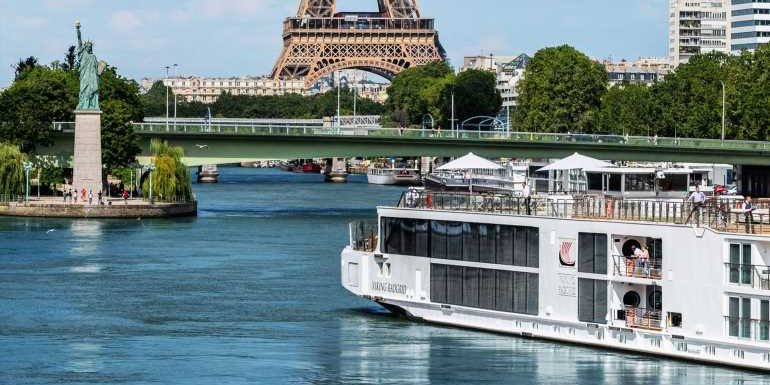 PARIS — It was a celebration on the Seine in Paris on Wednesday, when Viking River Cruises held its long-delayed official welcoming ceremony for new Viking Longships. Four Longships were christened in Paris, and four in Amsterdam.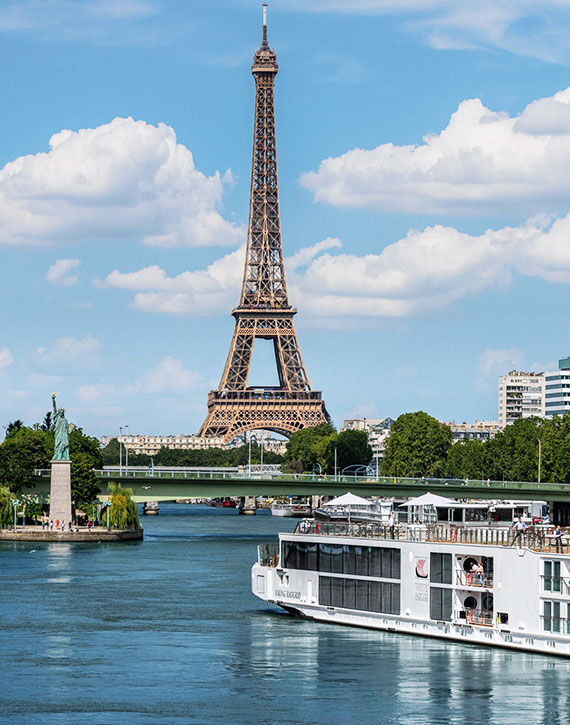 The four that sail the Seine, all built in 2020, have customized hulls and engines built to navigate the French river and the requirements of docking in Paris. While the other Viking Longships required shuttling passengers into the city, the shorter length of the Seine ships enables them to fit into the dock at Port de Grenelle, a short walk from the Eiffel Tower and the Statue of Liberty. 
The Longships in France have fewer cabins. While the Longships sailing the Rhine, Main and Danube hold 190 guests, these hold 168.
Along with the new ships, Viking announced a new 2022 holiday sailing in Normandy, Christmas on the Seine, and a new three-night post-trip extension for 2023, Paris: A Culinary Experience.
Special savings plus $599 airfare are available on all Paris sailings through March 31.
A bow to travel advisors
In an homage to its partners, Viking chose three of the eight official godmothers from the travel advisor community. Signature Travel Network executive vice president of marketing Karryn Christopher christened Viking Gersemi, Virtuoso strategy and sponsorships director for events Muriel Wilson christened Viking Skaga, and AAA Club Alliance senior vice president of travel services Brenda Hunsberger christened Viking Hervor. 
The other five ships christened were the Viking Gymir, Egdir, Radgrid, Kari and Fjorgyn. 
While some of the ships did sail in 2021, the official welcoming ceremonies, some originally planned for 2020, were delayed due to Covid. Wednesday's celebration was held simultaneously in Paris, where four of the ships will sail, and in Amsterdam. 
The eight new Longships in Europe join five other Viking newcomers debuting in 2022: two new ocean ships, a second expedition ship and two new river ships — the Viking Mississippi coming in June and the Viking Saigon, which will sail the Mekong beginning in August.
Also new this year is the inclusion of the 2022 Oberammergau performances on Danube and Rhine cruises; a special 2022 tour of the Valley of the Kings in Luxor and the National Museum of Egyptian Civilization in Cairo; extensions to Bruges, Antwerp and Floriade Expo 2022 in Amsterdam; and four new Christmas market itineraries on the Rhine, the Danube and the Seine.
As a press conference before the ceremony, Viking Cruises founder Tor Hagen said masks likely will no longer be required after April 1, though Viking's
program of daily testing will continue. In 10 months of
sailing since the pandemic, Viking never has had a Covid outbreak among passengers or crew.
Source: Read Full Article