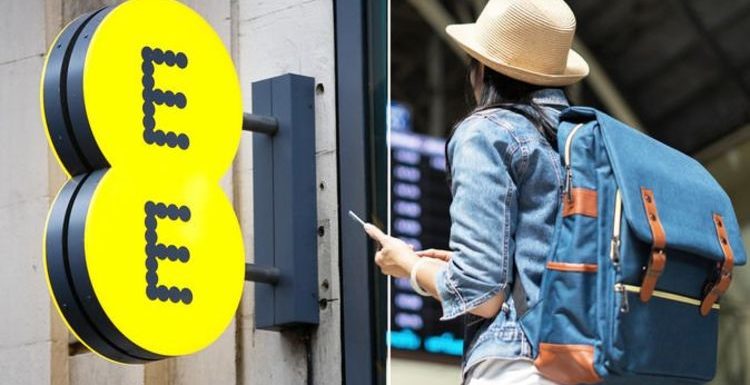 When you subscribe we will use the information you provide to send you these newsletters. Sometimes they'll include recommendations for other related newsletters or services we offer. Our Privacy Notice explains more about how we use your data, and your rights. You can unsubscribe at any time.
The provider has announced that from January 2022 it will cost some £2 a day to access 4G and 5G data, calls and texts while in Europe.
A two week trip to Europe will cost an extra £28 for those who wish to use their data on a daily basis.
EE is second to announce the charges, after O2 did the same.
O2 will be hitting customers travelling to the EU with charges is they get over a limit of 25GB.
Customers will be charged a huge £3.50 per 1GB they go over the limit.
Experts have commented on the news calling it "hugely disappointing for consumers".
The move is a big blow to Britons after the public elected to leave the European union.
Ernest Doku, mobiles expert at Uswitch.com, said: "In the aftermath of Brexit, the UK's biggest mobile providers all said that they had no immediate plans to change their charging models for consumers roaming within the EU.
"It's hugely disappointing for consumers to see that situation change so quickly.
DON'T MISS
10 hidden gems where you can holiday away from the crowds [TRAVEL]
Queen Elizabeth enjoys exclusive passport perk [INSIGHT]
Simon Calder's 'holiday quarantine bingo' [EXPERT]
"This move means that customers joining or upgrading with EE from July will have to pay £2 a day to use their data and minutes across Europe from 2022.
"EE says the move will support investment in its UK-based services, but this is ultimately a backwards step for consumers.
"Unfortunately, when one provider makes such a bold decision it can mean that others follow, so we'll be watching to see what O2, Vodafone and Three do next."
He issued advice to EE customers, existing and potential, after the announcement.
Martin Lewis discusses post-Brexit roaming charges abroad
"If you're an existing EE customer, these charges won't affect you yet, but make sure you check the small print if you're due an upgrade in the coming months," he said.
"When it comes to travelling, don't leave it till the last minute to check the roaming charges for your destination, and always use hotel and cafe Wi-Fi when on holiday where possible."
Britons have responded to the news on Twitter.
One wrote: "They politely waited a bit straight after Brexit…."
Another said: "Doesn't surprise me to be honest. I've never really rated EE for roaming anyway, especially out of EU as their charges were just ridiculous."
"Disgusting that @EE are reintroducing roaming charges, despite saying they're werent in January!! #ripoff," one wrote.
Another said: "Another "win" for the s*** show of Brexit."
Source: Read Full Article