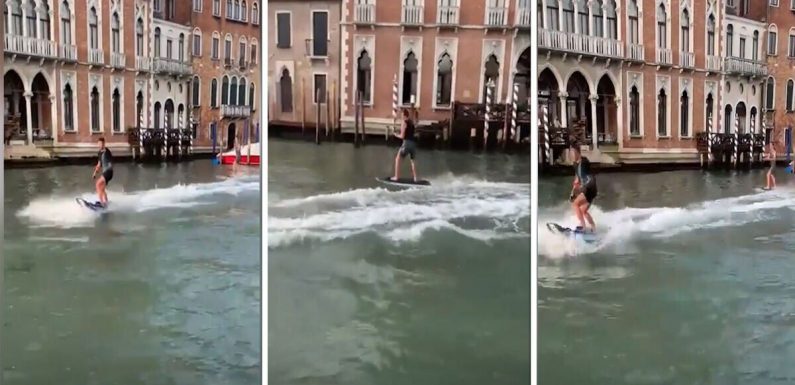 Venice: Two men spotted foil surfing along Grand Canal
We use your sign-up to provide content in ways you've consented to and to improve our understanding of you. This may include adverts from us and 3rd parties based on our understanding. You can unsubscribe at any time. More info
Luigi Brugnaro, Venice's mayor, shared a video of two tourists surfing on one of Venice's canals. The mayor said he wanted to "punish" the rulebreakers.
Brugnaro tweeted: "Here are two overbearing idiots who make a mockery of the City.
"I ask everyone to help us identify them to punish them even if our weapons are really blunt.
"We urgently need more powers to the Mayors in terms of public safety! To those who spot them, I offer a dinner!"
Brugnaro has shared his anger with rule breaking tourists before, reacting with rage to graffiti on one of the city's protected churches.
Venice locals were recently angered by two American tourists who took a skinny dip in one of the canals.
The two men were spotted bathing in the canal water before returning to their Airbnb in their towels.
Swimming or surfing on Venice's canals is banned as it could cause damage, accidents or an injury.
Aside from the obvious dangers, the water is extremely dirty and sometimes even contains sewage.
However, not everyone on Twitter agreed with the Mayor's position on the two surfing visitors.
One person said: "Actually, it seems like a great way to get around the city."
Another person replied: "A great way to risk falling into the water and end up under a vaporetto."
A vaporetto is a Venetian public waterbus and one of the most efficient ways to get around the stunning city.
Venice will introduce a new tax on daytrippers in 2023 which will see cruise passengers and other daily visitors charged an additional fee to enter the city.
Tourists who stay overnight in Venice will not be affected as they already pay a tourist tax to the city.
The surfing incident is the latest in a series of cases of tourists behaving badly while on holiday in Italy.
An Australian tourist was recently apprehended for riding a moped through the ancient city of Pompeii.
Pompeii is a very fragile site and tourists are not allowed to ride their own vehicles through the site.
The man said he was not aware of the rules although authorities suspect he used a gate for maintenance vehicles to access Pompeii.
Earlier this year, two American tourists caused rage when they threw an electric scooter down Rome's Spanish steps.
Officials said that the pair had caused thousand of pounds worth of damage to the protected monument.
Source: Read Full Article