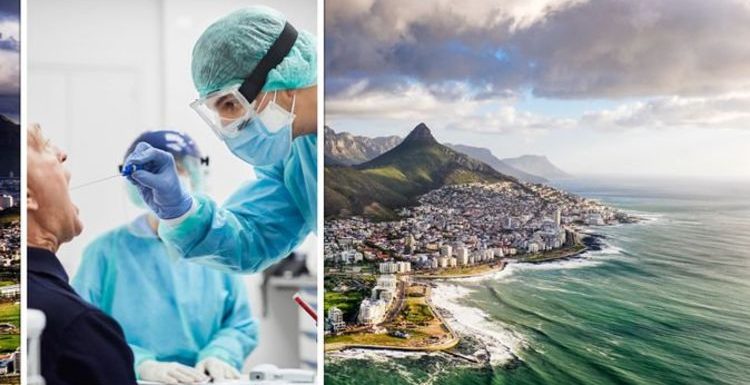 Omicron variant: Holidaymaker says travel rules are 'unfair'
We use your sign-up to provide content in ways you've consented to and to improve our understanding of you. This may include adverts from us and 3rd parties based on our understanding. You can unsubscribe at any time. More info
The detection of a new Covid variant, Omicron, has triggered change for travellers coming back into the UK. With the need for a PCR test and self-isolation back on the menu, many holidaymakers are faced with added costs when coming back to the UK.
From Wednesday December 1, PCR tests are required to come back into the UK.
In a move the travel industry has labelled "a blow", the Government has reintroduced PCR tests.
An ABTA, The Travel Association spokesperson said: "While ABTA understands that this is a rapidly evolving situation and public health must come first, the decision to require all arrivals to take a PCR test and self-isolate until a negative result is returned is a huge blow for travel businesses, many of whom were only just starting to get back on their feet after 20 months of severe restrictions."
They continued: "These changes will add cost to people's holidays which will undoubtedly impact consumer demand and hold back the industry's recovery."
'Everything on your doorstep': Expat life in Andorra
Holidaymakers face added cost to their travel, with PCR test more expensive than the quick and easy lateral flow tests.
!CovidTestingDirect.com, which is on the list of Government-approved Covid testing companies, has sent emails to all its customers to announce they would be able to "upgrade" their lateral flow tests and will only have to pay the difference.
The email said: "We fully appreciate how confusing this will be for our customers.
"While guidance from the Government prevents us from issuing a refund to customers who have already been assigned a Passenger Locator Number, we don't feel that that this is very fair and therefore we are taking steps to make it as easy as possible for you to change your Day 2 Lateral Flow Test to a Day 2 PCR test as required by Government."
They explained: "To make this process as seamless as possible, we will send you a link that will allow you to upgrade your Day 2 Lateral Flow Test to a PCR test. The cost that you have already paid for your Lateral Flow Test will be deducted from the cost for your Day 2 PCR test."
However, proving everyone is in the dark when it comes to travel requirements, they also warned to "consider that the UK Government may add some additional guidelines".
The added cost and confusion around the announcement was evident on social media.
On Twitter, holidaymakers have been commenting on the new requirements.
User Stevie-Leigh said: "This trip's getting more and more expensive by the minute!
"It's honestly so exhausting, I don't know whether I'm coming or going! I've just checked and currently day 2 PCR tests on Government website are around £60-£80 per person!"
And Becca Herbert said: "Just spend another £100 on PCRs. Fuming."
The price of PCR tests are again at the centre of many debates.
Anne G said: "Am travelling to France for Christmas so ordered a PCR test yesterday hopefully before the price went up but for some unknown reason my bank refused it.
"Today the price has gone up from £49 to £79. Plus delivery of £9 or so. Shameless profiteering."
Iain A Stewart wrote: "My OH flew back to Scotland in August for a visit to family, not seen since 2019.
"Tests before and after flights cost more than the flights and that was after shopping around. Happy to do them but felt too many people cashing in with huge and variable fees."
And Suzanne M Wolfe claimed: "By the time I got through paying for all the mandatory tests in UK, I was 300 pounds sterling poorer. Turns out I didn't need two of them. No refunds, of course. It's highway robbery."
Source: Read Full Article