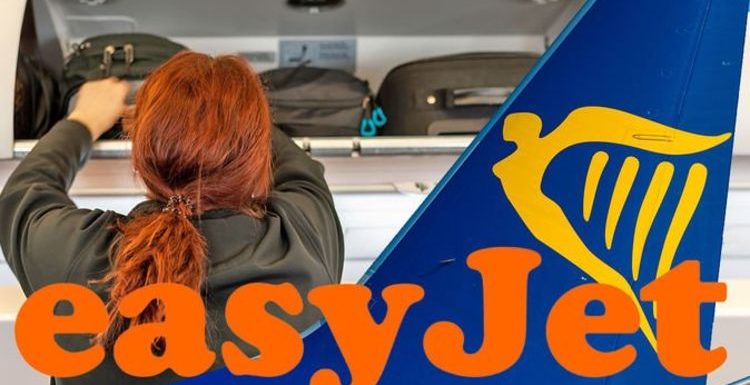 easyJet: Martin Lewis warns of hand luggage change
When you subscribe we will use the information you provide to send you these newsletters.Sometimes they'll include recommendations for other related newsletters or services we offer.Our Privacy Notice explains more about how we use your data, and your rights.You can unsubscribe at any time.
Flights on such budget airlines as Ryanair and easyJet are undeniably cheap but they also come with a plethora of restrictions. Hand luggage is one area of flying that travellers have to be careful about. Extra charges could well be incurred if jet-setters go over the size limit.
Luckily they are ways fliers can make sure they avoid this issue. Elizabeth Rhodes from luggage brand Antler has shared her top space-saving and packing tips with Express.co.uk:
1. Plan your outfits
Rather than packing individual items of clothing, think about how they work together as an outfit. One pair of casual trousers can work for a day of sight-seeing and then be dressed up with a different top, shirt or accessories for the evening.
Take the time to imagine what you'll be doing each day of your trip, then lay out outfits on the bed that work for each occasion, doubling up items as often as possible. Remember it's usually easy to wash clothes when you're away too, so you don't need to pack one outfit for every day of the trip.
2. Use packing cubes
Not keen on packing? Get yourself some packing cubes and it becomes a whole lot easier. Most are sold as a set with a mix of sizes included, so you can pack one packing cube for your socks and another for tops or trousers.
If you have children, you can also pack by colour, with one colour of packing cubes for your son and another for your daughter. This also makes unpacking at the other end far easier. Antler's compression packing cubes come in six colours and have an extra-strong zip that will compress your clothes, to fit even more into your case.
3. Roll, don't fold
Rolling your clothes means they're less likely to crease or succumb to deep wrinkles and means you can fit more into each corner of your case or packing cubes.
4. Make a packing list at least a week ahead
It's easier than you think to forget the obvious items like your toothbrush, but if you're also visiting friends or family for the first time in a long time, it's likely you'll have that book to return that you borrowed, or the late Christmas present to deliver – those extra things unique to that trip, are very easy to forget.
So, start your packing list early, with plenty of time to add to it, so you also have time to buy anything in advance that you'll need to take.
5. Layer up
Think about what you'll wear to travel in. If you're staying in the UK like many of us will be for the foreseeable, wear layers to save space in your case, like a base-layer with a shirt, a warmer jumper or zip-up top, and then a waterproof coat or jacket that will work for the day and evening.
The more layers you can actually wear on the journey, the less you'll need to pack and carry.
6. Keep your packing clean
Move on from using plastic bags and invest in some shoe bags—they'll help keep the rest of your packing protected from dirty shoe soles or high heels.
Combine shoe bags with matching packing cubes, and you'll be able to find everything you need in your suitcase so much more easily, without all the usual rummaging.
7. Check the airline before you travel
If you do get lucky enough to fly this year, always check your airline's hand luggage allowance before you travel. They are all different and can change at any time, so not every piece of hand luggage will fit every airline.
Some airlines have weight restrictions as well as size restrictions, so pay close attention when you're choosing which bag to travel with. It might be worth considering booking with a different airline with a more generous hand luggage allowance, to avoid getting caught out by hidden fees.
Antler's collection includes several options for hand luggage, for example, its Clifton Universal Cabin case is designed to fit more airlines, whilst its Clifton Expandable Cabin has an expander zip so you can pack more in, but is slightly taller, so may not fit some of the budget airline carrier hand luggage restrictions.
Backpacks can also be handy if you travel light, as they fit more easily under the seat in front of you, as does a small holdall.
8. Consider a case with an easy-access pocket
A front pocket can be a convenient way to keep those travel essentials close at hand.
Pockets can also be a weak point though when it comes to security (easy access isn't what you want if there are pick-pockets around), so make sure you can secure the pocket if you're keeping tickets, money, passports or any other valuables inside.
9. Think about how you'll be travelling
Hard-sided cases are a good choice if you want the maximum protection for your belongings—they're extra strong but have built-in flex to withstand the rough and tumble of travel, and the shells are water-resistant.
They usually open like a book, which makes packing easy to organise. Soft-sided cases are often slightly lighter in weight and some offer more variety when it comes to external pockets.
Consider ease of movement too—the best cases have four, double-spinner wheels, to make wheeling your case extra smooth.
10. Choose a trusted brand
Luggage gets battered about more than most other things you own, so it's worth investing in luggage that will last; that is designed to be strong and durable. You'll want to ensure your suitcase not only survives the journey but also looks good on arrival.
Antler suitcases have a 10-year warranty, and it offers a repair service for parts like wheels and handles.
Source: Read Full Article