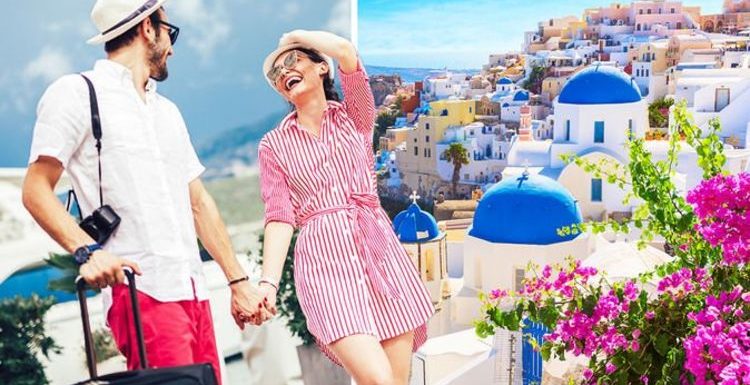 Vaccinated travellers 'shouldn't need to be tested' says Theoharis
When you subscribe we will use the information you provide to send you these newsletters.Sometimes they'll include recommendations for other related newsletters or services we offer.Our Privacy Notice explains more about how we use your data, and your rights.You can unsubscribe at any time.
Greece holidays were given a boost last week when the Greek Tourism Minister revealed Britons would soon be able to travel to Greece with or without the Covid vaccine. British tourists will hopefully be able to jet to Greek shores from June to enjoy a summer holiday on the mainland or on one of Greece's stunning islands. It's always important to stay on top of the latest travel advice when booking a holiday, however, and today the Foreign, Commonwealth and Development Office (FCDO) issued new guidance for Greece.
Greece travel advice
The FCDO travel update today concerned the refreshed lists of areas in Greece under a category for anti-COVID-19 measures.
"The Greek authorities have implemented tough measures to help combat the spread of COVID-19," said the Foreign Office.
"There are specific measures in place in the cities of Athens (and surrounding Attica region); and in Thessaloniki and Chalkidiki."
The FCDO continued: "The rest of Greece is split into a number of categories, with different levels of measures applying in different categories. These categories are: amber areas; red areas; and areas of heightened concern.
"All measures remain under regular review: you should keep up-to-date by checking this page regularly, and following local announcements."
The lists can be found on the FCDO's travel page for Greece.
Entry restrictions do apply to those entering the country.
Britons are allowed to enter but both strict testing and quarantine measures are in place.
"If travelling by air, land or sea to Greece, you must provide evidence of a negative result from a PCR test for COVID-19 that has been conducted within the 72 hour period before your arrival time in Greece," said the FCDO.
"Failure to do so may result in your carrier not allowing you to travel and will likely result in the Greek authorities refusing you permission to enter Greece."
As for quarantine, the authority detailed: "In addition, arrivals into Greece from the UK by air are required to undergo a rapid COVID-19 test on arrival, and if the result is negative, self-isolate for seven days.
"If you are staying for a shorter period of time, then you will need to self-isolate until your departure day.
"If you test positive on arrival in Greece, you will have to self-isolate for at least 14 days, or until local authorities advise."
Travellers also need to complete a Passenger Locator Form (PLF) before they travel (both into and out of Greece).
"You must wear a face mask at all times when on an aeroplane, bus, train or ferry travelling to or from Greece; and whilst at airports," the FCDO added.
Britons are urged not to turn to the NHS for a Covid test for travel.
"You should not use the NHS testing service to get a test in order to facilitate your travel to another country. You should arrange to take a private test," said the FCDO.
For now, Britons cannot leave the country.
June 21 is the target date for when travel abroad can start again.
Source: Read Full Article