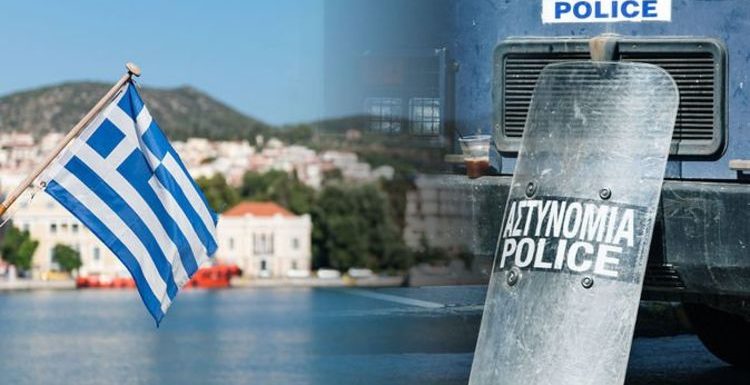 Greece: Protesters violently clash with police in Athens
When you subscribe we will use the information you provide to send you these newsletters.Sometimes they'll include recommendations for other related newsletters or services we offer.Our Privacy Notice explains more about how we use your data, and your rights.You can unsubscribe at any time.
Holidays to Greece could be back on from May if Prime Minister Boris Johnson's roadmap out of lockdown goes forward as planned. However, the Foreign, Commonwealth and Development Office (FCDO) has issued a new warning for UK residents in the country and looking to visit over a "heightened threat" of terrorism.
On its travel advice page for Greece, the FCDO explained there could be some targeted "terrorist attacks" aimed specifically at "UK interests and British nationals".
The FCDO explains: "Terrorists are likely to try to carry out attacks in Greece. Attacks could be indiscriminate, including in places frequented by foreigners.
"High profile British interests in Greece should be vigilant and regularly review their security measures.
"There have been several attacks involving explosives and automatic weapons against Greek institutions, shopping malls, banks, media offices, diplomatic premises and the police.
"British nationals aren't normally considered a specific target, but attacks could happen in places visited by foreigners.
"There's a heightened threat of terrorist attack globally against UK interests and British nationals, from groups or individuals motivated by the conflict in Iraq and Syria."
Both UK visitors to Greece and those who are living there are advised to "be vigilant at this time."
Holidays to the nation could resume from May, with the nation's tourism minister Harry Theocharis saying all will be welcome regardless of whether they have been vaccinated.
DON'T MISS
Queen Elizabeth: Informality 'had its limits' on royal travels [INSIDER]
Package holidays: TUI, British Airways, easyJet, Jet2 & Virgin updates [UPDATE]
Holidays: Finland crowned happiest country in the world [MAP]
He explained UK tourists will need to either show a certificate providing they have been vaccinated, or proof they have antibodies against the virus or a negative COVID-19 test.
When the time comes, though, the Greek tourism minister said the nation wanted to make travel to the country "as smooth and hassle-free as possible."
Despite no guaranteed date for Britons to return to holidays, the Greek minister showed confidence summer holidays will go ahead.
Speaking to The Telegraph, Mr Theocharis said Britons can "book flights and start choosing the places where they want to go."
Though the nation has not yet vaccinated its entire population, the inoculation effort is well underway in Greece.
Furthermore, officials have set out plans to make entirely "Covid-free" communities.
According to POLITICO, Greece will work through its island communities to vaccinate them first.
The New Democracy government has said it hopes this will lure visitors back and restore tourism after a difficult year for international travel in 2020.
Under the plan, smaller islands would be vaccinated first, with the roll-out then moving onto larger islands.
According to reports, Fournoi, Chalki, Symi, Ereikousa, and dozens of other tiny islets with fewer than 1,000 residents in the Aegean and Ionian seas are among the first places likely to be fully vaccinated.
This would then be followed by larger islands, including popular tourism hotspots Corfu and Santorini.
At the time of writing, the FCDO continues to advise against all but "essential" travel to Greece.
However, this is with the exception of Rhodes, Kos, Zakynthos, Corfu and Crete.
Source: Read Full Article