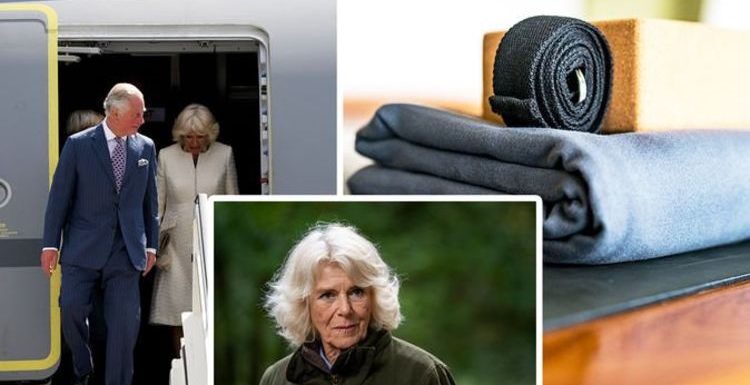 When you subscribe we will use the information you provide to send you these newsletters.Sometimes they'll include recommendations for other related newsletters or services we offer.Our Privacy Notice explains more about how we use your data, and your rights.You can unsubscribe at any time.
Camilla, Duchess of Cornwall has, unsurprisingly, fine-tuned how she likes to travel. The royal has been on a great many visits alongside her husband Prince Charles. There's one item she says she always takes when jet-setting.
Camilla made the revelation during a 2017 tour of Southeast Asia which she made with the Prince of Wales.
She shared that she likes to travel with a yoga block.
The disclosure came about in Singapore when the Duchess was taken to a yoga class for senior citizens.
Royal author Robert Hardman detailed the episode in his 2018 book Queen of the World.
Camilla says she's had the AstraZeneca jab
"The Duchess is touring a community centre where she turns her hand to art, flower-arranging and cooking, and drops in on a yoga class for senior citizens," wrote Hardman.
"They all obediently freeze in position as she walks in.
"She spots a 'back brick' and tells her guide that she never travels without one.
"'Healthy ageing – that's what we all need,' she says cheerfully."
Yoga bricks are a helpful tool to deepen flexibility and enhance yoga practice by lending the support needed.
Camilla is known to be a fan of yoga and practices the discipline alongside pilates.
While watching the Singapore class she also remarked: "It's very good for you yoga, isn't it?
"I do a bit of yoga. A bit of yoga and a bit of Pilates."
"It's very good for you as you get older, it makes you less stiff – good for your muscles.
"It makes you much more supple.
"I think it's very important as you get older to take exercise and stretch."
Prince Charles is also an advocate of yoga.
He has previously claimed if more people enjoyed the physical and mental benefits of the discipline the NHS could save on 'precious and expensive' resources.
Not everything the royals take away with them focuses on fitness, though.
Telegraph reporter Gordon Rayner, who has attended 20 royal tours, previously reported the pair travel with their own alcohol.
Charles and Camilla sometimes take a secret stash of booze with them when they travel to avoid their drinks being tampered with.
"Prince Charles and the Duchess of Cornwall sometimes take their own alcohol so there's no danger of their drinks being spiked," Rayner told Conde Nast Traveler.
Source: Read Full Article