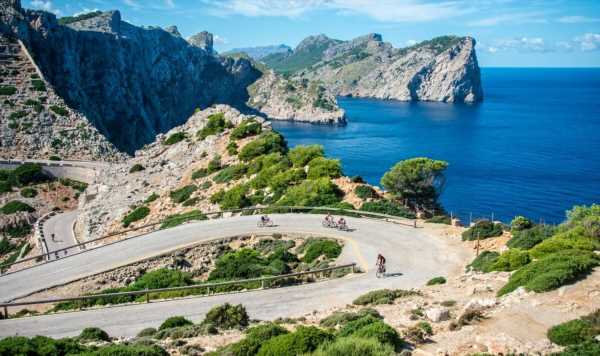 We use your sign-up to provide content in ways you've consented to and to improve our understanding of you. This may include adverts from us and 3rd parties based on our understanding. You can unsubscribe at any time. More info
Majorca, one of Spain's stunning Balearic islands, has been named one of the world's best destinations to see nature by Tripadvisor. The Spanish island has many incredible attractions to wow nature-loving Britons.
Many Britons travel to Majorca to relax on one of its beautiful beaches and there are more than enough to choose from.
On Tripadvisor, the island's best ranked beach is Playa de Muro, a 6km long sandy beach with lifeguards.
A visitor wrote on the review platform: "Glorious. What a beautiful beach, clean sand and turquoise seas which are very calm and shallow."
Another person said: "Beautiful sand with clear blue sea, very shallow and safe for children and elderly."
But there's more to Majorca than beaches and nature-loving Britons might want to explore some of its other breathtaking landscapes.
The Serra de Tramuntana mountain range stretches the length of the northwestern coast of the island.
The mountain range is an UNESCO world heritage site while the craggy cliffs are dotted with centuries old olive trees.
A visitor on Tripadvisor wrote: "There are plenty of beautiful footpaths, a hiker's paradise. One walks through pine forests, past olive trees and around Soller it is full of citrus trees."
Tourists could also take a trip to one of the uninhabited islands around Majorca, which are home to many plant species.
St Dragonera, a small islet of Majorca's west coast, is known for its wall lizards and can be visited by boat.
Majorca also has some incredible caves and at Cuevas del Drach, tourists will be able to see one of the world's largest underground lakes.
The island is also home to several natural springs although tourists might need to visit outside of summer to see them at their best.
Majorca is just a short flight from the UK and there are direct flights from many major airports, including Manchester and Birmingham.
Ryanair, easyJet and Jet2 all offer budget flights to the island with more available during the summer.
Temperatures are warmest in August when it's usually around 30 degrees although the island benefits from a coastal breeze.
Tourists can expect to enjoy around 10 to 11 hours of sunshine per day during July and August.
Tripadvisor Best Nature Destinations
Mauritius
Kathmandu, Nepal
Serengeti National Park, Tanzania
Hurghada, Egypt
Lombok, Indonesia
Kauai, Hawaii
Majorca, Spain
Grand Cayman, Cayman Islands
Corsica, France
Koh Tao, Thailand
Source: Read Full Article