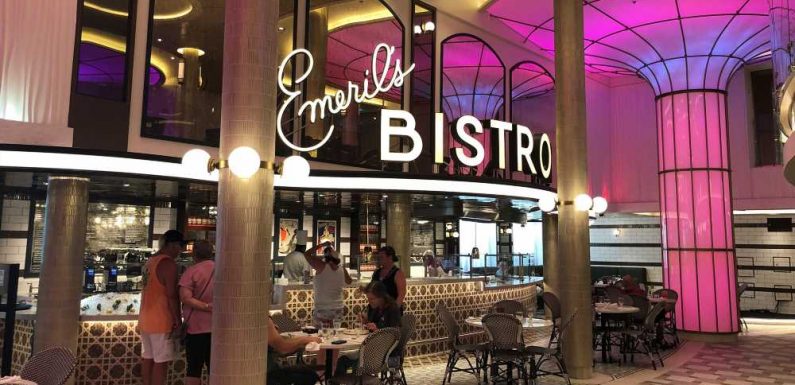 ABOARD THE MARDI GRAS — I can't remember the last time I had a chicken sandwich for breakfast, but I had one on this new Carnival Cruise Line ship and it was pretty good. 
My morning meal was a fat, tender piece of chicken breast meat, lightly battered and fried, sandwiched between two slices of breakfast biscuit. It was more meat than breading and was served hot. 
The Big Chicken, brought to you by Carnival chief fun officer Shaquille O'Neal, is one of nine specialty restaurants around the Mardi Gras open for breakfast in an attempt to draw guests away from the crowded lido buffet in the morning. 
Fried chicken, barbecue and grilled burgers may not be everyone's idea of breakfast fare, but The Big Chicken, Guy's Pig and Anchor and Guy's Burger Joint are a terrific trio of casual concepts that provide satisfying if not exactly dietetic meals on the Mardi Gras. 
That those restaurants are stationed near pools or bars and offer quick access to outdoor seating only adds to their appeal. The Big Chicken is pretty small, but the space devoted to the two Guy Fieri restaurants on Mardi Gras is much larger than on previous ships. 
Another casual concept being introduced on Mardi Gras is Street Eats. Tucked away in a corner near the Beach Pool, Street Eats is a mini-collection of single-idea kitchens inspired by food truck cuisine. Choices include Steam Dream (think Asian bao buns); Time Fries (fries with toppings); Seafood Shack (fried and steamed shellfish) and Mad Sizzle (kebabs and satay). 
On a slightly more elevated plane, Chibang! is another new restaurant that offers two popular cuisines — Mexican and Chinese — under one roof. Unlike the purely casual restaurants, Chibang! (wing in Mandarin) is not on an open deck but in a corridor off of the Grand Central atrium. 
I tried the queso fundido appetizer and the pork lomitos as a main course, and both were tasty. Before our food arrived, two crew members in a bright red Chinese dragon costume cavorted through the restaurant. 
Dinner at Chibang! will be included in the cruise fare for a limited time, after which diners must pay a cover charge.
Mardi Gras is the first ship with an atrium built into the side of the ship, rather than centered in the middle. It was a challenge to design and build.
Two other fee-extra restaurants have been unveiled for the first time on Mardi Gras, both associated with top chefs.
Rudi's Seagrill is the first restaurant designed for Carnival Cruise Line by acclaimed industry veteran Rudi Sodamin, who has previously worked mainly for Holland America Line.  Entrees include crab-stuffed lobster tail, grilled colossal shrimp and Dover sole. My dining companion and I were both very happy with the crab cakes and seafood bisque that we ordered.  Our key lime pie dessert was arranged as a smiling "food face," a Sodamin specialty.
Rudi's, which has an airy, slightly futuristic design, seats 80 indoors plus another 20 on a wind-sheltered outdoor lanai. The cost is $38 for adults, $12 for kids.
Also debuting on Carnival is renowned New Orleans chef Emeril Lagasse, whose Emeril's Bistro 1396 anchors the French Quarter area on the Mardi Gras. It also serves breakfast. I tried a shrimp creole omelet the first morning aboard to get the good times rolling. I went back later in the cruise for jambalaya, which was served in a mini cast-iron skillet and accompanied by a beer from the Abita craft brewery in New Orleans. 
Classic café seating flanks both sides of a corridor through the French Quarter, with an oversized illuminated sign billboarding the venue. A la carte pricing at Emeril's ranges from $3 for rice and beans to $8 for jambalaya, Crab Louie salad or New Orleans-style barbecue shrimp. There is also a raw bar with items listed at "market prices." 
Source: Read Full Article