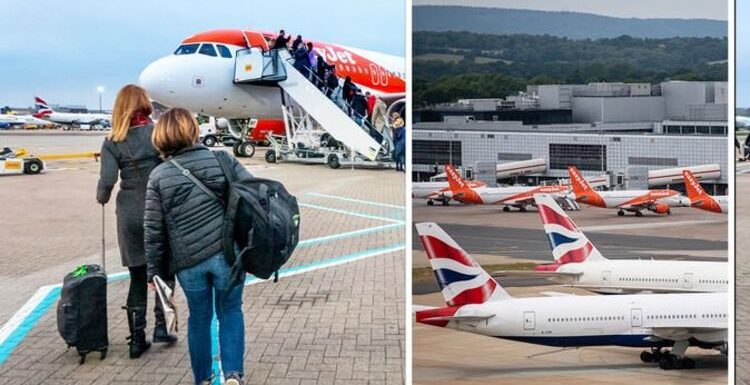 Gatwick Airport: New safety measures as terminal set to re-open
We use your sign-up to provide content in ways you've consented to and to improve our understanding of you. This may include adverts from us and 3rd parties based on our understanding. You can unsubscribe at any time. More info
Gatwick Airport has reopened its South Terminal after it was initially closed in June 020 due to the coronavirus pandemic. Now, many airlines have moved back to the terminal from the North Terminal, with some ramping up services and others introducing new ones altogether.
Between Sunday, March 27 and Tuesday, March 29, Gatwick has seen an influx of new and increased operations.
The airport saw its flight departures surge from 300 to 570 a day on Sunday.
A greater array of both short-haul and long-haul designations is now on offer, with even more to come in the summer months, which the airport believes will reflect the resurgence in demand for air travel.
The South Terminal has also had a facelift during the closure, with shops, eateries and other facilities having been refurbished, updated and cleaned.
Gatwick Airport's chief executive Stewart Wingate said: "After a difficult two years, we know there is significant pent-up demand for international travel, so I advise passengers to book early to make sure they secure the flights they want this summer."
Some airlines, such as easyJet, will operate from both the North and South Terminals.
Passengers are advised to double-check the departure terminal of their flight before heading to the airport.
On Tuesday, March 29, British Airways restarted its short-haul operations from Gatwick.
DON'T MISS
Rage as passengers lose out due to post-Brexit rules [REVEALED]
Boost as Spain ditches more Covid rules to get back to normal life [INSIGHT]
Gatwick airport reopens South Terminal – train delays [REPORT]
The airline also launched its new "low-cost", standalone short-haul operations from the airport.
British Airways is set to jet off to around 35 European routes.
The airline will operate under the British Airways name but will exist as an "entirely separate entity" much like its operations out of London City Airport, the firm said.
By Autumn 2022 the organisation will be managed separately under the company trading name 'BA Euroflyer', consistent with its sister subsidiary 'BA CityFlyer'.
Which airlines are returning to Gatwick Airport's South Terminal?
Aer Lingus from March 29
Air Arabia Maroc from March 29
Air Baltic from March 29
Air Europa from March 29
Air Malta from March 27
Aurigny from March 27
BH Air from March 29
British Airways from March 28
Corendon Airlines from March 29
Croatia Airlines from March 29
Eastern Airways from March 27
easyJet from March 27 (both North and South terminals)
Enter Air from March 29
Iberia Express from March 27
Jet2 from March 29
Norwegian from March 27
Nouvelair from March 29
Ryanair from March 29
Scoot from March 29
SmartWings from March 29
SunExpress from March 29
TAP Portugal from March 27
Titan Airways from March 29
TUI (both North and South terminals)
Ukraine International Airlines from March 29
Vueling from March 28
Wizz Air from March 27
Source: Read Full Article