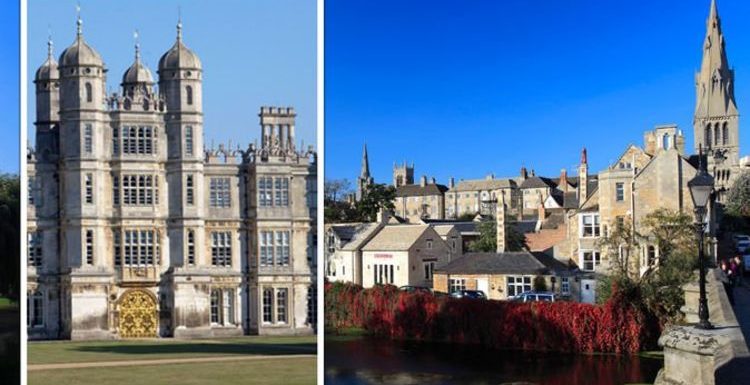 Adam Frost offers tour of his Lincolnshire garden in 2020
We use your sign-up to provide content in ways you've consented to and to improve our understanding of you. This may include adverts from us and 3rd parties based on our understanding. You can unsubscribe at any time. More info
The Midlands town was described as "architectural eye candy" in one guide. And Daffodil Hotel agreed, naming it on its list of prettiest towns in the UK.
The Lincolnshire market town of Stamford was lauded for its 600 listed buildings.
This is one of the highest density of listed buildings in the UK.
The town's community spirit, weekly market and River Welland's walks were also singled out.
Stamford has been described as the "finest stone town" in the country.
READ MORE: Expats leaving Spain in DROVES: Retired Brits abandon Costa del Sol
Its architecture make it a beautiful place to visit and Britons who head to Lincolnshire should find plenty to do in Stamford.
First on the agenda for anyone visiting Stamford is a walk through the historic centre.
On Tripadvisor, PeteLucy said: "Definitely worth a trip to see the historical buildings and the authentic aspects of the town set-up."
Paul F said: "Superb gem of a country town.
"Stamford is a must-see place to visit. Lots of fabulous independent shops to browse, whether food, gifts, clothes antiques or curio.
"Stamford has it all in charming warm stone style."
And Dave S wrote: "Stamford is a very nice little town with lots of places to visit to suit most people's taste – lots of history – in the evening it is a hub with excellent hotels, bars and restaurants – good to spend time just seeing what is around."
The town has appeared on screens, most notably as Meryton in the 2005 Pride and Prejudice film and in The Da Vinci Code.
Britons visiting the town centre may wish to browse the independent shops, such as Stamford Cheese Cellar, noted on many guides and lists as a must-see.
St Leonard's Priory is the ruins of the Priory Church.
On Tripadvisor, the attraction was described by reviewer EESW1 as "just the remains of the Priory Church, but what is left is one of the best surviving examples of Norman architecture in Stamford".
The main big attraction in Stamford, however, is Burghley House.
The 16th century house was conceived by William Cecil, Lord High Treasurer to Queen Elizabeth I.
One of the most powerful courtier of the time, the house is no small affair.
There is lots to see on a visit, including the house, the gardens and the grounds.
The estate also has a sculpture garden and a deer park.
Source: Read Full Article