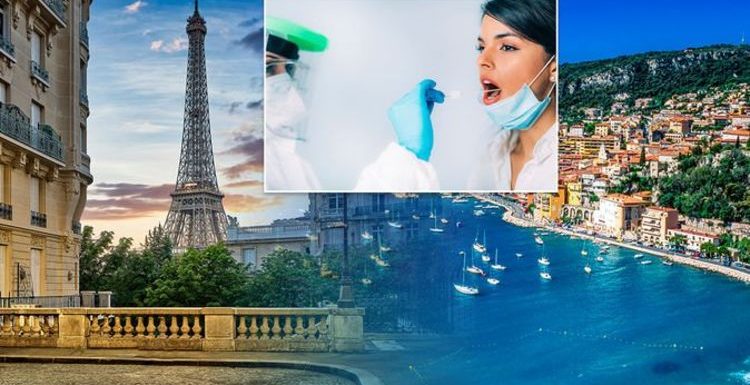 Travel: Grant Shapps issues warning on booking holidays
When you subscribe we will use the information you provide to send you these newsletters.Sometimes they'll include recommendations for other related newsletters or services we offer.Our Privacy Notice explains more about how we use your data, and your rights.You can unsubscribe at any time.
France placed restrictions on travel from the UK in December following concerns over the spread of new variants of COVID-19. However, the French government has since made the decision to ease these restrictions.
Arrivals from the UK, along with six other nations, will now no longer be required to provide documentation providing they have a "compelling" reason for travel, such as a medical or family emergency.
Along with the UK, restrictions are also being eased for arrivals from Australia, Israel, Japan, New Zealand, Singapore and South Korea.
The Foreign, Commonwealth and Development office (FCDO) has yet to update its travel advice pages to reflect the relaxation.
Until now, France has kept its borders shut to UK travellers unless they fit a specific set of entry rules.
This includes French residents, hauliers, essential workers, or those who were travelling for set out "compelling" reasons.
According to France's tourism minister Jean-Baptiste Lemoyne, the easing came as a result of improving health situations in the seven listed nations.
In a translated Tweet, the tourism minister said: "Compelling reasons are no longer necessary to travel to France.
"Thank you from the bottom of my heart for the efforts made and which made it possible to curb the epidemic. Let's stay vigilant, let's hold together!"
DON'T MISS
British Airways may use its biggest planes to fly tourists to Europe [INSIGHT]
France holiday update: Britons can travel to France [UPDATE]
Pound euro exchange: Sterling still 'yet to break above' 1.17 handle [GRAPH]
He added: "The list includes Britain because the UK variant now also circulates widely in France."
According to data from the European Centre for Disease Prevention and Control (ECDC) the UK recorded 61.7 new cases per 100,000 of the population over the seven cumulative days since March 11.
France, meanwhile, recorded 220.2 per 100,000 of the population in the same time period.
However, some rules will remain in place. UK example will be required to show a negative PCR COVID-19 test result taken within 72 hours of travel.
The FCDO advises: "You should not use the NHS testing service to get a test in order to facilitate your travel to another country.
"You should arrange to take a private test."
Of course, holidays for Britons remain on hold for the time being, with leisure travel currently still illegal.
It is thought some international travel may resume from May 17 if Prime Minister Boris Johnson's "roadmap" out of lockdown goes ahead as planned.
From April, the UK Government is reinstating its Global Travel Taskforce which will work to determine whether travel can return safely.
Many countries are already working on ways in which they can facilitate safe travel.
The EU has put forward plans for a "digital green pass", which would carry information on whether a traveller has been vaccinated or tested for Covid.
It could also provide information on whether they have had the virus in the past, or have antibodies.
Source: Read Full Article