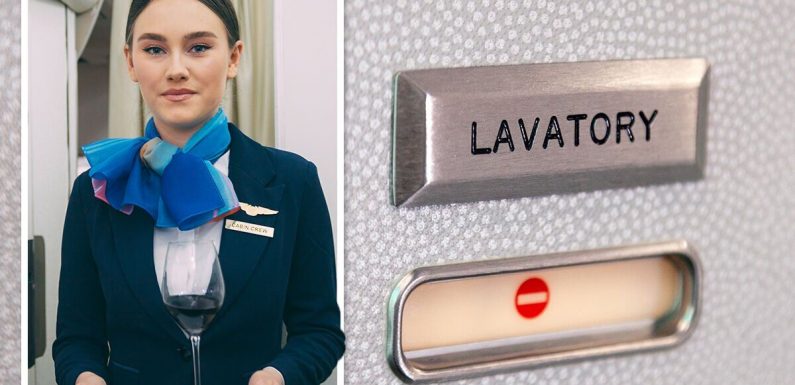 Flight attendant explains how to properly pack a bag
We use your sign-up to provide content in ways you've consented to and to improve our understanding of you. This may include adverts from us and 3rd parties based on our understanding. You can unsubscribe at any time. More info
Flight crew sharing to a Reddit forum dedicated to "secrets that airlines don't want the rest of us to know" have revealed a little-known fact about the bathroom doors onboard. While many passengers know the no smoking sign on the door is to deter passengers from illegally lighting up in the toilet, according to flight attendants and frequent fliers, there is another "secret" reason.
One Reddit user named Casper042 explained their "secret" is to do with safety onboard.
They said: "The little No Smoking sign on the bathroom door is itself a little door and has a latch inside that allows you to unlock or lock the door from outside."
On some planes, this tiny latch may be tucked away beneath the silver "lavatory" sign.
A second crew member said: "We are able to unlock the bathroom from the outside in case somebody becomes incapacitated."
Underneath the no smoking or lavatory sign is usually a catch that once turned, will release the lock.
This then means the door can be opened from the outside.
Passengers are not permitted to use this lock, and would likely be reprimanded if caught doing so.
Instead, the latch is there for emergencies only.
Flight crew are most likely to need access to the bathroom if someone is suffering from a health condition, or if a child locks themselves in the bathroom by mistake.
However, if a passenger is illegally smoking and refuses to stop and come out, the crew may also use the latch as a last resort to stop the behaviour.
Sharing to Quora, former aviation instructor Kancheepuram Narasimhan said the mechanism sometimes needs a small tool to release it.
DON'T MISS
Flight attendant's summer travel tips – best time of day to fly [REVEALED]
'Go back!' Norway rage as cruise passengers told 'not welcome' [COMMENT]
'Must see' Barcelona attraction that most people don't know about [INSIGHT]
They wrote: "Even a hairpin will do.
"The provision is intended to rescue a passenger who became unconscious inside or a child which could not open the door.
"I have tested this in a practical test on cabin crew – whether cabin crew rescue me by opening the door from outside."
Source: Read Full Article