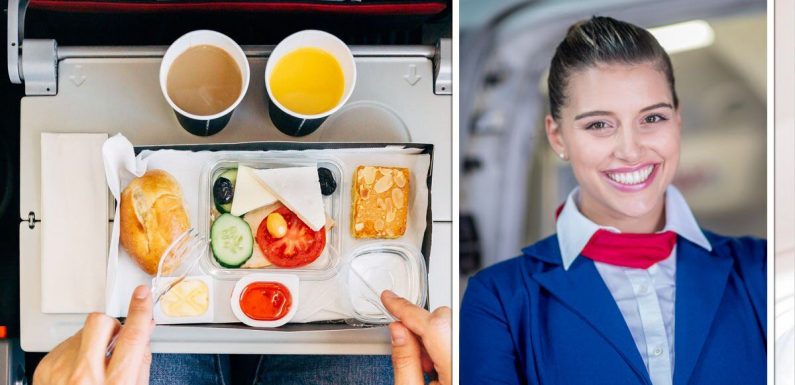 Flight attendant explains how to properly pack a bag
We use your sign-up to provide content in ways you've consented to and to improve our understanding of you. This may include adverts from us and 3rd parties based on our understanding. You can unsubscribe at any time. More info
Kat Kamalani is a flight attendant who uses social media platform TikTok to share her top tips and tricks for flyers. In one of her viral videos she told travel enthusiasts about one particular product they should avoid onboard.
Kat told her 823,000 followers: "Don't you ever, ever, ever consume these products from an airplane.
"Rule number one, never consume any liquid that is not in a can or a bottle."
While it may be tempting to ask a flight attendant for a cup of tea or coffee to make the journey a little cosier, Kat definitively advised against it.
"The reason being is because those water tanks are never cleaned."
She revealed that they are "disgusting."
The flight attendant continued: "We rarely, rarely drink the coffee or tea.
"They come from the same water tank so when you're drinking that coffee and tea it comes from that hot water and it's absolutely disgusting."
She went on to claim that the tanks are "rarely cleaned unless they are broken".
A section of the machine is taken out and cleaned between flights but the whole machine is "never cleaned", according to this flight attendant.
Kat then shared another reason why a coffee or tea is a be less than appealing option."
"And… they're by the lavatories."
Next, she provided a "pro tip" for parents flying with small children.
"Never ask for hot water and put it in your baby's bottle.
@katkamalani Just promise me you won't #flightattendantlife #travelhacks #traveler #cleaninghacks #influencers #foodhack ♬ original sound – Kat Kamalani
"Ask for bottled water on the side and then hot water in a cup.
"Then make your baby a bottle with the bottled water and put it in the cup and heat it up."
The viral video has amassed over 540,000 likes on TikTok.
More than 30,000 travel enthusiasts have saved the tip ahead of their next flight and almost 20,000 have shared it with a friend.
The comments on the video were a mixed bag.
Some were incredibly grateful for the insider secret.
@seungminnoo said: "Thank you [sic]. Me and my family are travelling soon with my baby brother so thanks!"
@monicamartinez872 added: "This is not the first time I've heard this…noted. I had coffee on my last flight."
But there were others who disputed her claims.
One such user, @l0velyanni, stated: "I'm a Flight Attendant myself and with my airline the tanks are fine. I drink coffee from them all the time, never been sick due to them."
@savannah0191 added: "Flight Attendant here! We drink the coffee and hot water all the time… you'll be alright lol."
Source: Read Full Article