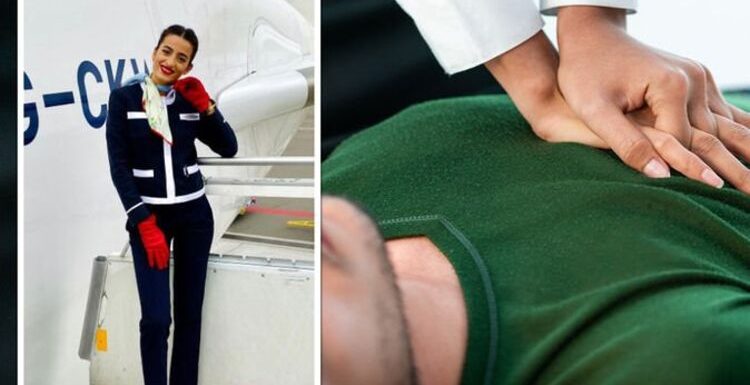 We use your sign-up to provide content in ways you've consented to and to improve our understanding of you. This may include adverts from us and 3rd parties based on our understanding. You can unsubscribe at any time. More info
Helena Afroughi, a cabin crew member who has been flying the skies for years, has had many medical emergencies on her flights, most of them related to passengers' pre-existing conditions.
Senior passengers are more likely to suffer a medical emergency on the plane and Helena urged the elderly to be extra careful when travelling and shared a few tips for those heading on a holiday soon.
She said "I would first say that it's completely normal to ask the crew about anything if they are unsure and to feel comfortable in doing that."
Helena also recommended passengers "familiarise themselves with the plane".
"Just have a look at the safety card in the seat pocket in front of you, see the safety demonstration just so you are more aware of how things work, exits etc," she said.
The cabin crew member shared a trick that can help the crew react quicker during a medical emergency, and "not many people know".
She said: "If you are travelling (especially on longer flights) and you are elderly, it would be helpful to let someone in the crew know about any underlying health conditions. Like if you've recently had a stroke or heart attack.
"Because in the rare case something like that goes to happen again on the aircraft, at least they will know what is going on a lot quicker instead of taking all possible scenarios into account before giving you first aid," she explained.
The cabin crew will be greeting passengers during boarding at the beginning of the flight. Travellers can take this opportunity to make themselves known and inform them of any pre-existing medical condition.
But are flight attendants well trained for medical emergencies?
In fact, flight and cabin crew members have to complete intensive safety and medical training that prepares them for any situation they can potentially face in the sky, which includes performing CPR, delivering adrenaline injections or even handling death on board.
Billy Eagle, Virgin Atlantic cabin crew, told Express.co.uk: "We have that medical background.
"We are not just first aiders; our training is a lot more advanced than basic first aid.
"I wish the public knew what it is like."
Billy said that "a lot of the medical situations that arise, happen with little or no notice, and cabin crew have to be able to react to that in a professional and safe way".
However, he added that "the regular public rarely gets to see that, so they don't understand".
From the International Air Transport Association (IATA), Katherine Kaczynska, explained: "The main role of cabin crew is health and safety of the passengers, and there is a large element of that in their training, in case a passenger gets ill, for example."
Helena concluded by sharing her best tips to avoid injuries on board the aircraft: "As the space is very small, just be extra careful where you are stepping to avoid injuries.
"The carpet on the plane can make people trip sometimes. Also stepping in and out of the plane, there are gaps etc.
"So look down where you are stepping," she said.
Source: Read Full Article