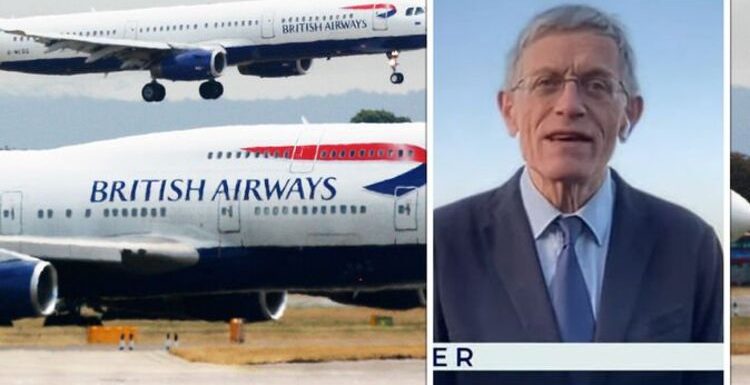 Simon Calder on British Airways and EasyJet cancelling flights
We use your sign-up to provide content in ways you've consented to and to improve our understanding of you. This may include adverts from us and 3rd parties based on our understanding. You can unsubscribe at any time. More info
UK Airports have faced pandemonium in recent weeks in the lead up to Easter, including long queues, flight delays and even flight cancellations. Simon Calder revealed that BA have already cancelled flights this weekend.
Simon revealed that the airline has cancelled 52 flights in total.
"British Airways has so far cancelled, I calculate, 52 flights.
"That's mostly European destinations but also short haul flights."
Destinations affected include Belfast City, Aberdeen, Edinburgh, Glasgow, Manchester and Newcastle.
He continued: "Those should have been notified some time ago."
This will be disappointing to many families who are hoping to visit loved ones over the Easter weekend.
However, the travel broadcaster advised: "If you are in a position of having your flight cancelled, they should have found you an alternative.
"Meanwhile, down at Gatwick, easyJet have cancelled 30 flights today including lovely Greek holiday islands such as Cephalonia and Zante."
But he assured flyers that their travel plans would not be scuppered.
"The airline is absolutely responsible for getting you there on the day."
He added that they would pay compensation "on top" of allocating passengers a new flight.
Simon Calder himself flew in from Lake Como just yesterday afternoon.
Offering a tip to potential flyers for next Easter, he stated that flights are cheaper in the days before Easter than at Easter weekend.
There has been intense disruption at UK airports in recent weeks.
They have not been able to operate adequately over and in the lead up to the Easter period.
This is due to a sudden influx of travellers who want to go abroad post-pandemic.
Unsurprisingly, an easing of restrictions has prompted people including families to book trips away for the first time – for many – in more than two years.
But unfortunately this has been far from plane sailing.
A surge in Covid cases means that there has also been a significant staff shortage.
Across the UK airports have been filled with frustrated passengers waiting in long queues to check in or collect their bags, not to mention board their planes.
Consequently, Heathrow Airport, which has been found to be Europe's most stressful, is recruiting 12,000 new employees.
Source: Read Full Article