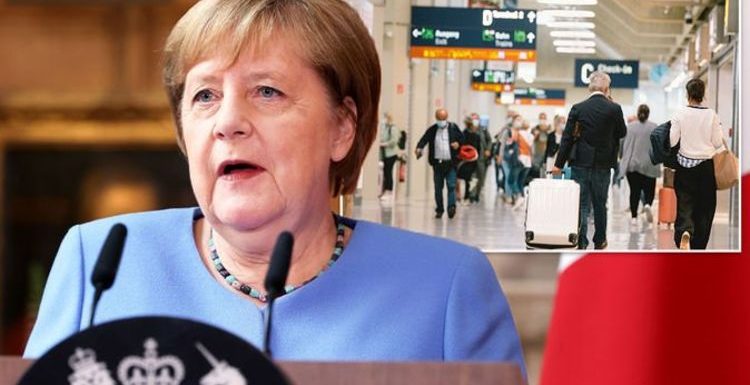 Boris Johnson says double jabs will be 'liberator' for travel
When you subscribe we will use the information you provide to send you these newsletters. Sometimes they'll include recommendations for other related newsletters or services we offer. Our Privacy Notice explains more about how we use your data, and your rights. You can unsubscribe at any time.
Germany has downgraded the UK from its highest level of "virus variant area" to the second-highest "high-incidence area". It comes just weeks after German Chancellor Angela Merkel called for quarantine restrictions to be imposed on all UK travellers throughout the European Union (EU).
However, following her meeting with Prime Minister Boris Johnson at Chequers, Ms Merkel appeared to back down on her former statement.
In fact, the chancellor showed promise that vaccinated Britons could soon be welcomed back to Germany without restriction.
Speaking at a press conference alongside the Prime Minister at Chequers, Ms Merkel said: "We are continuously reviewing our travel restrictions.
"In the foreseeable future, those who have received double jabs will be able to travel again without having to go into quarantine."
The chancellor explained Germany's previous calls for bloc-wide rules against Britons was due to a lack of understanding over the Delta variant.
She said: "We adopted certain protective measures when we were not as yet so familiar with a Delta variant.
"We now see the share of the Delta variant in Germany is increasing very rapidly."
Despite this, Merkel's previous comments sparked a wave of new rules against Britons throughout Europe.
What do you think? Join the debate in the comments section here
DON'T MISS
Spain: British tourism slammed as nation sees Covid rise [COMMENT]
Cornwall named the best road trip destination in Europe [RANKING]
Spain expat says 'perfect time is now' to relocate [INSIDER]
At the time, the German chancellor said: "In our country, if you come from Great Britain, you have to go into quarantine – and that's not the case in every European country, and that is what I would like to see."
Following this, Spain introduced new rules for Britons, demanding all unvaccinated travellers shown evidence of a negative PCR test upon arrival.
Those who could not show this evidence are required to quarantine.
Green list Malta also made the decision to implement 14 days of mandatory quarantine for Britons who have not taken up both doses of the vaccine.
Similarly, Portugal and its archipelago Madeira imposed 14-day isolation for British tourists who could not prove they were fully vaccinated.
However, Merkel's comments may suggest a bloc-wide approach to allowing vaccinated Britons to travel without quarantine could be on the cards.
Already, the EU's Covid green pass for travel is up and running across the bloc, allowing vaccinated citizens to holiday freely.
The NHS app is also expected to be streamlined with the EU pass in the coming months.
Last week, many travellers found themselves at a loose end when Malta announced it would not accept the NHS app as evidence of vaccination.
Instead, tourists were expected to carry a paper version of the NHS Covid Pass letter which had to be requested at least a week ahead of departure.
Luckily, Transport Secretary Grant Shapps confirmed the decision had been reversed, with the app now being accepted.
In a tweet, he said: "Pleased to say that #Malta now recognise our NHS Covid app (or NHS letter), to allow our fully vaccinated UK citizens access to their beautiful islands without the need to isolate."
Source: Read Full Article