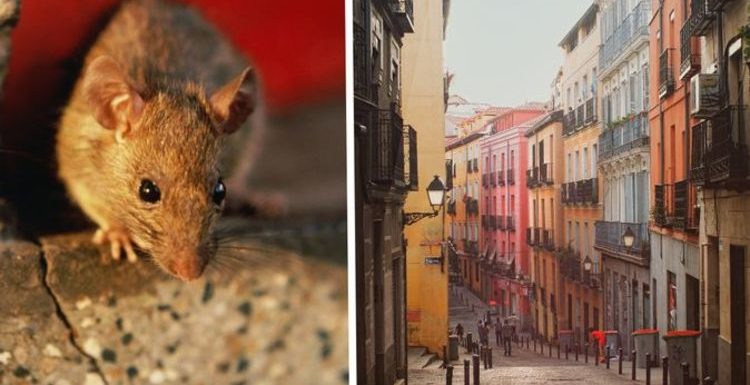 Brexit: British expat discusses difficulty of living in Spain
We use your sign-up to provide content in ways you've consented to and to improve our understanding of you. This may include adverts from us and 3rd parties based on our understanding. You can unsubscribe at any time. More info
Environmentalists have issued a warning concerning colonies of black rats, which are said to be spreading through Spain's main cities. The rats could infect both humans and pets with lethal diseases.
People living and holidaying in Spain have been warned about the rats by the National Association of Environmental Health Companies (Anecpla).
To stop the spread of the rats, locals and tourists have been urged not to feed stray cats on the streets.
People should also avoid leaving rubbish out on public roads.
Experts have said the black rat population has increased notably in the last two years in Spanish cities, including Valladolid and Madrid.
Back in 2019, a dozen outbreaks were detected and controlled in Madrid.
However, 35 outbreaks have already been detected in the capital this year, according to Anecpla.
José María Cámara from Madrid's Department of Health said: "The presence of the black rats in Madrid has been increasing in recent years.
"It's therefore essential to act quickly from the first detection and to establish synergies with citizens themselves, park and garden workers, etc."
DON'T MISS:
New EU rules set to cause holiday chaos for British tourists [WARNING]
EU plans crackdown on expat golden visa schemes [RULES]
'Really underrated': 'Largest national park' with UK's only reindeer herd [STAYCATION]
Anecpla has warned the public that although black rats usually prefer parks and gardens, they often build their nests in trees, making it hard to distinguish them from birds' nests.
They also nest on rooftops and attics, moving with agility through branches and popes.
Sergio Monge, President of Anecpla commented: "Until now, both environmental health companies and municipal prevention plans were specialised in sewer rats – the treatment of which is carried out inside the sewer system.
"However, with the black rat, we are faced with specimens that move in gardens and green areas, near schools and playgrounds, with an intense traffic of people and domestic animals, which greatly complicates their management.
Mr Monge added: "People in Spain are being warned not to feed pigeons, cats, etc. on public roads as the remains of the food left on the street will attract black rats and promote their expansion and reproduction."
Anecpla has urged people to put waste inside bins and avoid leaving rubbish bags outside on the streets.
As well as people, dogs can also get infected if bitten by a black rat.
Vets have warned all veterinary practices should be vigilant.
Pets should also be vaccinated against the bacteria named Leptospira.
Adult black rats can weigh anything between 150 and 250 grams, measuring between 16 and 22 centimetres, including their tail.
The rats are extremely agile and can produce up to six litters a year, each producing up to 18 babies.
The black rat is included in the Spanish Catalogue of Invasive Exotic Species.
Additional reporting by Rita Sobot.
Source: Read Full Article