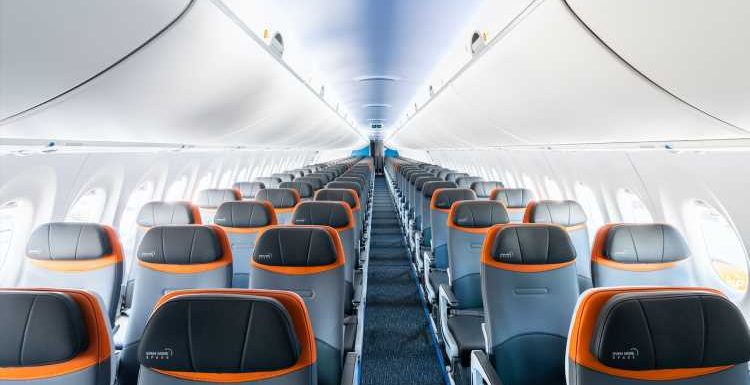 © Courtesy of JetBlue
Economy Just Got Some Major Upgrades on JetBlue's Newest Plane


Courtesy of JetBlue Flying economy doesn't have to be miserable.
JetBlue pulled back the curtain on the interiors of its new Airbus A220-300 aircraft this week, revealing a focus on comfort, design, and tech.
The airline has ordered 70 of the new planes, which have been outfitted with a unique two-by-three seating configuration—a first for JetBlue. The carrier was already known for its roomier economy seats, on average 18 inches across the fleet (most carriers provide seats in the 17- to 18-inch width range), and legroom. But JetBlue pushed them a smidge wider on the new aircraft, to 18.6 inches, and the seats also have better cushioning and adjustable headrests upholstered in a breathable vegan leather material, according to JetBlue.
Frequent JetBlue fliers know that a hallmark of the carrier is its entertainment options. That will continue on the new planes. There are 10-inch, high-definition seatback screens at each seat featuring 30 DIRECTV channels, shows from HBO and Showtime, and a large selection of movies. There is free high-speed Wi-Fi and in-seat power sources with AC, USB-A, and USB-C ports.
Some additional highlights include larger windows and more overhead bin space. Those with an eye for design might notice a new lighting scheme onboard that changes depending on the time of day, and lavatories featuring New York City–inspired subway tiles. Another cool detail: The interior walls of the cabin feature some Morse code dots and dashes that "spell out something fun," according to JetBlue—so bring your decoding skills.
The A220 will enter regular scheduled service by mid-June on flights between Boston and Fort Lauderdale. It will fly on additional routes as more aircraft join the fleet. The planes have lower fuel and carbon emissions than other aircraft in the JetBlue fleet, and their fuel efficiency also makes them more cost-effective to operate. JetBlue hopes to achieve net zero carbon emissions across all operations by 2040.
JetBlue's Mint premium-class service got a big update, too
Video: Boeing's 737 Max just completed its first commercial flight—Here's what it looked like (CNBC)
J&J reports positive phase 1/2 Covid vaccine trial results

CNBC


J&J's one-shot Covid vaccine candidate gives sustainable antibodies

CNBC


Cramer: Expanding vaccine eligibility to those 65 and older is 'terrific'

CNBC


Former FDA chief Scott Gottlieb on New Jersey's vaccine rollout and more

CNBC


Trader makes bet on one tech stock up 300% since March

CNBC


FBI issued internal warning of 'war' at Capitol the day before the riots

CNBC


Fed's Brainard: Economy is far away from our goals

CNBC


Watch CNBC's full interview with General Motors CEO Mary Barra

CNBC


McConnell: No decision yet on how I will vote on Trump impeachment

CNBC


Here's what economic policies are likely to pass in Congress under a Biden administration

CNBC


Affirm board member Jeremy Liew discusses outlook for tech IPO market

CNBC


These are the 10 happiest states in the US

CNBC


The Budgetnista reacts to our 2021 New Year's financial resolutions

CNBC


New Jersey Gov. Phil Murphy: We're assuming new Covid strain is in the state

CNBC


Killer Mike on launch of digital banking platform Greenwood to address inequality

CNBC


Former EY CEO Mark Weinberger on corporate America's halt of political contributions

CNBC


J&J reports positive phase 1/2 Covid vaccine trial results
CNBC's Meg Tirrell reports that Johnson & Johnson has seen positive results from its Covid vaccine trial. With CNBC's Melissa Lee and the Fast Money traders, Guy Adami, Tim Seymour, Pete Najarian and Steve Grasso.


CNBC



J&J's one-shot Covid vaccine candidate gives sustainable antibodies
Researchers found that most of the volunteers for the vaccine trial had neutralizing antibodies, which is believed to be important for acquiring protection against Covid-19. CNBC's Berkeley Lovelace reports.


CNBC



Cramer: Expanding vaccine eligibility to those 65 and older is 'terrific'
The Trump administration will issue new guidelines on Tuesday that will expand coronavirus vaccine eligibility to everyone 65-years-old and above, a senior administration official told CNBC. CNBC's Jim Cramer discusses whether the shift in policy will be effective.


CNBC

The new A220 aircraft aren't the only areas of JetBlue's in-flight experience getting a boost. The carrier also recently unveiled a major refresh of its Mint premium-class service, complete with all-new brand partnerships for enhanced food, health, and wellness offerings.
Mint, JetBlue's version of an affordable business-class experience, first launched in 2014 and will be introduced on JetBlue's London service in 2021.
Passengers in Mint class can now expect a culinary, wine, and cocktail program prepared by Delicious Hospitality Group (the team behind New York City restaurants Charlie Bird, Legacy Records, and Pasquale Jones). The menu features a rotating roster of small plates that customers can choose from, as well as an international selection of wines and craft cocktails. DHG also designed new plate ware and has offered access to the playlists that customers listen to at their New York venues.
The tunes will sound a lot better on the Master & Dynamic MH40 noise-reducing, over-ear headphones Mint customers will be provided for the flight.
Passengers will also get a custom amenity kit developed with travel brand Wanderfuel. There are four wellness kits depending on the time of day and destination—Awake, for morning flights; Flow, for afternoon and evening flights; Sleep, for overnight flights; and Renewal, for Caribbean flights. They feature a selection of healthy snacks, supplements, and personal care items such as body balm, anti-aging serum, sunscreen, and hydrating facial mist.
For those who want to get cozy, JetBlue collaborated with mattress company Tuft & Needle to offer Mint fliers a convertible blanket with a snug sleeping-bag-like conversion, a memory foam–lined pillow with a pillowcase, and a snooze kit with an eye mask and earplugs.
Mint is available out of 18 cities, including Newark Liberty International Airport, Los Angeles International Airport, and San Francisco International Airport.
>> Next: JetBlue, Virgin, Lufthansa to Offer COVID Health Pass to Passengers
Source: Read Full Article