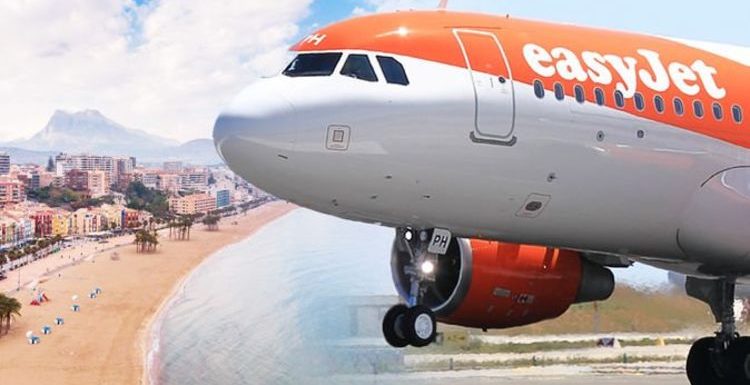 When you subscribe we will use the information you provide to send you these newsletters.Sometimes they'll include recommendations for other related newsletters or services we offer.Our Privacy Notice explains more about how we use your data, and your rights.You can unsubscribe at any time.
EasyJet and easyJet holidays have confirmed new routes and package holidays to European destinations across Spain, Portugal, and Greece from Birmingham Airport will launch from 29 June. Customers can travel from the Midlands Hub to Majorca, Málaga and Alicante in Spain, Faro in Portugal, and Corfu in Greece.
This will be great news to Britons who are booking holidays from the area.
It also demonstrates and optimism for foreign holidays likely to cheer anyone up.
Ali Gayward, easyJet's UK Country Manager commented: "We are pleased to announce more connectivity to Birmingham today in flying to popular beach destinations and getting customers away on their much-needed summer holiday across Europe this year.
"We believe that a framework can be put in place for the safe reopening of travel and a strong summer, and we are currently focused on working with the UK Government Travel Task Force in the coming days and weeks.
Martin Lewis gives update on EasyJet refund vouchers
"We are hopeful that progress will continue to be made with the vaccination programmes in Europe, with several countries in Europe having indicated they will be welcoming British tourists this summer.
"We remain of the view that international travel can restart and that, with the right framework in place, restrictions can be safely and progressively reduced and in some cases removed by mid-summer for key destinations.
"We've kept our fleet in a flight-ready mode so we are ready and able to ramp up our services quickly and increase our capacity where we see increased demand for the summer."
What are the routes and what will they cost?
DON'T MISS
When will hotel quarantine rules end? [INSIGHT]
Spain holidays: Huge U-turn over mandatory mask law [TOURISM]
Travel expert forecasts international holidays possible in summer 2021 [ANALYSIS]
New easyJet flight routes
Birmingham to Málaga flights will operate twice weekly on Tuesdays and Saturdays from 29 June with fares available from £22.99
Birmingham to Faro will operate three times per week on Tuesdays, Fridays and Sundays from 29 June with fares from £22.99
Birmingham to Alicante will operate three times per week on Wednesdays, Fridays and Sundays from 30 June with fares from £23.99
Birmingham to Majorca will operate three times per week on Tuesdays, Thursdays and Saturdays from 3 July with fares from £22.99
Birmingham to Corfu will operate twice weekly on Thursdays and Sundays from 4 July with fares from £22.99
Nick Barton, Chief Executive of Birmingham Airport, commented: "We are more than pleased that easyJet will be adding additional leisure sun destinations direct from Birmingham Airport this summer.
"easyJet already offers direct routes to Amsterdam, Belfast, Edinburgh, Glasgow and Geneva, so these additional sunshine routes demonstrate the strong demand in the region for both business and leisure travel and the carrier's commitment to serving the Midlands.
"We are continuing to work with easyJet, looking at future route opportunities and an expansion of its services to ensure customers have a choice of destination, flexibility and price from Birmingham Airport.
"Customers can confidently book with easyJet with the reassurance that their flights and holidays are ATOL and ABTA protected."
Spain holidays are high on the agenda for Britons looking for sun.
What are the current rules for those hoping to travel to Spain in the summer months?
Tourists may have to observe new rules if visiting Spain when travel does reopen, however.
A new law in Spain states it is mandatory to carry a mask even when in outdoor spaces.
Source: Read Full Article