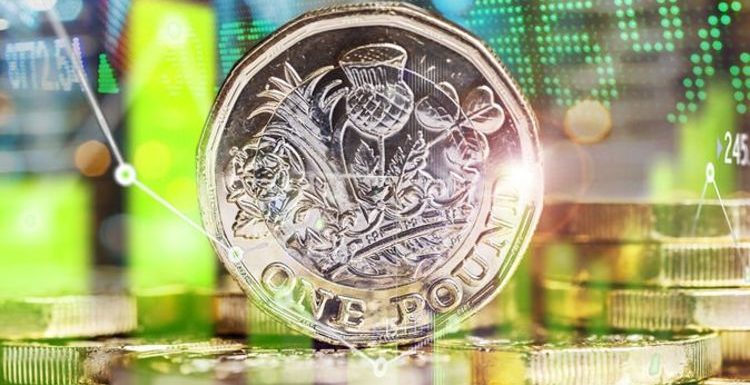 Pound to euro exchange rate fluctuates amid vaccine row
When you subscribe we will use the information you provide to send you these newsletters.Sometimes they'll include recommendations for other related newsletters or services we offer.Our Privacy Notice explains more about how we use your data, and your rights.You can unsubscribe at any time.
The pound to euro exchange rate has climbed above the 1.17 mark in recent weeks, something experts are crediting to the "UK's strong vaccination drive". Yet, as the situation begins to look more positive in the UK, across Europe some countries have decided to re-enter lockdown.
For the euro, this has had a detrimental impact.
The pound is currently trading at a rate of 1.1741 according to Bloomberg at the time of writing.
Michael Brown, currency expert at Caxton FX spoke with Express.co.uk to share his insight into the current exchange rate.
"Sterling consolidated recent gains north of €1.17 yesterday, continuing to benefit from tailwinds including favourable month-end flows, and the UK's strong vaccination drive; in contrast to Europe, which is going backwards, with France re-entering lockdown," he explained.
"Today's docket is fairly light, with the final manufacturing PMI surveys likely to be safely ignored by most."
The news of the latest lockdowns in parts of Europe may spark concerns for holidaymakers hoping to jet off abroad in the coming months.
Though there has been no confirmation from the Government as to when international travel will resume, Prime Minister Boris Johnson is expected to share more information on April 5.
On April 12 the Government's Global Travel Taskforce will also resume meetings to explore the possibility of safe overseas travel.
DON'T MISS
Benidorm: Express readers slam 'feral' Britons for 'destroying' resort [COMMENT]
Travel expert says it should be possible to travel safely this summer [INTERVIEW]
Expert predicts countries opening to UK tourists 'before end of May' [INSIGHT]
Ian Strafford Taylor, CEO at travel money specialist FairFX said: "Despite increasing uncertainty around overseas travel this summer, the pound continues to perform well and is currently up 10% against the euro compared with when we first went into lockdown on 23rd March last year.
"With the Government's travel review on the horizon and the possibility of France being added to the travel ban 'red list' today, only time will tell if the pound can withstand the latest turbulence caused by COVID-19.
"Either way, savvy holidaymakers will be keeping a close eye on the latest developments and locking in rates while the pound is strong so that when they are able to travel again, they get the most for their money."
The Post Office Travel Money is currently offering a rate of 1.1298 for amounts of £400 or more, or 1.1521 for amounts of £500 or more.
Yet, even amid the boosted exchange rate, one travel money expert has warned Britons should not change their currency before restrictions are lifted.
"Although countries have said they will be opening their doors to UK visitors, consumers must be cautious before exchanging money at this stage," James Andrews, senior personal finance editor at Money.co.uk told Express.co.uk.
"International travel is currently prohibited by law until May 17 earliest.
"Until the Government has confirmed that you will be allowed to travel, consider if you need to exchange travel money right away."
Once travel does resume, it is thought nations could be separated into a "traffic light system" based on their Covid "risk".
Writing on The PC Agency site, Paul Charles, CEO of the travel consultancy, explained from May 17, "some overseas travel will be possible, especially with government pilot schemes to certain 'like-minded' countries.
Mr Charles predicted "green" nations could include Israel, the USA, Gibraltar, Malta, the United Arab Emirates (UAE) and the Caribbean.
Source: Read Full Article