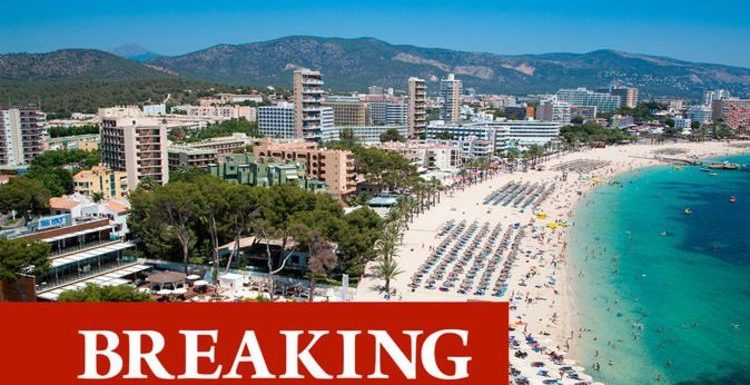 Travel: Grant Shapps issues warning on booking holidays
When you subscribe we will use the information you provide to send you these newsletters.Sometimes they'll include recommendations for other related newsletters or services we offer.Our Privacy Notice explains more about how we use your data, and your rights.You can unsubscribe at any time.
Spain has banned UK arrivals for an additional two weeks, it was announced this afternoon. The travel ban was due to end on March 16. However, as that date nears Spain has extended the ban until March 30.
The UK Foreign, Commonwealth and Development Office (FCDO) updated its travel advice today.
"On 22 December 2020, Spain introduced travel restrictions on passenger travel from the UK by air and sea," the FCDO said.
"These measures have been extended until 6pm (GMT+1) on 30 March 2021 (5pm / GMT in the Canary Islands), with the exception of Spanish and Andorran nationals and those legally resident in Spain or Andorra."
Despite this blow to Spain travel, it follows an announcement from the Spanish Minister of Industry, Trade and Tourism that holidaymakers will be allowed back to the country in May.
Reyes Maroto estimates that 40 percent of the population will have received the vaccine by then.
"When we have that percentage of vaccination in spring, we will be in a position to begin the reopening of our destinations in line with what we are working on in the European Union," Maroto assured.
For now, strict travel rules are still in place for Spain and to what extent they will be lifted from May is not yet known.
"All passengers (excluding children under the age of six years old) travelling to Spanish airports from 'risk' countries, as determined by the European Centre for Disease Prevention & Control are required to present a negative PCR, TNA or LAMP test taken within no more than 72 hours prior to arrival, in order to enter the country," states the FCDO.
"You will also be subject to the additional three requirements at the point of entry.
"It is mandatory for all passengers travelling by air or sea to Spain to fill out and sign an online Health Control Form 48 hours prior to travel, providing the Spanish Ministry of Health with:
– contact information
– details of any known history of exposure to COVID-19, and
– confirmation that you are able to provide evidence (electronically or hardcopy) that you have undertaken a PCR, TMA or LAMP test taken no more than 72 hours prior to arrival and have tested negative for COVID-19."
The FCDO continued: "You can do this on the Spain Travel Health website or downloadable app.
"On completion, you will be issued a personal and non-transferable QR code which you must show (electronically or hardcopy) at airport health controls on arrival."
Travellers will also have to undergo a temperature check and a visual health assessment,
The FCDO urgers jet-setters not to use the NHS for Covid tests for travel.
"You should not use the NHS testing service to get a test in order to facilitate your travel to another country," it states.
"You should arrange to take a private test and should confirm with the testing facility the type of tests available prior to booking an appointment."
Britons are currently not allowed to travel abroad for non-essential reasons until May 17 at the "earliest" reminded Grant Shapps today.
The details of how international travel can resume will be unveiled on April 12.
Source: Read Full Article