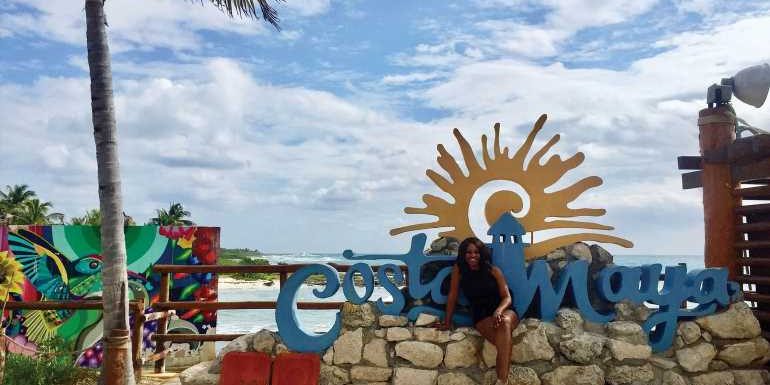 You could say I was too old when, at 19, I first experienced a true sleep-away camp, with cabins and bunk beds, cold morning showers and songs around the campfire. Although I was working as a camp counselor, I snuck in a good time.
There was no sneaking around required to have fun aboard Virgin Voyages' Scarlet Lady, on which, for the first time in a long time, I felt like a kid at camp, where good times were had out in the open. Being "too old" on this adults-only cruise line doesn't exist, because Virgin's cruises are designed for the young at heart. 
Sailing aboard the Scarlet Lady on its Mayan Sol itinerary from Miami to Costa Maya, Mexico, and Bimini, Bahamas, in February was nothing short of an adventure. Us "kids" in our press group spent a week in "the wilderness," between the open sea and foreign lands, with our "camp counselors" (Virgin PR representatives) guiding our way.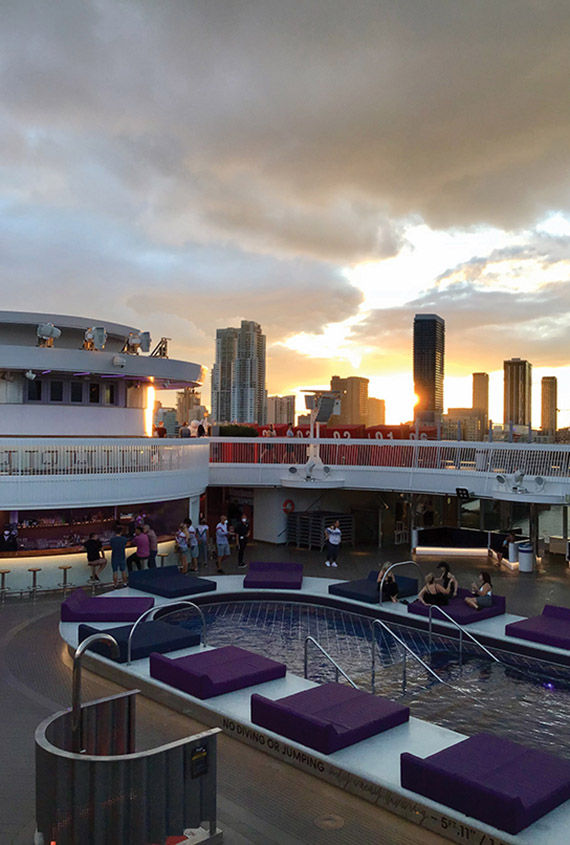 Before our adventure, we had a sleepover at the upscale InterContinental Miami hotel, which Virgin highly recommends all guests book for a pre- or post-cruise stay. The unobstructed views of PortMiami from my room high up in the 35-story tower were nothing short of amazing and a good teaser of what was to come.
While my Virgin Voyages experience felt like being at camp, this time around it was with kids you like, and who like you, too. There are no cliques or outsiders, no one deciding who's cool and who's not, because everyone, the 20-, 30- and 70-something-year-olds, were there to have a good time. Together. 
We ate together in the "mess hall" — also known as the Galley, Virgin's alternative to a buffet, modeled after a food hall offering various stations, where the open layout splashed in white subway tiles and bright pops of color welcomes you to sit with anyone, anywhere. One morning, before my shore excursion in Costa Maya, a stylish pair of gentlemen in their 50s and 70s chatted me up as I tried to wolf down my breakfast and quickly charge my phone (power outlets are everywhere, by the way, and so is good WiFi). Age difference aside, it wasn't hard to find our commonalities: One recently sold his apartment in New York City, where I'm now based, and the other was a Gemini, like me.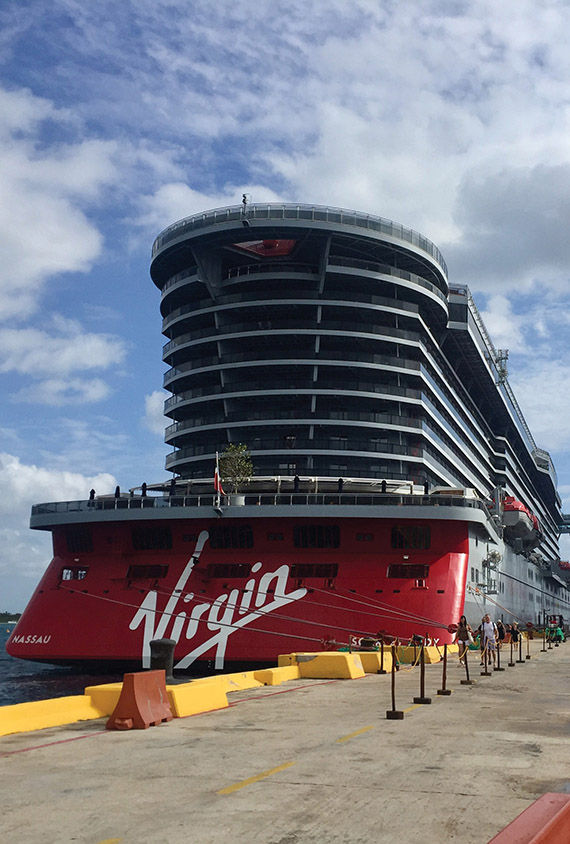 Live shows, typically hosted in the Red Room Theater, felt like next-level talent shows. Cirque du Soleil-style performances cut with millennial modernity are carried out by a nimble array of young dancer-acrobats whose daring stunts left me breathless. Nobody is suffering through off-key renditions of Broadway hits; these "kids" are talented — they're the ones whose names may one day light up marquees in Times Square and the West End. 
Like camp, we took field trips together — what Virgin calls Shore Things — where I tried activities I'd never done before, like snorkeling, which is a lot harder than it looks (don't let anyone tell you otherwise). But once you get to hold a starfish in your hand, touch a sea urchin, even find Nemo, suddenly, the extra saltwater coating your lungs isn't so bad. Like a field trip when you were young, you don't know if you'll ever return to this particular place again, but you know you'll always remember it.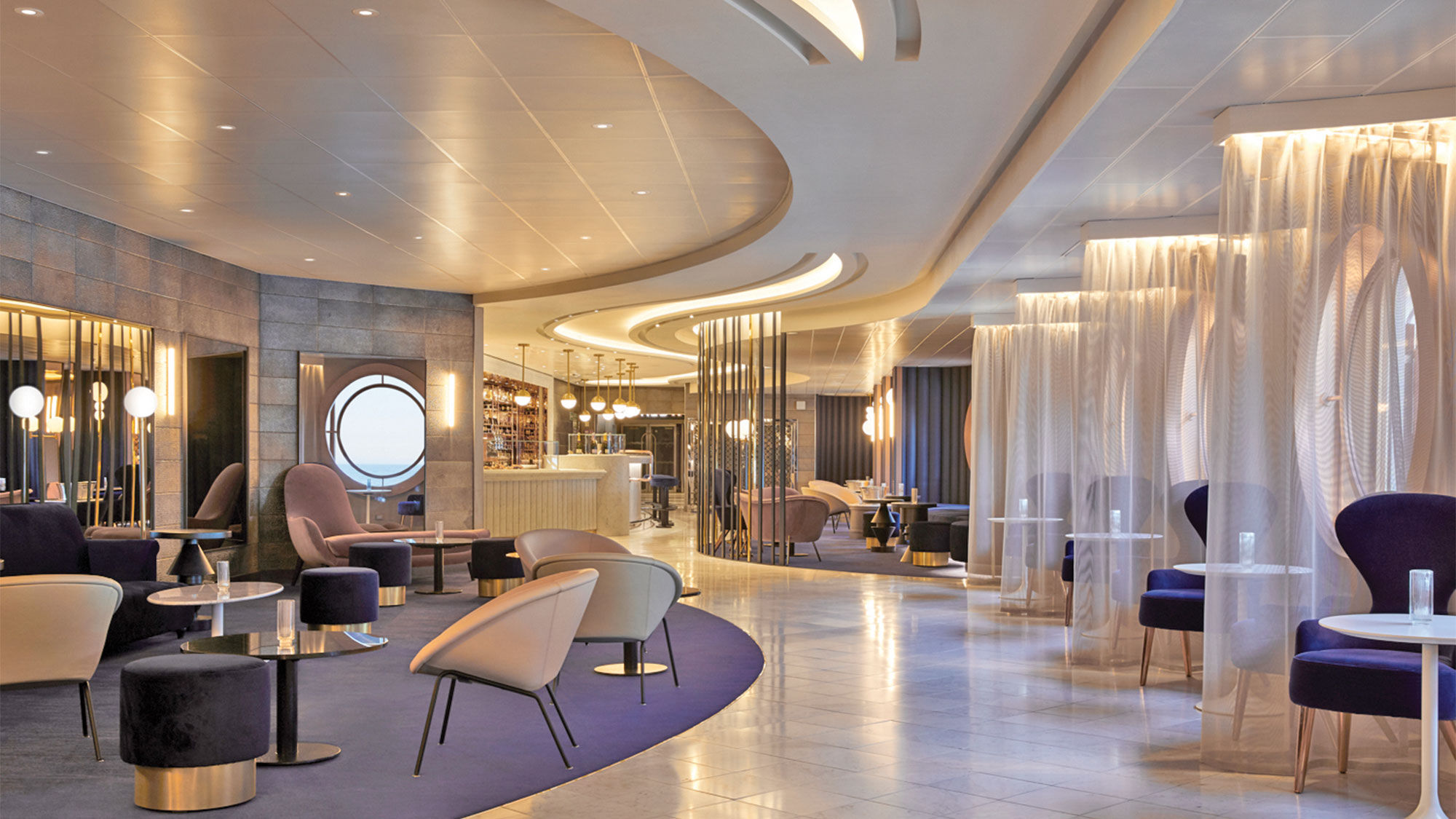 On the Scarlet Lady, senior editor and novice cruiser Nicole Edenedo learns how to travel in style.
Finally, the camp feeling turned to being at school for the end-of-year dance: Scarlet Night, the cruise's grand finale — and a night where dreams may come true. The party is held throughout the ship and ends in the Manor, the Scarlet Lady's sultry nightclub. Maybe you finally dance with that nice boy or girl you talked to throughout the cruise, hoping to steal their glance away for a moment as ABBA's "Gimme! Gimme! Gimme!" blasts beyond the laser-lit walls. Or, maybe your heart gets a little broken when they end up glancing at someone else all night. Oh, to be young again! When love goes unrequited. But it doesn't matter, not really. Because on Scarlet Night, the ship is quick to lift your spirits.
And whatever can't be expressed in dance moves with reckless abandon can be left on the Missed Connections Wall. Here you can write in a few words the things you were too shy to utter. Clip your secret on the Wall, aptly made of fishing net, in hopes that the one who got away will find it and, in turn, come find you.
That was my experience on the Scarlet Lady. Everyone's is different. And difference is welcome on Virgin Voyages. Whether you are a veteran cruiser or a first-timer, a pragmatist or a hopeless romantic, there's room for everyone at Camp Virgin. 
Source: Read Full Article