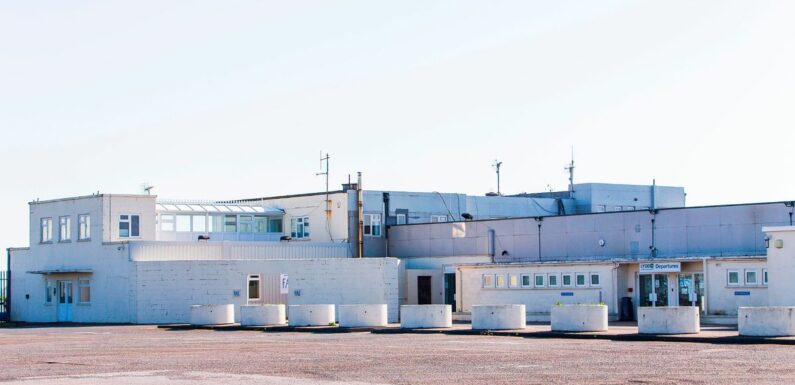 Commercial flights are going to restart from an airport which hasn't seen action in years.
London Ashford Airport, also known as Lydd, has not hosted any commercial flights since 2018, despite the fact it was once tipped as one of the 'busiest' airports in the UK.
But, Air Alderney – a small operator – is set to start running a regular service from the Kent airport this summer meaning more options for Brits looking to book a holiday.
READ MORE: British Airways cancels 32 flights a day over Easter ahead of Heathrow strikes
The specialist airline – which is small compared to industry leaders – will fly from the airfield on Romney Marsh to destinations including the French airport of Le Touquet, Kent Online reports.
The routes will become one of the fastest ways to get from the UK to France, as Lydd and Le Touquet are just a 15-minute flight from one another!
David Hainsworth, from airport operator FAL Aviation, said: "Our short, medium and long-term business plan to transform the airport continues at pace.
"Re-organisation of airport operations, and the build of two new hangars, is designed to support existing and new businesses which include engineering services, search and rescue, drone operations, flying schools, government agencies, business jet services and general aviation.
"Air Alderney commence passenger services to Le Touquet and other destinations from summer 2023."
The runway at Lydd is one of the shortest on mainland UK at 1,505m – more than 2,000m less than the two runways at Heathrow.
A 300m expansion of the runway was approved 10 years ago, along with a new terminal building, but work has yet to begin on either.
The airport is now operated by London Ashford Airport Ltd, controlled by Saudi businessman Sheikh Fahad Al-Athel.
With a net worth estimated at $2.2 billion he is one of the most powerful men in his country, Kent Live reported.
As part of a £17 million project Mr Al-Athel was given the permission to extend the airport, and transform it into a regional hub capable of accommodating bigger aircraft including Boeing 737s and Airbus 319s, and handling up to 500,000 passengers a year.
Dad was 'tasered' and dragged off flight after sitting in wrong plane seat
But the plans faced legal challenges with campaigners opposed to the expansion at a site which is close to the Dungeness nuclear plant, an RSPB nature reserve and a military range.
The Lydd Airport Action Group took the expansions plans to the high court, but their bid to block them was thrown out.
Whether or not the expansion does go ahead, and whether the return of commercial flights will impact this, remains to be seen.
READ NEXT:
Important travel rules to know for 2023 – including new EU entry fee
Brits who travelled to Cuba prior to 2021 can still get ESTA, says US state official
Spain warning for Brits as 'chaos' expected across airports for Easter and summer
Lanzarote wants fewer cheap British tourists in favour of 'higher quality' Germans
Source: Read Full Article