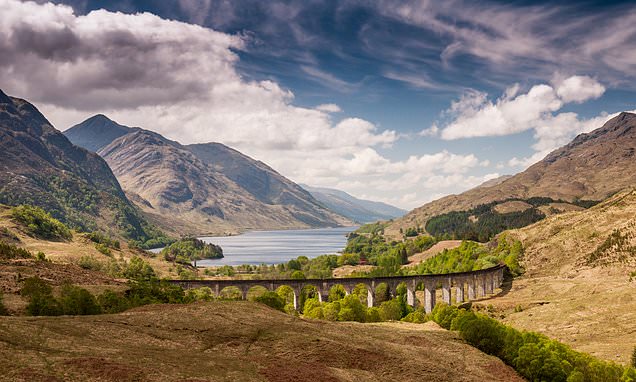 Exclusive for Mail on Sunday readers: Cruise the lochs of Scotland with TV's Kirsty Wark
Here's your chance to explore Scotland's Caledonian Canal and hidden lochs on a fabulous five-night voyage from Inverness to Oban.
You'll be sailing on Lord of the Glens, a traditionally furnished, yacht-style ship that's small enough to pass through the canal locks and offers personalised service to its 52 guests.
On this unforgettable trip, you'll have the opportunity to meet proud Scotswoman and broadcaster Kirsty Wark. She will be on hand to chat with guests about the history of modern Scotland – the perfect conversation as you travel through the Caledonian Canal, a masterpiece of 19th Century engineering.
You'll also take a scenic train journey over the renowned Glenfinnan Viaduct, made even more famous when the Hogwarts Express crossed it in the Harry Potter movies.
Descending through the eight interconnected locks of Neptune's Staircase will be a memorable moment as Lord of the Glens is slowly lowered back to sea level following its journey through the Great Glen.
Magical: During The Mail on Sunday's five-night Scotland cruise, you will sail past the ruins of Urquhart Castle 
A stop at the prettily painted waterfront town of Tobermory provides an opportunity to explore on foot, and you will be able to take a walking tour around Oban, where you'll visit McCaig's Folly – a hilltop tower with panoramic views across Oban Bay.
This trip is a full-board cruise, and on each of the five evenings of sailing you'll be seated for dinner in the Robert Louis Stevenson restaurant for banquet-style, three-course meals.
Guests can also enjoy the David Livingstone Lounge and Sir Walter Scott Bar, fitted with rich mahogany tables and plush sofas, including original armchairs from the legendary Cote d'Azur Express.
You will have the opportunity to take a scenic train journey over the renowned Glenfinnan Viaduct (above), which features in the Harry Potter movies
OUR SPECIAL GUEST
You will be joined by Kirsty Wark
Kirsty Wark is an award-winning Scottish broadcaster and journalist. She started her career on Radio Scotland and is now Newsnight's longest-serving presenter. Kirsty also presented The Women Who Changed Modern Scotland, which tells the stories of those who have had a key role in shaping Scotland over the past 50 years.
Reasons to book
Meet Kirsty Wark: The broadcaster and journalist will join the voyage for an excursion and to give an insightful talk about her life and career. Listen as Kirsty discusses modern Scottish history while you explore some of the nation's finest engineering accomplishments.
The Caledonian Canal: Conceived in 1773 and built between 1803 and 1822 to connect the Great Glen's four lochs, the canal is an engineering marvel. It features the picturesque, tree-lined Laggan Avenue and the eight interconnected locks of Neptune's Staircase that lowers vessels back to sea level.
Spectacular views of the Inner Hebrides: As well as being the seafood capital of Scotland, Oban is home to McCaig's Folly, which boasts glorious views across Oban Bay to the islands of the Inner Hebrides.
Loch Ness and Urquhart Castle: Keep your eyes peeled for a sighting of the mythical monster in Loch Ness while you sail past the ruins of Urquhart Castle and ascend the impressive Fort Augustus Locks.
Meet like-minded others: There's a convivial atmosphere on board Lord of the Glens, and as one of just 52 guests on this yacht-style ship, you'll have the opportunity to meet other passengers and enjoy meals and excursions together.
Sail on a splendid small ship: On Lord of the Glens you will see David Roberts's lithographs, furniture from RMS Windsor Castle and light fittings from SS France. Lord of the Glens has a superb restaurant, elegant bar and panoramic windows.
WHAT'S INCLUDED
A five-night, full-board cruise on Lord of the Glens. 
Welcome reception and dinner.
Visits to Culloden battlefield, Duart Castle, Tobermory and McCaig's Folly.
Walking tour of Oban.
Travel on the West Highland Railway.
All port taxes.
Transfers to and from Inverness at pre-determined times.
YOUR ITINERARY: DAY 1 Inverness DAY 2 Culloden, Caledonian Canal, Loch Ness and Fort Augustus DAY 3 Loch Oich, Laggan Avenue, Loch Lochy, Banavie, Neptune's Staircase and Glenfinnan DAY 4 Loch Linnhe, Sound of Mull and Tobermory DAY 5 Isle of Mull and Oban DAY 6 Oban
HOW TO BOOK
The dates: October 16 to 21, 2023. The price: From £1,699pp*.
Call 020 3468 2534 quoting MOS LOTG WARK. To find out more, visit mailtravel.co.uk/lotgwark.
TERMS AND CONDITIONS: *From price is per person, based on two people sharing a lead in-cabin, subject to availability. Price and itinerary correct at time of print but may be subject to change. Single supplement on request. Deposit 20 per cent. Local charges such as tourist tax may apply. In the case of unforeseen circumstances, expert(s) may be substituted, and any expert-led events may be subject to change. Expert(s) will not join you for your full trip duration unless otherwise stated. Travel insurance is not included but required for most of our overseas trips and should be taken out at time of booking. Images used may not reflect your actual tour experience. This holiday may be sold through other selected brands. Tour is operated by and subject to the booking conditions of TS Travel Limited (ATOL-bonded). 
Source: Read Full Article