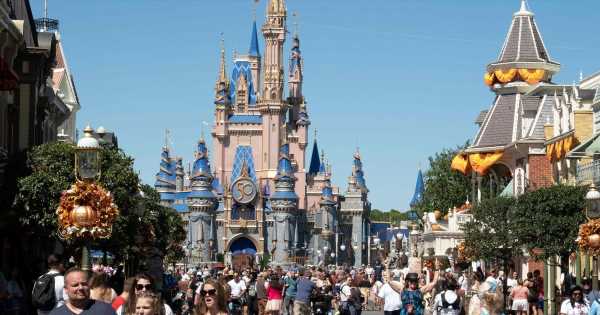 Going to Walt Disney World or Disneyland is the holiday of a lifetime for many Brits. The food, the rides and the magic of Disney make it a winning family holiday.
If you manage to head over to Florida, in the US, then your kids will likely stare around in wonder as they gaze at the iconic Cinderella Castle or meet Mickey Mouse and friends. Unfortunately, while the cast and parks are truly incredible there's one thing that's not; other people.
Your fellow guests at a Disney park are sadly not employed to make your holiday as wonderful as possible and so can often be the one downside of the trip.
READ MORE: 'I was sick of my 9-5 job so I made going on Disneyland holidays my new career'
Over on social media, Disney enthusiasts have shared some of the rudest experiences they've had at the hands of fellow guests at the parks. From body slams to interruptions and even stepping over people in emergencies, the list isn't short.
One holidaymaker explained on Reddit: "I returned from a 7-day trip to Walt Disney World earlier this week and couldn't help but reflect on how incredibly annoying and rude other guests were the whole trip. Just some examples were people blatantly ignoring cast member directions, running into me and even body slamming me to get ahead to rides at rope drop, and even openly berated cast members over seemingly small things."
They asked whether others had noticed any bad behaviour during their Disney holidays. One noted: "A lady tried slipping past me through a door into a gift shop and ran right into my back. She didn't say anything and pushed past me like the pins were going to fly away."
On another thread a tourist said: "I was asking a cast member standing at the entrance to the Skyliner how long it would take to travel from Hollywood Studios to Epcot on the Skyliner. The cast member smiled and started explaining how to travel between the two parks using the Skyliner when a guest walked up, inserted her head between myself and the cast member and demanded to know where she was.
"She was relaying the message to someone on her phone and had follow up questions. I just stood there with my hands on my hips, staring daggers and wondering where she got the f***ing nerve."
Another remembered a day at the resort's water park when one man was furious that he couldn't find 'good enough' seating. They said: "I was at Blizzard Beach once, waiting to pick up some food at a small quick service place near the back of the park, when this big guy walks up to the window and demanded to rent a cabana…?!
"He was very angry that his family couldn't find good enough chairs. The CM patiently informed him to go to the front of the park to ask about cabanas. He stormed off without saying thank you."
"Just before the fireworks, I got right to the beginning of the line [for coffee] and the two people in front of me welcomed their seven friends to join them in line," complained a mum. "That's nine more drinks I would have to wait through."
A fellow parent commented: "We met some lovely families last week on our trip but we also ran into some very entitled people- especially at Epcot for some reason. People pushing, shoving, cutting lines. A full grown woman pushed herself in front of two little kids and knocked them down in a line with a five minute wait."
It seems aggressive guests aren't that rare either. A woman commented: "I was in Pirates of the Caribbean outdoor queue in WDW, and the Cast Member shouted 'fill in all available space, there is no single line here' because we weren't yet in the spot where they funnel you indoors.
"I moved along a small amount to fill available space, was forcefully turned around by a guy putting his hand on my shoulder, and he shoved me over the line chain and onto my back. I was stunned, and he yelled about me being a line skipper."
"I cannot tell you how many times during our trip I was rammed in the ankles by someone using their scooter at the head of a phalanx of family members to carve a path through a crowd," said another.
While one woman claims that a guest ripped the shirt out of her hands and bought it instead. Sadly it was the last available in her size.
Many noted that pushchairs and scooters were pushed into them or clipped their ankles. Some said other parents berated their children for getting in the way.
Oddly, one man admitted on Reddit that his family was one of those who engaged in the rude behaviour. He said: "My wife does c**p like this. I pretend I don't know her, its only a matter of time when another Karen gives her a knuckle sandwich."
One commenter noted: "Fellow guests are always the worst part of the theme parks. Just seems to get worse each trip."
But, not everyone had experienced bad behaviour. One person said: "Just got back last week, can't say I experienced any of this, everyone seemed very reasonable for our entire six park day extravaganza."
Another commented: "We went in March and actually it was the opposite. I've been to Disney world in times I think and this was the first time no one was rude at all."
Want the Daily Star's top travel stories and best deals straight to your inbox? Sign up to our free weekly newsletter here
A Disney worker – known as a cast member – replied to one post and noted: "So I'm cast. You aren't wrong. People are being…difficult lately.
"But plenty of other guests are able to make it up for us. General advice for the people in the back, even just a smile and hello is enough to make a CM bend over backwards for you now.
"We want you to have a wonderful time, we'll tell you where to eat, where to watch, fun facts. We just need to be treated like people.
"A lot of folks tend to treat us like some kind of Disney drone, as if we are just robots powered by pixie dust and piloted by little mice. We are people, and courtesy will get you every accommodation from us that we are able to give."
Source: Read Full Article