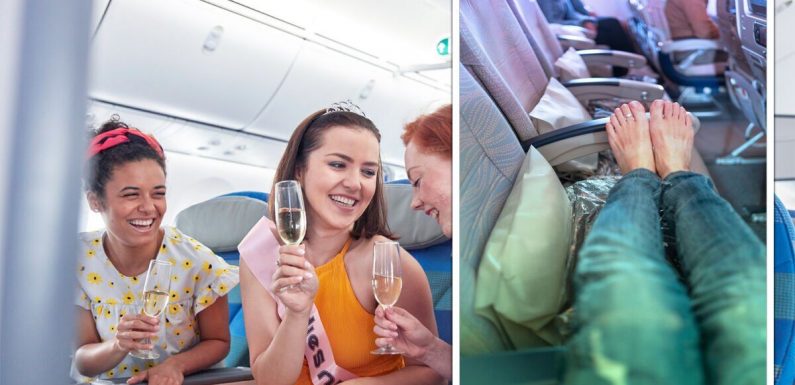 UK travel: Passports 'need to be stamped and checked' says Calder
We use your sign-up to provide content in ways you've consented to and to improve our understanding of you. This may include adverts from us and 3rd parties based on our understanding. You can unsubscribe at any time. More info
Online travel agents, eShores, ran a nationwide competition to find British tourists' most shocking plane experiences. From flashing the pilot to inconsiderate sleepers, some passengers have really seen it all.
Hen and stag parties are many passengers' worst nightmares and one passenger ended up seeing more than she bargained for.
Emma Day was seated next to a hen party on her morning flight to Malaga in Spain.
She said: "They were totally and utterly newt-ed having come directly from a nightclub to the airport.
"Most people had boarded and the last three hens were staggering up the steps in front of us.
"They saw the pilot in the window, started giggling and swooning, then all three of them flashed him!
"Unfortunately, we had front row seats for the entire incident!"
Drunk passengers are many airline's worst nightmare and some have even caused flights to be diverted.
Everyone has had to sit next to an annoying passenger before but some really push their fellow holidaymakers to the limit.
Beverley Cordle said: "I had a complete stranger put his legs up on the empty seat to his left and then lay his head down on my lap to sleep.
"I pushed him off immediately and he was actually annoyed I'd disturbed him!"
Emily Gallihcan shared an awkward experience from her flight to LA in the USA. She ended up sitting between two friends.
Although Emily offered to swap seats, the men refused her kind offer leaving her trapped in an uncomfortable situation.
She said: "It soon became clear one of the men was headed to LA to audition for a very badly written and rather raunchy role in a movie.
"He and his friend to my left ran lines for the same two awful scenes for most of the flight. "Sexual sounds and all! It was pure hell."
Rebecca Rowley said she ended up sat next to a couple who thought the plane's mask rules didn't apply to them.
She said: "They spent the whole four-hour flight French kissing, tongues and everything. We had to endure four hours of non-stop disgusting slurping and lip-smacking noises and a bit of groaning.
"It was awful, very annoying!"
While these nightmare experiences might be extreme, many Britons have faced an annoying passenger in the past.
Other irritating activities included passengers flicking their hair over the person behind's screen and taking shoes off.
Reclining a seat at the start of a flight was also ranked as annoying while bad smells irritated many passengers.
Noisy holidaymakers were also ranked as some of the most irritating fellow passengers.
Source: Read Full Article