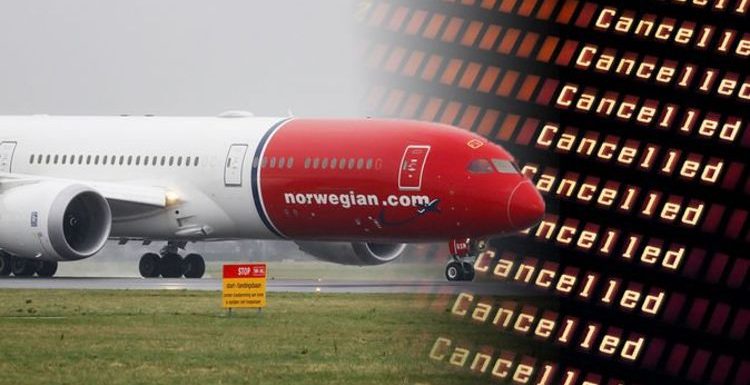 Travel: Paul Charles warns travel testing is 'recipe for chaos'
Norwegian airline has become the latest operator to fall victim to the lack of travel demand caused by the coronavirus pandemic. More than 1,000 pilots and cabin crew based at London's Gatwick Airport are to be devastated by job losses as a result.
The airline, based in Oslo, Norway, will no longer serve its network of long-haul flights, of which some of the most popular were transatlantic routes.
Huge numbers of these operate out of Gatwick, with the airline flying more passengers to New York than any other airline just two years ago in 2019.
Since then, the "uncertain" future of travel has seen this success topple.
"Future demand remains highly uncertain," explained a Norwegian spokesperson.
We will use your email address only for sending you newsletters. Please see our Privacy Notice for details of your data protection rights.
"Under these circumstances, a long-haul operation is not viable for Norwegian and these operations will not continue."
The airline was forced to ground its entire Boeing 787 Dreamliner fleet in March 2020, which has remained on the ground ever since.
Norwegian cites "travel restrictions and changing government advice" as "negatively influencing demand for long haul travel."
While 1,000 pilots and crew based at Gatwick will be impacted, similar figures of unemployment are expected in France, Italy, Spain and the US.
DON'T MISS
Spain holidays: Spain extends UK flight ban [COMMENT]
Flights: Latest updates for BA, TUI, easyJet, Ryanair and Jet2 [UPDATE]
British Airways data breach victims could get £2,000 each [insight]
Brian Strutton, Balpa general secretary, commented: "The airline has failed for several reasons but there can be no blame apportioned to the pilot, crew or other staff groups."
He added: "Aviation remains in serious crisis".
The airline says it will instead focus on its short-haul European network.
"Our short-haul network has always been the backbone of Norwegian and will form the basis of a future resilient business model," said Jacob Schram, CEO of Norwegian.
"Our focus is to rebuild a strong, profitable Norwegian so that we can safeguard as many jobs as possible.
"We do not expect customer demand in the long haul sector to recover in the near future, and our focus will be on developing our short-haul network as we emerge from the reorganisation process.
"It is with a heavy heart that we must accept that this will impact dedicated colleagues from across the company.
"I would like to thank each one of our affected colleagues for their tireless dedication and contribution to Norwegian over the years."
What does this mean for passengers?
Passengers who had future bookings on the now axed flights out of Gatwick will be eligible for a refund.
The airline has said customers will be "contacted directly" and "refunded".
Customers can also contact the travel provider for more information on whether or not their journey is impacted.
Source: Read Full Article