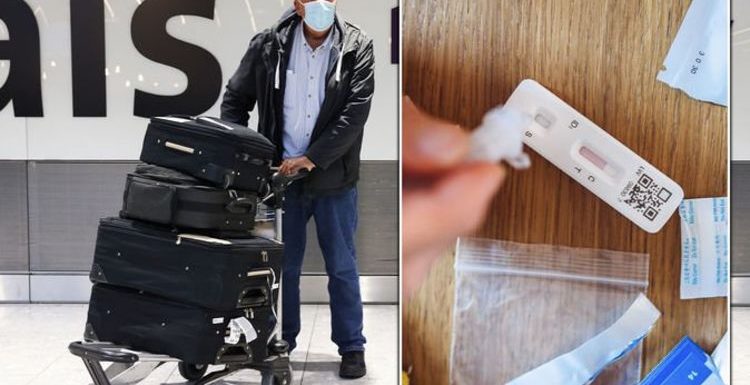 Martin Lewis says get travel insurance as soon as you book
We use your sign-up to provide content in ways you've consented to and to improve our understanding of you. This may include adverts from us and 3rd parties based on our understanding. You can unsubscribe at any time. More info
Travel testing rules for the UK are set to see further relaxation. From 4am on February 11, 2022, fully-vaccinated travellers arriving in England will not be subject to any coronavirus testing requirements. But what does this mean for people who have not yet had their booster vaccine?
Announcing the news on Twitter, Secretary of State for Transport Grant Shapps said: "We are removing ALL testing measures for eligible fully vaccinated arrivals to England from 4am on 11 Feb.
"These changes have been made possible by the success of our vaccine & booster rollout." [SIC]
Those who have received a full course of vaccination will only be required to fill out a Passenger Locator Form before travelling.
In his Tweet, Mr Shapps did not mention whether or not this would mean only those who have had two jabs, plus a booster, would be the only ones eligible.
However, speaking in December Health Secretary Sajid Javid told the House of Commons that the NHS Covid app will require people to have had three vaccine doses, including the booster.
When this change will come into force has not yet been announced, but it is likely the rule would also apply to those travelling.
Mr Javid said: "You will need to show a negative lateral flow test to get into nightclubs and large events, with an exemption for the double vaccinated.
"Once all adults have had a reasonable chance to get their booster jab we intend to change this exemption to require a booster dose."
DON'T MISS
Cruise crew member unveils reality of life onboard [REVEALED]
Expats: The top five destinations Britons are 'desperate' to move to [REPORT]
'Tremendous' La Palma invites Britons for volcano tourism [INSIGHT]
Prime Minister Boris Johnson backed up this statement, saying the likelihood of needing a booster vaccine will become an "important fact".
This suggests that the booster will be needed as evidence of being "fully vaccinated".
Speaking as part of a press conference, Mr Johnson said: "It's very clear that getting three jabs, getting your booster, will become an important fact and it will make life easier for you in all sorts of ways.
"We will have to adjust our concept of what constitutes a full vaccination to take account of that, and I think that is increasingly obvious."
Already, other countries around the world are beginning to ramp up rules to include the need for booster vaccines.
In France, for example, you must have received your booster jab in order to be able to access "pass sanitaire".
The pass allows people to enter venues, leisure facilities and other public amenities.
The Foreign, Commonwealth and Development Office (FCDO) states: "From January 15, 2022, adults who have been fully vaccinated for more than seven months need to demonstrate they have received an approved COVID-19 booster injection in order to access the "pass sanitaire" in France.
"From February 15, the delay for receiving a booster to maintain pass validity will reduce from seven to four months.
"This applies to visiting tourists and those residing in France."
Therefore, those travelling abroad are advised to check the specific rules regarding booster vaccines for their chosen destination.
In England, people who aren't fully vaccinated will still need to take coronavirus tests.
Unvaccinated passengers arriving in England will be required to take a pre-departure test and a PCR test within two days of arriving in England.
These tests will be at the traveller's expense.
Source: Read Full Article